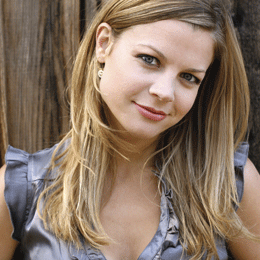 Hidden Talent
Stephanie Lemelin may be under the radar, but she's anything but underachieving.
South Jersey native Stephanie Lemelin may be one of the hardest working actors in Hollywood you've never heard of. But that's not to say you haven't seen the flaxen-haired beauty on a TV show or two, or heard her voice on the cartoon show Young Justice or via the video game Call of Duty.
Since moving to Los Angeles in 2001—just after her graduation from the University of Pennsylvania, where she earned a degree in communications—the 34-year old has worked nearly non-stop as both an on-screen and voiceover actress. She's also co-written screenplays for two independent films, including 2012's Absolute Fear, in which she starred with her husband.
Lemelin is also actively involved in volunteer work, including post-Katrina community outreach in New Orleans, and with various animal rescue programs in the L.A. region. Oh, and she's the mother of a 6-month-old baby boy.
"I'm busy, but it's all good," Lemelin says. "I've gotten used to juggling many different projects at once."
She's also quite adept at being adaptable, having grown up as the daughter of NHL goalie Rejean "Reggie" Lemelin, who moved the family from city to city several times during her youth. Drafted by the Flyers in 1974, Reggie Lemelin met his wife, Rona—a South Philly native—and settled across the river, where Stephanie was born in 1979.
"Being a hockey player's kid meant moving around a lot," she says. "In a sense, it helped build confidence for me, and also helped me become flexible."
The Lemelin family rented a home in whatever city Reggie was playing—from Atlanta, to Calgary, to Boston. However, when the season would end each spring, the Lemelins always returned to South Jersey, where the family owned a home in Sewell.
"My brother and I would finish out the school year there," Stephanie Lemelin recalls. By the time she was in middle school, her father had signed a longer contract with the Boston Bruins, and decided to settle there permanently.
"In fact, when my dad retired from playing after 19 years in the NHL, and became the Flyers' goaltending coach, he commuted to Philly from Boston for 13 seasons straight," she says, adding that his Philly trips resulted in "great bonding time" together during her years at Penn.
"In some ways, I'll always think of the South Jersey and Philadelphia region as home," she says. "I have a lot of connections from there still."
Always interested in acting, Stephanie Lemelin was a high-achiever academically: "Neither of my parents had gone away to college, so it was a big deal when I got accepted at Penn. I was very driven to get the best grades." She decided to major in communications to "have something to fall back on," yet always planned to become an actress.
"From a young age, I was very involved in plays and community theater, and I also worked with an acting coach," Lemelin says. "Acting was always my passion." Two weeks after her college graduation, Lemelin packed up her car and headed West to L.A. with the attitude, "If it doesn't work out, I can always move back East."
"I only knew one person in L.A.—my cousin Mike—and when I look back on it, it was kind of crazy to just move out there, but I did it. My parents were nervous, but supportive." Within weeks, Lemelin landed a part as an extra on the show The Practice, where her cousin worked as a lighting and rigging technician.
Those first two weeks on a TV set heightened her passion for acting.
"I was totally hooked; I knew the direction I wanted to go," she says. With the help of her first manager, small TV roles started coming in. And through the past 12 years, Lemelin has worked nearly non-stop on the small screen, playing everything from the love interest of a caveman to a recurring role as the long-distance girlfriend of a lead character on the current TBS series, Men at Work.
Cast in 14 different TV pilots—including CBS' S#*! My Dad Says, and the short-lived legal drama series The Whole Truth—Lemelin is still waiting for her "huge break," as she puts it.
"It's tricky out here; there's a new girl every day that looks like a younger, prettier version of me, but I'm starting to realize that that's OK," she says, adding that, for years, she was cast as a teenager because of her youthful look. "I'm finally getting to play some more mature roles, including that of a mom."
Lemelin describes being in the television business as akin to "running on a treadmill … where I'm working my butt off, but seemingly stuck in the same place much of the time." Still, she's gotten used to the ups and downs of the business.
"You're always in a competition with yourself," Lemelin says. "And every time you do a pilot or an audition, you get a little excited; you get high on the hope that this will be the thing that really gets you out there, gets you seen."
As a young mother, the idea of finding a long-term gig on a sitcom is especially appealing to Lemelin, who calls it the "9-to-5 of acting." But until she lands the role that will make her a more familiar name, Lemelin keeps busy with plenty of projects, including voiceover work, which she finds both challenging and deeply rewarding: "What attracts me to voiceover acting is essentially no different than on-camera. I love storytelling and I love getting into what makes characters tick."
But with voiceover work—unlike on-camera roles—there are no boundaries based on physical appearance.
"It was so exciting to get cast in my first cartoon, based solely on the audio I did via an emailed MP3," she recalls. "I was cast solely on what I brought to the character, and nothing else. It felt so entirely pure."
As a voiceover actor, Lemelin says she can easily slip into the part of a "5-year-old southern boy, a deadly Russian assassin or a 15-year-old Chicago teenager—you name it." Her best-known voiceover role to date has been as Artemis on Cartoon Network's Young Justice, where she also voices Tigress, Catherine Colbert and The Computer.
"It's ridiculously fun, and I absolutely love it," she says of being a voiceover actress. Lemelin is also busy with her recurring role on Men at Work, and on the AOL series, Playdate, where she plays a young mother in a new neighborhood trying to negotiate the politics of the playground.
"It's my favorite role to date," Lemelin says of her Playdate gig, adding that the Web-based show blends "my love of edgy humor and genuine emotion to a T." She's also currently filming a recurring guest spot on the hit Syfy show Being Human, filmed in Montreal, and appears (in one terrifying scene) in the upcoming werewolf flick, Wer.
"I've got a very supportive husband and family, who pitches in with our beautiful baby so that I'm often able to take him to set with me," she says, adding that while it's "hard to predict what the future will hold for my career, I'm truly grateful to be 'in the game,' doing what I love."
Published (and copyrighted) in South Jersey Magazine, Volume 10, Issue 10 January, 2014).
For more info on South Jersey Magazine, click here.
To subscribe to South Jersey Magazine, click here.
To advertise in South Jersey Magazine, click here.