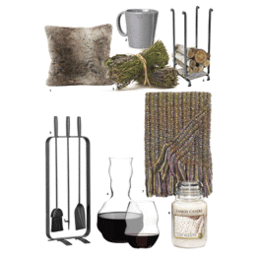 Good Buy: Fireside Chats
When it comes to warming up this season, few things are better than cozying up beside the fire with that special someone. But these days, your hearth is so much more than logs and a poker. So we've gone fireside chic with our favorite picks to help warm you up this winter. From fireplace tools to pillows and throws, you'll want to stock up on timber and stay home this month.
1. Counting Sheep. Arhaus' throw pillow is made extra soft by its natural sheepskin and wool. The silky wool is the ultimate place to lay your head; just try to stay awake to stoke the flames from time to time. Sheepskin Large Wool Pillow by Arhaus, $109 at Arhaus, 500 Route 73 S., Marlton, (856) 983-7847, Arhaus.com
2. Brew. Hot cocoa, or a good cup of coffee or tea, is a fireside necessity, and this is one of our favorite mugs to top off. All of Vietri's Lastra mugs are handmade in Tuscany, and are totally microwave and dishwasher safe, so cleanup is effortless and worry-free. Lastra Mug by Vietri, $36 at The Polished Plate, 101 Kings Highway E., Haddonfield, (856) 428-2696, ThePolishedPlate.com
3. Well-Lit. If candles aren't quite your thing, add an extra fresh smell with these herbal kindling bundles. Featuring pesticide-free, hand-grown lavender, rosemary and bay leaves from California, the logs will leave your house smelling as inviting as a home-cooked dinner. Set of Three Lavender Logs, $29.95 at Sur La Table, 500 Route 73 S., Marlton, (856) 797-0098, SurLaTable.com
4. Rack and Roll. There's nothing that wrecks a night in by the fire more than having to brave the chilly night to grab more logs. Keep your supplies neat by the fireside with L.L. Bean's carbon-steel rack, which holds plenty of kindling on top and a stack of newspapers underneath, meaning a longer and easier burn. Hearthside Wood Rack, $179 at L.L. Bean, 500 Route 73 S., Marlton, (888) 552-9883, LLBean.com
5. Stoked. Functionality meets art with this set of fireplace tools. Featuring a poker, shovel and natural bristle brush, you get all the tools you need to keep the fire going and can still keep your hearth looking modern and clean. Natural Steel Fireplace Tool Set, $199 at Crate and Barrel, 2000 Route 38, Cherry Hill, (856) 662-5499, CrateAndBarrel.com
6. Toasty. When looking to enjoy a relaxing evening at home, a glass of good wine always helps. Grab your favorite bottle of wine and pair it with these Riedel glasses and decanter. We like the hard-to-topple stemless glasses when it comes to lounging around this fall, and the matching decanter always looks better when full. Riedel Swirl Glasses & Decanter, $49.95 at Kitchen Kapers, 1341 Nixon Drive, Moorestown, (856) 778-7705, KitchenKapers.com
7. Wrapped. Kennebunk's woven throw is the epitome of snug, and is just what we want when falling asleep by the hearth. Available in a variety of earthy tones, it will keep you warm long after the embers go out. Stria Throw by Kennebunk, $58 at Nordstrom, 2000 Route 38, Cherry Hill, (856) 773-5600, Nordstrom.com
8. Cozy Up. Sure, the scent of a fireplace is part of the fun, but an added spice in the air only adds to your experience. And since winter is the prime time to snuggle up with our favorite bulky sweater, this is our newest candle of choice. This particular candle blends patchouli oils with a hint of musk to create that old, familiar smell that reminds you of all things winter. Yankee Large Jar Candle in Cozy Sweater, $27.99 at Yankee Candle Company, 611 Cross Keys Road, Sicklerville, (856) 740-0683, YankeeCandle.com
Published (and copyrighted) in South Jersey Magazine, Volume 10, Issue 10 January, 2014).
For more info on South Jersey Magazine, click here.
To subscribe to South Jersey Magazine, click here.
To advertise in South Jersey Magazine, click here.