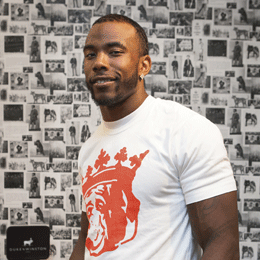 Big, Bad Wolff
Born and raised in North Carolina, Eagles rookie Earl Wolff nestles into his "second home" in Deptford.
In a Philadelphia Eagles season full of ups and downs, one of the brightest spots has been the emergence of rookie safety Earl Wolff. Likewise, Wolff is thoroughly enjoying his first season with the team, both on and off the field. A self-averred "family man" who now lives in Deptford, he spends most of his "off days" in North Philadelphia visiting his grandmother and other members of his extended family.
Born in Raeford, N.C., west of Fayetteville, Wolff played college football for North Carolina State University in Raleigh. He tends toward a more relaxed lifestyle compared with the fast-paced tempo of city life, making Deptford an ideal place to call home.
We caught up with Wolff during a break from the field to talk about his first game at the Linc, the experience of playing under new head coach Chip Kelly, and why living in South Jersey reminds him of the home of his youth.
SOUTH JERSEY MAGAZINE: How has your experience with the Eagles been so far, especially your first home game at Lincoln Financial Field?
EARL WOLFF: It's just great, really just a blessing. It's a great organization, with very passionate fans, and I'm enjoying every moment of it. … The first home game was very surreal, and it brought me back to the time when I was going from high school to college. My dream was to make it to this level, and as I walked out of the tunnel [and onto the field], hearing the fans and how passionate they were, it was amazing to me. It was my first game, and I feel like [the team] kind of eased me in there. Eventually I was thrown into the fire, and I was more than ready for the challenge.
SJM: How have you liked playing under coach Chip Kelly?
EW: Knowing [Kelly] as a coach has been great. A lot of coaches do things and say, "It's my way or no other way," but the way he does things tends to benefit us as players. With everything he does, he explains why he's doing it, and it's always a great explanation. … Even the players are a lot cooler than I thought they would be. My first goal when I came here was to be playing, and I didn't know if the other players were going to shy away from me, but everybody has been real cool. Right now we're all pretty close, and we're getting closer and closer. I'm around the defensive players, mostly, and with the time we're spending together, I think it's showing in how well we play together.
SJM: When did you realize playing in the NFL was a real possibility?
EW: I've always been pretty fast and a pretty good athlete. I fell in love with the game early on. I started playing in seventh grade, and I was really good at that age, and it was then I started thinking that I was going to make it to the NFL. I thought, "I'm not sure how I'm going to get there, but I will." Growing up, I knew I was going to make it with my work ethic and my talent. I just didn't know how. I didn't even see my first pro football game till last year.
SJM: For the past four years, you were at N.C. State. How does South Jersey compare to where you were in North Carolina?
EW: It's a big experience here. Living in Raleigh, driving to the stadium and back, it was kind of a rural area. … Now I'm in Deptford. I've never been "a city guy," but I am learning to like [Philadelphia] a lot. When I get off work, where I spend my time reminds me of North Carolina. I live in a townhouse in Deptford, near the Deptford Mall.
SJM: When you're not on the field, where do you spend time in the area?
EW: I'm kind of a country guy, and I like it here because it's quiet and relaxed. [Deptford] is where I spend my time if I'm not with my family. If I'm in the city, usually I like South Street. I'm really into fashion, so I also go to a few places on Market Street. But really I'm a family guy, so I like to go to North Philadelphia and spend time with my grandmother, my cousins and other members of my family. I was born and raised in North Carolina, but when I was growing up I came up here every year. It's like a second home. When I first got here, I hadn't been out at all in the city, and the first time I spent time downtown, I walked around a little bit, thinking about how I would adjust. It's different, and I remember thinking, "I'm going to like it here."
Published (and copyrighted) in South Jersey Magazine, Volume 10, Issue 10 January, 2014).
For more info on South Jersey Magazine, click here.
To subscribe to South Jersey Magazine, click here.
To advertise in South Jersey Magazine, click here.