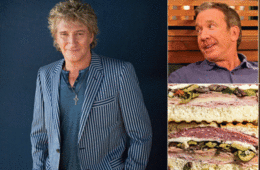 2013 Year in Review
With 2014 officially upon us, we take a look at the last 12 months to bring you our annual Year in Review for 2013. We went back in time to celebrate some of our biggest stories of the year. From the annual Best of the Best winners and Best Physicians, along with some of the more tasty honorees like Bread Winners and Perfect Pies, to interviews with big-name celebs like Super Bowl MVP Joe Flacco, The Walking Dead's Lauren Cohan and everyone's favorite new head coach Chip Kelly, it's been quite a year. Join us as we take a memorable look back.
January
We kicked off 2013 by sitting down with some very interesting local ladies. First, we went behind the scenes with one of local television's most recognizable journalists, Lynn Doyle. She has become a fixture thanks to her years hosting and executive producing the multi-Emmy award-winning It's Your Call with Lynn Doyle. These days, she can be seen more and more outside the studio as both a sought-after motivational speaker and a role model for young professional women. We also spoke with Haddonfield's Jakki Clarke, daughter of legendary Flyer Bobby Clarke. Her book, Flyers Lives: Philadelphia Hockey Greats Share Their Personal Stories, was an insider account from some of the biggest names to ever don the Orange and Black. Meanwhile, Mount Laurel's Mary V. Danielsen helped those affected by Hurricane Sandy by donating her time to help restore and clean thousands of precious photographs thought to be destroyed forever.
February
Sports talk host and comedian Big Daddy Graham became the magazine's first-ever columnist last February. The Mullica Hill jokester's monthly ramblings about South Jersey life are both humorous and engaging. If you haven't caught his act live, be sure to head over to the Broadway Theatre in Pitman on Valentine's Day weekend to catch his Two Funny Philly Guys show with impressionist Joe Conklin. February is also our annual Golden Forks issue and last year we chose what we feel to be the 25 best restaurants in South Jersey. Sadly, one of those fine eateries, Melange @ Haddonfield, went dark in May. A man who usually operates in the shadows, George Norcross spoke with the magazine for an exclusive interview. The powerbroker has quite the reputation, and depending on who you ask, that could be good or bad. In recent weeks, he's made headlines for a different reason: He's become the majority owner of Philadelphia's two daily newspapers and their associated website.
March
We followed Audubon's Joe Flacco down to the Super Bowl in New Orleans and caught up with him after his MVP-winning performance. In the weeks that followed, Flacco signed a $120.6 million dollar contract with $52 million guaranteed. After he signed on the dotted line, he reportedly celebrated at a McDonald's drive-thru. That humble dining choice led him to becoming the fast food franchise's latest commercial spokesman. After years of flying under the radar, former Gov. Jim McGreevey spoke with the magazine in an exclusive interview just weeks before his HBO documentary Fall to Grace was to air. Later in 2013, McGreevey was named the executive director of the Jersey City Employment and Training Commission, and he continues to mentor convicts in an attempt to reintroduce them to the workforce. This month, we also spent time at Revel in A.C. for our spring fashion shoot with some gorgeous South Jersey members of the Sixers Dream Team.
April
We went to spring training to talk about the upcoming Phillies season with slugger Ryan Howard. Unfortunately, the season, both for the team and Howard individually, was frustrating. Howard suffered a leg injury that limited his role and the team missed the playoffs for the second straight season, leading to part-time Haddonfield resident Charlie Manuel's ouster as manager. The always hot topic of gun control was discussed in wake of recent tragedies across the country, as some state lawmakers began to push for reform by introducing nearly 24 new measures. A recent report from the Brady Campaign shows that the state has the third strictest gun control laws in the nation and the fifth lowest rate of gun deaths, but Gov. Christie vetoed what many feel to be the biggest hurdle: instant background checks. Morning radio host Steve Morrison, of WMMR's Preston and Steve, spoke with us about both his on-air persona and giving back. Camp Out for Hunger, Preston and Steve's annual charity fundraiser, just concluded in December, collecting 772,468 pounds of non-perishable food and $240,521 in cash donations.
May
For the first time, the magazine took on the task of finding the best sandwiches in South Jersey. We came up with 50 of the best things between sliced bread, including the mouthwatering pastrami reuben from the Kibitz Room on the cover. Speaking of the Kibitz Room, the Cherry Hill restaurant debuted a food truck in 2013, so now you can get that sandwich on the go. Our annual Top Towns feature generated lots of buzz, with Haddonfield taking the top spot. Phillies shortstop Jimmy Rollins and his wife Johari wanted to give back to their local Gloucester County community, so they spoke with us about their new Jimmy and Johari Rollins Center for Animal Rehabilitation in Woolwich Township.
June
Just in time for our Best of the Shore issue, we chatted with funnyman Tim Allen before his appearance in Atlantic City. The comedian spoke honestly about his past and his reluctancy to return to the TV sitcom world years after his stint on Home Improvement. Well, good thing he was convinced to do so because his current show, ABC's Last Man Standing, was renewed for its third season just weeks after our interview, and is one of the network's most popular programs. We examined how Hurricane Sandy was changing people's summer rental plans and found that the fears that the North Jersey crowd would invade our shores were greatly exaggerated. And one Maple Shade couple shared with us their journey to China in search of stem cell treatment for their son who had been born with an underdeveloped optic nerve. Since the trip, the couple's son's vision has improved and he's doing well, but the question remains: Is stem cell research to thank?
July
Each July, we look forward to unveiling our Best of the Best list: Our picks for the greatest people, places and things in South Jersey. Our choice for Best New Restaurant was Cherry Hill's Han Dynasty, and it appears we are in good company. CNN named the place one of the 50 Best Chinese Restaurants in the country. The recent sale of Woodcrest Country Club raised more than a few eyebrows when Marlton real estate firm First Montgomery Group purchased the property. While they claimed their sole purpose was to resurrect the troubled golf course and not to develop the land, things changed recently when they announced plans to build as many as 844 housing units on the site. Currently, the firm and Cherry Hill Township are engaged in a legal battle.
August
In August, we tackled the litigation between the National Football League and thousands of former players who were accusing the league of intentional misrepresentation of the facts about head injuries. Haddonfield attorney Craig Mitnick was at the center of it all, serving as legal counsel for more than 1,000 of the players. A mere few days before the start of the season, and weeks after the story came out, the NFL and the retired players agreed to a $765 million settlement, which will compensate victims of concussion-related brain injuries as well as pay for medical exams and research. We introduced readers to Pitman's Madeline Brewer, who played Tricia Miller on Netflix's smash show Orange is the New Black. Hot on the heels of that role, Brewer's been cast in another popular show on the streaming service, Hemlock Grove.
September
When Eagles season rolled around, there was only one man we could think of for our September cover: Chip Kelly. The new coach was surrounded by immense hype after taking over for Andy Reid, and while most people took a wait-and-see approach, Kelly has done nothing but impress in his first season in the NFL, leading the Eagles to a division championship. We headed to the Boardwalk in Atlantic City for the return of Miss America and talked with city officials and Lt. Gov. Kim Guadagano about what it meant to have the event back in South Jersey. The event generated millions for A.C. and Nina Davuluri from Syracuse, N.Y., went on to win the crown. Two local mothers' harrowing tales of lost loved ones to drug addiction inspired the Overdose Protection Act, otherwise known as the Good Samaritan Law. Thanks to their efforts, the new legislation protects both the caller and victim when a 911 call is placed to report an overdose.
October
Haddonfield native Joanna Cassidy graced our October cover. The actress shared some fond memories from her youth in South Jersey and provided some unique insight into her Hollywood career. When we heard that Cassidy would be in the area for her 50th high school reunion, we surprised her by dropping off copies of the issue to the venue so she could share them with her former classmates. Lauren Cohan may have grown up in Cherry Hill, but she's come of age on The Walking Dead as one of the hit show's main characters, Maggie Greene. She took a break from filming to tell us about her career and why she liked the pickle bar at Big John's on Route 70 so much. The show is on hiatus until February, but her role has taken a major turn, so stay tuned in 2014.
November
In November, we attempted to put to rest the notion that there is no good pizza in South Jersey by showcasing the 30 best pies you'll find anywhere. We mixed traditional with gourmet offerings and opened some eyes to the possibilities beyond your greasy neighborhood pizza joint. Trust us, there's not a bad one in the bunch. Flyers owner Ed Snider talked candidly about his goals to help underprivileged children with the Ed Snider Youth Hockey Foundation, including some big plans for the future in Camden. Former CBS3 anchor and reporter Robin Rieger became the magazine's second columnist. The personable lifelong South Jersey resident combines wittiness with her perspective as a devoted wife and mother for a family-themed column that has taken off in just a few short months.
December
To close out 2013, we had the fortunate opportunity to sit down with one of music's all-time legends, Rod Stewart. The Rock and Roll Hall of Famer was open about his return to songwriting, his storied past, and why his future is brighter than ever. We traveled from Atlantic City to Bethlehem to eat at the best casino restaurants in the area. After some lovely meals, we narrowed down our 20 favorites and advised you to make you reservation sooner than later. Even if you don't gamble, you'll win big at any one of these amazing establishments. Finally, we spent a day with some of the South Jersey members of the Philadelphia Eagles cheerleading squad for a holiday fashion shoot. If you think these girls look stunning on the field, check them out in our pages.
Click on the links below for all the best of 2013!
2013 Best of the Best
It's been a year since we last brought you our annual Best of the Best issue, but the wait is finally over. And trust us when we say that we've been busy these past 12 months, working extremely hard to make sure this roundup of the greatest people and places in South Jersey is our best effort to date. From the stellar meals we enjoyed to the punishing exercise classes we endured, this list represents South Jersey's cream of the crop. Why else would we call it the Best of the Best?
Click here for Best of the Best: Food and Drink
Click here for Best of the Best: Retail
Click here for Best of the Best: Health & Beauty
Click here for Best of the Best: Lifestyle
Awesome Attorneys
Without the proper guidance, the U.S. legal system can turn into a complicated maze of bureaucracy, whether you're dealing with private family matters or the protection of your business. That makes it imperative to find an attorney you can trust when an issue arises, but knowing where to turn in the beginning isn't always easy. Fortunately, that's where our annual list of South Jersey's Awesome Attorneys comes in, which is created by you, the people whose opinions count the most. Thousands of reader-submitted votes were cast—more than 7,100 this year—to arrive at these 235 names in 40 specialties. The result is our most comprehensive list yet of the top names in legal counsel.
Click here for Awesome Attorneys
Bread Winners
You could say that we are gluttons for punishment. How else would you explain our desire to spend the better part of a year traveling around eating hundreds and hundreds of sandwiches? We suffer for our readers, of course, all in an effort to bring you our choices for some of the most amazing things since, well, sliced bread. You'll find no cheesesteaks on this list and that was intentional. While we love them as much as the next person, they belong in their own category. So, here we celebrate the 50 best, from gut-busting Italian hoagies to traditional Korean barbecue. Better grab some extra napkins.
Click here for Bread Winners
Dynamic Docs: 2013's Best Physicians
Need a physician referral? Well, look no further as we present our annual list of the leading doctors in South Jersey. From pediatricians who make our children feel at ease to cardiologists who keep our heart pumping into our senior years, these medical giants are definitely names you'll want to know. This year's list was compiled by independent third-party provider BestDoctors.com. And as always, we've included our readers' selections. This year, just less than 19,000 votes were cast, making this our biggest physicians roundup ever.
Click here for Dynamic Docs
Perfect Pies: The 30 greatest pizzas you can order in South Jersey
Chicago. New York. Even Connecticut. These are the places you hear most closely associated with what people consider to be the best pizza in the country. Well, we say, what about South Jersey? That's right, some of the finest pies are being crafted right here in our own backyard. Ask any local where their favorite pizza joint is and it's likely to cause an hour-long debate over the merits of the crust here or the sauce there. No matter how you slice it, it's evident that South Jerseyans are passionate about pizza. After eating our way through the tri-county region, we are pleased to present you with the ultimate pizza lover's guide. From traditional to gourmet, here we've selected our choices for the 30 best pizzas in the area. There are old favorites that have stood the test of time and some newcomers earning a fast reputation. We also highlight our favorite spots to grab a slice, five flatbreads you must try, and plenty of feedback from our readers' polls. Trust us, you're going to be hungry after reading this.
Click here for Perfect Pies
Primetime Pediatricians
Not everyone enjoys visiting the doctor, especially children, which is why finding the right pediatrician is such an integral part of caring for your little one. Rest assured, you've come to the right place. This year, South Jersey Magazine has once again partnered with Best Doctors, Inc., to compile a list of the leading pediatricians across the region. We've also included our annual readers' choices of other quality names in the field of pediatrics. Read on to find out what inspires some of these doctors and why they feel caring for children is so important. (And get a load of the pictures of them in their younger days.) These fine physicians are to be admired for the skill and dedication they put into making sure area kids are living happy and healthy lives.
Click here for Primetime Pediatricians
Best of Home & Garden 2013
It's easy to immerse yourself in the comforts of your home, whether gathering with family in the confines of the kitchen or enjoying the kind of sleep you just don't get outside of your own bed. But before you can truly transform your house into a home, lots of decisions have to be made. Paint or wallpaper? Hardwood floors or carpet? Deck or sunroom? Since these choices often reflect the owner's personality, every home is different. That's why we asked our readers to visit SouthJersey.com to nominate and vote for the home and garden professionals they turn to not only when trouble arises, but those who can breathe new life into a property, as well. We've also included several trends that will further give you great curb appeal and just might make the neighbors a bit jealous.
Click here for Best of Home & Garden 2013
Top Dentists 2013
Whether you grind your teeth, are looking to brighten them, or simply need your six-month cleaning, we turn to dentists for all sorts of help. And one thing we've learned is that a trip to the dentist is nothing to be nervous about. At least not when you are trusting one of the many quality professionals found across the South Jersey region. We decided to brush up on who's who in the industry by turning to our readers and asking them to nominate and vote for their favorites in several specialty areas. We received nearly 5,000 votes in response and the result is our 2013 Top Dentists in South Jersey. These 144 leaders in the field show skill and dedication to their craft, giving us all something to smile about.
Click here for Top Dentists 2013
Men of the Year
It's been said before that, with so much work to be done, one should never be content to sit on the sidelines—and this year's careful selection of South Jersey Magazine's Men of the Year embody that. Whether they're dedicated to making health care more affordable for residents of one of America's poorest cities, preventing homelessness among some of the most vulnerable, or volunteering countless hours with local nonprofits that aid the elderly, the sick and at-risk, these businessmen, community leaders and philanthropists are proving that our region is rife with men who truly take that sentiment to heart and are willing to put in the time and make the sacrifices needed to make change happen. Here, we present 17 such men, including this year's Man of the Year—Paul Blackstock.
Click here for Men of the Year
2013's Super Women
You don't have to look far to find a strong woman in South Jersey. From philanthropic business leaders who donate and raise thousands of dollars for worthy causes, to those who demonstrate tremendous civic pride in an effort to better our local communities, we are surrounded by wonderful ladies deserving of the recognition they'd never ask for. After receiving hundreds of nominations, here we introduce you to 29 Super Women, including a salon owner who takes her elderly clients to their doctors' appointments, a former WNBA player and author who started a confidence-building foundation for young girls, and this year's Woman of the Year—a nurse credited with helping dozens of area families cope after confronting their greatest fear, losing a child.
Click here for 2013's Super Women
Best Physicians for Women
This year's list of the names to trust in women's health care. There aren't many people who will list going to the doctor as an activity they enjoy. Between the scale and the needles, there really isn't much to look forward to. But every now and then, you'll find a doctor who will go above and beyond to make the experience a little less nerve wracking, and we're fortunate to find a number of them right here in the South Jersey region. This month, we introduce you to some of the health care professionals making the trip easier for women, whether the reason is a routine visit or a life-altering diagnosis. Based on findings from third-party medical information provider Best Doctors, the physicians on the following pages stand out high among the rest, making sure their patients receive the care they need and leaving no questions unanswered. Through an online poll, our readers made their own recommendations, and their choices are highlighted here, as well. Read on to find out just what makes these doctors the best, what inspires them, and what they love about their job.
Click here for Best Physicians for Women
Published (and copyrighted) in South Jersey Magazine, Volume 10, Issue 10 January, 2014).
For more info on South Jersey Magazine, click here.
To subscribe to South Jersey Magazine, click here.
To advertise in South Jersey Magazine, click here.