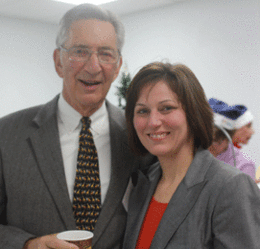 Scene: January, 2014
Click here for this month's Scene photos.
Burlington County College (BCC) Foundation's 25th Annual Holiday Auction
Photo 1. BCC Foundation Board Chair Barry Williams, BCC Foundation Board Treasurer Rick Bell and Donna Bell, and BCC Vice President of Institutional Development and BCC Foundation Executive Director Rebecca Corbin
Photo 2. BCC's Executive Director of Institutional Effectiveness and Research Max Slusher, BCC Foundation's Board Vice Chair Barry Lefkowitz and BCC Board Trustee Brian Kamp
Photo 3. BCC Student Government Association's Vice President of Programming Deniqua Owens and President Joseph Hyland with BCC Student Activities Specialist Adrianne Dahms
Durand Foundation Receives $5,000 from Royal Cracovia
Photo 4. Durand's Education Administrator and Principal Dr. Tom Ryan, Royal Cracovia chef and owner Stanislaw "Stosh" Stachowski and Durand CEO Raymond Cristofoletti
Smashburger Grand Opening in Cherry Hill
Photo 5. Smashburger General Manager Omar Shaikh with Camden County Regional Chamber of Commerce's Vice President of Membership Mel Zimmerman and President and CEO Art Campbell
The Annual Rutgers/LEAP Alfred Santiago Endowed Scholarship Fundraising Black Tie Gala
Photo 6. Latino Rutgers University Board Trustee and Leadership Alliance of New Jersey President Martin Perez, Sen. Robert Menendez, LEAP Founder and Board Chair Gloria Bonilla-Santiago and Rutgers University President Robert L. Barchi
Lennar Homes' New Jersey Presents Check for $3,000 to Bancroft
Photo 7. Bancroft Director of Development-Major Gifts' Jory Barrad, Bancroft Haddonfield Campus Principal and Senior Director Matthew Sharp, Lennar Homes NJ Division President Don Bompensa, and Tile It & More Sales Manager Barry Bodine
The Animal Welfare Association of Voorhees' Pet Clinic and 65th Anniversary Celebration
Photo 8. AWA Executive Director Maya Richmond with Morgan, Bornstein & Morgan's Steve Morgan
Photo 9. Voorhees Township's Larry Spellman, AWA Board of Trustee member and Columbia Bank Vice President Mark Schott, and Voorhees Mayor Michael Mignogna
JML Financial Group Hosts Open House for Toys for Tots
Photo 10. The Marine Corps' Ray McIntire, Carmen Staino and Lt. Colonel Al Bancroft with Camden County Veteran's Affairs' Joe Yocavitch
Photo 11. The Marine Corps' Frank Money and Ray McIntyre, JML Financial Group's Traci Kelly, Sen. James Beach, Lt. Colonel Al Bancroft and Camden County Veteran's Affairs' Joe Yocavitch with Santa Claus
Katz JCC's 4th Annual Sports Awards Dinner
Photo 12. People's Choice Award Winner Brett Kratchman, Philadelphia Eagles' LeSean McCoy, David Back Maccabi Memorial Award Winner Hank Davis, and Lifetime Achievement Award Winner Jeff Brown
Photo 13. Sports Awards Executive Committee Fundraising Vice Chair Jason Ravitz and honorees Vice Chair Steve Greenberg, Eagles' LeSean McCoy, Committee Operations Vice-Chair Donna Rose, Event Coordinator Brian Adler and Event Chair Neil Levine
Photo 14. Event Chair Neil Levine with Lifetime Achievement Award Winner Jeff Brown
Gloucester County Chamber of Commerce's 4th Annual "Give Thanks" Event
Photo 15. Rowan University's Joe Cardona, Graphic Solutions' Steve Riggs, Evolution Management's Milton Corsey, Home Companion Care's Debra Gabriele, and People for People Foundation's Bernadette Blackstock
Published (and copyrighted) in South Jersey Magazine, Volume 10, Issue 10 January, 2014).
For more info on South Jersey Magazine, click here.
To subscribe to South Jersey Magazine, click here.
To advertise in South Jersey Magazine, click here.