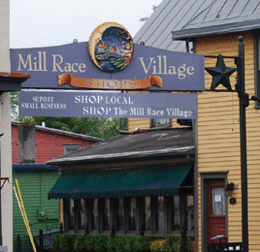 In the Neighborhood: Mount Holly
A look around South Jersey towns
Click here for all of this month's photos.
The sounds of Mount Holly around noon on any given weekday compared to nightfall and the weekend used to be incomparable. In one scenario, you'd be witness to lunchtime foot traffic and shopping; but with the majority of those shoppers and diners being county workers (Mount Holly is, after all, the county seat), it was a much quieter scene outside of the 9-5.
"You used to be hard-pressed to find someone that says, 'Hey, I want to go shop downtown Mount Holly,'" says Audrey Winzinger, who serves on the board of directors of Main Street Mount Holly. "But that's not the case anymore."
With its Mural Arts Program, popular restaurants and 17th-century shopping district, Mount Holly has always enjoyed a quaint reputation. However, a significant rebirth has been building up over the last couple of years that has the township poised to take it to the next level.
"For people who haven't been here lately," Winzinger says, "I think they'd be surprised by the business community. We went through a period of time without a lot of storefronts filled or restaurants. But that's changing and we're thriving." Here, we go over just a few of the big changes that have people buzzing.
Mill Race Village Expansion
Mount Holly has long been known as an artists' haven—embracing everything from jazz music at Washington Street's Firehouse Café (appropriately named for a converted fire station) to basket weaving at Pinelands Folk Music and Basketry in Mill Race Village. It's the 17th-century Mill Race Village, made up of now 18 gallery and artisan shops, that is most known as that artists' center. The longest tenants have called it home for 25 years, and several hopeful artrepreneurs sit on a waiting list for a spot to open—a wait that could end soon.
Mill Race, Inc., which is owned by the Winzinger family, just last month purchased a vacant, 65,000-square-foot commercial complex between Church and Monroe streets. Plans for the site, named The Eagle Foundry at Mill Race Village, include housing in the upper floors, with mixed-use retail below. "This will be an extension of Mill Race with the ability to have larger retailers and studio space," Winzinger says, adding larger space is much needed. "All of the shops we have now are just 1,000 square feet because that's what they [historical buildings] were built for. So many of them are bursting at the seams."
The expansion comes at an opportune time, as the village has only continued to grow in the last year. Three new shops moved in—Endless Treasures, which sells handmade and repurposed wares, Finders Keepers, an antique store, and Valerie Bruder Photography. Winzinger says the extra space will allow some of the village's long-time tenants the opportunity to expand, which will allow some of those patient waitlisters the opportunity to move in. The redevelopment will most likely take place over five years, with the first phase to be complete by the end of 2014.
Food & Drink
Robins' Nest and High Street Grill have been the anchors for the lunch and dinner crowd, but they've had more company lately: 2013 saw the addition of Downtown Pizza and Italian Grill, Vincent's Homemade Ice Cream, new ownership and re-branding of the Mugshot Diner into the Corner Diner, and the one-year anniversary of Ott's Downtown Pub & Grille.
Councilman Dwynne Belton says the 2012 opening of Ott's—a local chain with a well-respected reputation—helped usher in a new era for the downtown, but it's what's next that will really solidify the new persona.
Thanks to new legislation making New Jersey more brewer friendly, two startups have chosen Mount Holly to call home—Spellbound Brewing, which will open later this year, and Village Idiot Brewing Co., which just opened in mid-December in the former Bridgetown Pub. The owners of both hope to transform Mount Holly into a beer lovers' tourism destination, a goal welcomed with open arms by the township.
"The breweries are really going to add to the identity of the downtown," Belton says. "That's going to bring a lot of people into the downtown and help make Mount Holly a destination."
Winzinger adds, judging by the buzz surrounding the breweries, it's sure to make an impact—and she doesn't worry about competition with places like Robin's Nest, which is owned by her sister, chef Robin Winzinger. "The more restaurants and brewpubs we can add on to the downtown, the better," she says. "Adding on to the downtown at night is key, and it will bring in the right people."
West End Redevelopment
A milestone was reached in November when the decade-long Mount Holly Gardens lawsuit was settled, opening the door to the town's west end redevelopment. The remainder of the neighborhood off Rancocas Road will soon be torn down, replaced by some 44 homes—20 of which will be occupied by former Gardens tenants, as per the settlement. Nine units have already been sold and will be complete this spring. Belton has hopes that the original plans to make it a mixed-use development project—including homes and commercial development—can now get back on track. Discussions with residents about what type of commercial development they'd like to see are expected in the near future.
"This was a huge anchor weighing us down," Belton says, adding now Mount Holly can "catapult" forward and start the process of rebuilding.
"We need to start serious discussions soon and get residents' input to make sure whatever we do is fair for them," he says, adding it's possible commercial development—most likely a mix of small and large businesses—will start to be seen by the end of this year.
That west end redevelopment is what to watch in 2014, as it will only complement what's been going on downtown, he believes.
"Mount Holly has always been on the verge of what it's experiencing now," he says. "The puzzle is being put together. We always had the pieces; we're just turning them in the right positions now."
Published (and copyrighted) in South Jersey Magazine, Volume 10, Issue 10 January, 2014).
For more info on South Jersey Magazine, click here.
To subscribe to South Jersey Magazine, click here.
To advertise in South Jersey Magazine, click here.