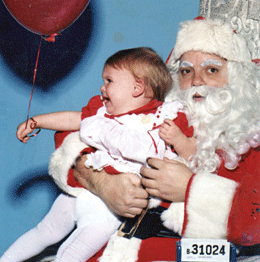 Big Words: Stop Crying and Smile!
There are many famous (or infamous) photos in your life. Milestone pictures that you will occasionally look at for the rest of your life. Many of them you can't help but see everyday because they're on a wall in your home.
There's your first team photo. If you're lucky, it's hanging in a restaurant or bar somewhere like my daughter's softball team photos are hanging in the Harrison House Diner in Mullica Hill. I get great pride whenever I see them.
There's your prom photos, and if you're lucky those babies are not hanging anywhere. My mother used to have mine on the fake fireplace mantelpiece for years and I looked like such a doofus in them that I stole them and never returned them. (I mailed one of those prom photos to my senior prom date and I understand she converted it into a dartboard.) Every time I look at my junior prom photo with Eleanor Garvey, it reminds me of how she wouldn't even let me kiss her in the backseat of Wheels Brady's car on the way to the big dance, and then she cried all night with her girlfriends, completely ignoring me for the rest of the soiree.
The problem with high school graduation photos for me is twofold. One, I look like such a nerd, and two, it reminds me of how old I am now. However, I love both my daughters' graduation photos. They should also remind me of the aging process, but they don't. They remind me of nothing but great times and they both look beautiful in them.
Nothing tops wedding photos. They not only capture the wedding party in all its finery at the beginning of the event, when everyone looks their best, but the photographer continues to take shots throughout the reception after the bride has had eight cherry bombs and is working the floor like a dancer at Club Risque and Uncle Fred has ziti all over his suit. I love those wedding shots more than the posed ones.
But think about it. What is the first official photo of your life? It's you and Santa, the main man, the boss of bosses, the man with all the toys. The first important person in your life that you have to show respect to that's not your mother and father. There are no teachers or coaches in your life yet. He's not only this fat, jolly dude with a beard, he's the one keeping score. You want that truck or that doll, right? So you better be nice, and not naughty, because he's keeping a list and he's checking it twice!
When I was a kid, the hot spot to get your snapshot of Santa was at John Wanamaker's at 13th & Market. To my mother, no other Santa mattered. (The rest of them were just "helpers.") We'd exit the 36 trolley at 13th Street and you didn't even have to hit the street. You entered through the legendary Bargain Basement and slowly rode the escalator up to the eighth floor. Now I know there's Vegas, Manhattan, New Orleans, Atco, but to this day I have never experienced again the electricity and excitement of the eighth floor of Wanamaker's during the holidays. An entire floor of toys with a monorail that you could ride that circled the joyful scene from high up above!
But all that could wait. Decked in my Andy Williams holiday sweater and bow tie, my mother and I got in the line for Santa. You would have thought they were giving away free liquor the line was so endless. Performing the Stations of the Cross took less time.
Finally, I was about five kids away and I couldn't believe how many kids were crying and screaming. What was wrong with these brats? They were blowing it. Well, I sure didn't. After a slow shy start, I nailed my list. Unfortunately, the photo was snapped when I first sat on his lap and the look on my face is one of a toddler who is gazing at a UFO out of a Spielberg movie. I had never seen a beard like that before. ZZ Top was still years away. However, mission accomplished.
Decades later, here was mother and myself and my 2-year-old Keely trekking our way up the same Wanamaker escalator. All through the line my daughter's eyes were lit like a pinball machine.
Then she sat down on his lap and behaved like Santa was Hannibal Lecter. She went hysterical and that's what the photo captured. A screeching little kid. It's a classic that the whole family never tires of laughing at and it gets prominently displayed every season. Mission accomplished.
My second daughter Ava was another story. No matter how many Santas we took her to, she wanted nothing to do with him. I think she took in the kids walking away from the line screaming and crying and said to herself "I'm outta here." Determined as I was to land her first Santa photo, it was beginning to look like I was going to have to wait till next year.
Then one December Sunday, I took her to the Cherry Hill Mall looking for a present for my wife I couldn't find anywhere else. Now back then, the Cherry Hill Mall had a legendary Santa. Real beard. Real fat. He was a classic.
We were strolling by him when Ava broke free of my hand and ran and got in line. Just like that. No prompting. I had totally given up and the next thing I knew, there she was. Sitting on his lap. Photo taken. Mission accomplished!
I have about eight years of Santa photos of my kids and I wouldn't trade them for the Mona Lisa. They're classics.
I know sometimes we all get crazed during the holiday season. Cards to send out. Dinners to make. Presents to buy. People to avoid murdering while you're looking for a parking spot at the mall. But do yourself a favor. Find those Christmas photos and put aside a little time for you and your family to sit down and pass them around. You won't regret it. It'll make your day.
Happy Holidays!
Big Daddy Graham is a renowned stand-up comedian and overnight personality on SportsRadio 94WIP. If you're thinking of asking Big Daddy to perform at your private party or fundraiser, email him at BigDaddy295@aol.com, find him on Facebook or follow him on Twitter @BigDaddyGraham.
Published (and copyrighted) in South Jersey Magazine, Volume 10, Issue 9 December, 2013).
For more info on South Jersey Magazine, click here.
To subscribe to South Jersey Magazine, click here.
To advertise in South Jersey Magazine, click here.