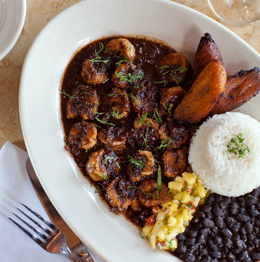 Palate Review: The Cheesecake Factory
A Big Appetite: The Cheesecake Factory
931 Haddonfield Road
Cherry Hill
(856) 665-7550
2 and half forks
When it comes to fine dining in South Jersey, there's a lot of competition in Cherry Hill. In the last decade, the township has come alive, with quality restaurants popping up everywhere, especially around the Cherry Hill Mall and former Garden State Park Racetrack. One of those heavy hitters is The Cheesecake Factory, a national chain with only one location in South Jersey that has been continuously drawing in diners for years.
The interior of The Cheesecake Factory has always been a bit of a mystery to me. Giant pillars are seemingly Egyptian-themed, with sphinxes carved into its walls, while modern lights hung from the restaurant's high ceilings, which also shared space with long powder blue and pink murals. The décor may be disjointed, but there's plenty of seating, and a sprawling bar area.
Still, on a weekday night, I walked in to find an overwhelming crowd waiting by the entrance for a table. Even more than five years after it first opened, The Cheesecake Factory is a dining hot spot for families, dates and friends. The chain boasts more than 200 options on their 20-page menu, giving picky eaters and adventurous foodies more than enough options to choose from.
Appetizers and starters alone were an adventure. You can pick from the list of appetizers, but then there's a selection of appetizer salads and their small plates and snacks, all good starting options. The small plate of parmesan polenta fries—six large sticks and a bowl of marinara—was the perfect size for two people. They resembled classic mozzarella sticks in size, and were also battered and fried, but because they were so large they didn't quite resemble fries; and the under-seasoned, piping hot polenta on the inside made it more of a soft dish. The chunky, sweet sauce, however, did a lot to help the flavor.
Then came the appetizer of Thai lettuce wraps, a massive platter of skewered grilled chicken breast, lettuce and accompanying sauces and toppings, best split between larger groups. The marinated chicken breast was juicy and salty, and the lettuce was fresh and crispy. It was quite the task, mixing and matching combos of chicken with chopped carrots, fresh bean sprouts, rice noodles and peanut, mint and soy sauces, but the blend of fresh vegetables with the hot chicken was so simply satisfying and a light start to the meal.
And a light start is what you need, because portion sizes coming out of the kitchen are—like the menu and the space itself—humongous. A plate of chicken and biscuits came with a mound of potatoes, at least three biscuits, veggies and two chicken breasts, all of which was smothered in gravy. It wasn't the most beautiful plate, and the biscuits were either stale or dreadfully overcooked, but the chicken was juicy and well-seasoned. It was nice to have sautéed chicken breasts, as opposed to the deep-fried traditional option. Overall though, the individual flavors of the meal were lost in the gravy.
Jamaican black pepper shrimp arrived in a more-bang-for-your-buck portion as well, only instead of heavy carbs and gravy, we received shrimp swimming in a rich, black pepper sauce with a mound of rice, stewed black beans, fried banana and pineapple salsa. It was a harmonious plate but it could have used some more Caribbean flavor. The menu warned that this dish was spicy, and while the spice was there, I was preparing myself for more of a punch. It had a nice sweetness though that combined well with the pineapple salsa, and the beans were hearty and spicy in their own right.
Finally, the restaurant's namesake: the cheesecake. Picking one slice from the list of more than 30 options was a challenge, but my dining partner and I settled on the dulce de leche caramel cheesecake to end the night. A restaurant named The Cheesecake Factory has a lot of pressure to deliver some serious results, and in the case of this one they succeeded. A mile-high slice of rich brown cheesecake came topped with a layer of caramel mousse with fresh whipped cream and a caramel drizzle. The crust was still crispy, and no layer was too sweet or too overpowering.
It's easy to see why so many people keep coming back to The Cheesecake Factory; it's designed to please every palate and packs a portion size that's hard to beat. But the details get lost in the midst of bigger plates, more menu options and more mouths to feed, details like plating and portioning that can turn an ordinary meal into a memorable night out. But The Cheesecake Factory will always be a reliable option, and any parent of a picky eater or hopeful romantic picking a first date can tell you that sometimes, reliability is the most valuable item on the menu.
Published (and copyrighted) in South Jersey Magazine, Volume 10, Issue 9 December, 2013).
For more info on South Jersey Magazine, click here.
To subscribe to South Jersey Magazine, click here.
To advertise in South Jersey Magazine, click here.