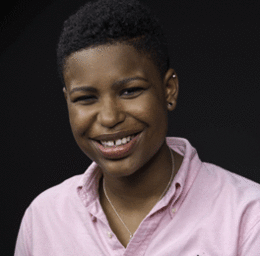 Fighting Back
One woman's nightmare transforms into dream, hope for the future
Courtney Simmons was supposed to end up as a lawyer. Throughout her childhood, whenever someone asked her what she wanted to be when she grew up, that was always her answer. It just seemed like a cool job, and one everyone told her she'd be good at. But these days, her dreams no longer include courtrooms and the law. Now she wants to spend her life fighting cancer.
No one could blame Simmons for feeling the exact opposite, for wanting to get as far away as possible from cancer. The disease took her older sister, Christina, and her mother, Crystal, in a three-year span. Just a few weeks after her mom's passing, on Christmas Day 2011, cancer came after Simmons herself, right in the middle of her junior year of high school, when what she thought was a sprained ligament in her knee turned out to be a tumor.
Her immediate reaction, naturally, was that life wasn't fair. Simmons knew she had Li-Fraumeni syndrome—a rare hereditary condition passed down from her mom that greatly increases a person's susceptibility to cancer—but the timing could not have been worse.
"I thought it couldn't possibly be happening because my mom had just died a couple weeks before," says Simmons, a South Philadelphia native and current Washington Township resident. "I tried to be optimistic, just because I usually try to be optimistic, but I wanted to be realistic, too. I honestly thought that there was something that would prevent me from beating cancer, because my mom and my sister were the strongest people I knew, and if they couldn't beat it, there was no way I could beat it. But I kept that to myself, and I knew I had to try to get through it for the people I loved and the ones who loved me."
Amazingly, Simmons never let her doubts show to those around her: her younger brother and best friend, Reggie; her nurses and doctors at Children's Hospital of Philadelphia; the new friends she made at CHOP who were battling cancer just like her.
Dr. Abby Green, Simmons' oncologist, has seen many brave young cancer patients during her seven years at CHOP. But she knew Simmons was different the moment she met her, and it continued throughout her treatment.
"We gave her nine months of chemo; it was no fun at all, and she felt horrible a lot of the time. But you almost never knew it," says Green. "Unless she was actively throwing up, she was walking around giving handshakes and hugs and knew everyone's first name and treated everyone like gold. She just has the best attitude. It's really amazing—I don't know anyone like her."
To be sure, chemo, the surgery to remove her tumor and physical therapy were all excruciating. "That was the most pain I've ever experienced, the two or three months after my surgery," Simmons says. "I don't even know how to explain it, just constant pain. It was brutal, and physical therapy was brutal. … I wouldn't wish that on anyone."
But it was all worth it when Simmons' leg, which was in danger of amputation, was saved. After her diagnosis in January 2012, and surgery that April, Green told her the four words she was waiting to hear in September: "You are in remission."
Simmons soon returned to school and graduated on time this past June. Now she is pursuing her dream of becoming an oncology nurse—which she decided on during her treatment at CHOP—as a freshman at St. Joseph's University. She ended up at St. Joe's with a large assist from Eagles Fly For Leukemia, a charity once associated with the Philadelphia Eagles that has been battling pediatric cancer for more than 40 years.
Audubon native Stan Lane co-founded the charity in the early 1970s along with former Eagles wide receiver Fred Hill. At the time, Hill's young daughter, Kim, was battling leukemia, and the charity was formed to raise funds and awareness. Eagles owner Leonard Tose fully supported the cause and Eagles Fly For Leukemia became the official charity of the team, although there is no longer an affiliation between the two organizations. Eagles Fly For Leukemia has raised close to $10 million since its inception, holding several fundraising events throughout the year.
"I jumped in with three feet and I've been involved ever since for the last 40 years. It's been a love of my life," says Lane. "When we started, Kimmy had less than a 10 percent chance of living. Now, if we get a child with early detection and get them to treatment, there's a very good chance the child can be cured. With the medicine and the techniques and all the research that has been done, it's no longer a death sentence when your child or grandchild has leukemia. Our goal, our Super Bowl, is to get a 100 percent cure rate and put us out of business."
"My wife Carol, for five or six years, was a volunteer at Children's Hospital, and a lot of the funds help kids there. So we were really close to it and we remain as close as we can to it," says former Eagles coach Dick Vermeil. "The charity has already made a huge contribution to increasing the opportunities to live a healthy life if you have childhood leukemia. It's nice to make contributions of both money and time and see the benefits of your efforts in a positive light, to see the smile on the face of a young child."
The organization played a key role in the building of the first Ronald McDonald House for patients and their families, and there are now more than 300 such houses in 52 countries. In addition, it funds a research scholar at CHOP's cancer center each year—Green is currently in her second year in that role—and also awards full scholarships to St. Joe's and Drexel once a year to a cancer survivor.
Simmons was awarded the scholarship this year after writing a 13,000-word essay on her diagnosis and what it means to her. She had feared that she wouldn't be able to afford St. Joe's, her top college choice, but now she is on her way to becoming an oncology nurse, and her goal is to join the staff at CHOP.
"Because I got this scholarship, everything that I want to pursue is so tangible because I don't have to worry about how I'm going to pay for it," she says. "It's even more amazing that an organization like Eagles Fly For Leukemia gave it to me, because this is exactly what I want to pursue. Some of my nurses have had a huge impact on my life, and a lot of them are the reason I want to be a nurse. I just want to do what they do and make magic happen.
"I feel like that's what I'm supposed to do, that's what my purpose is and that's why cancer has been so prevalent in my life. I'm not saying that I can cure cancer or I can save the world, but I know that I will play my part in trying to help."
Published (and copyrighted) in South Jersey Magazine, Volume 10, Issue 9 December, 2013).
For more info on South Jersey Magazine, click here.
To subscribe to South Jersey Magazine, click here.
To advertise in South Jersey Magazine, click here.