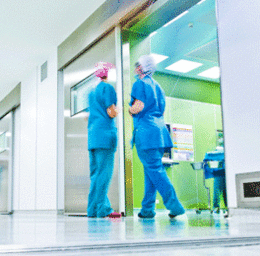 Furthering Medicine
For area hospitals, there's no time like the present to look toward the future.
As we round out the last days of 2013, there has been a vast array of health care news in South Jersey. Mergers and expansions, advances in technology, and a number of awards and recognitions were just some of the big headlines. While the uncertainty of what lies ahead with the Affordable Care Act has some concerned, there is also much to celebrate, and we take this time to look back at the biggest news in our region.
Cooper University Health Care
Cooper celebrated a number of major milestones including the April announcement that it had acquired 20 percent interest in AmeriHealth New Jersey. Together, Cooper and AmeriHealth New Jersey have developed an expanded suite of health plans including insured, self-insured and Medicare products. In June, Gov. Chris Christie, along with representatives from Cooper and MD Anderson Cancer Center, announced a partnership to provide cancer patients with access to the most advanced treatment available. This partnership brought the No. 1-rated cancer program in the nation to South Jersey. In October, the partners opened the free-standing center, MD Anderson Cancer Center at Cooper in Camden.
Cooper also launched a new approach for primary care medicine with the opening of the Cooper Advanced Care Center in Camden. This innovative service was established to provide the local underserved populations with access to a collaborative practice of 19 medical and surgical specialties under one roof.
In addition, in November, Cooper opened its second Urgent Care Center. Located in Audubon, the center will help serve the emergent medical needs of the community.
Deborah Heart and Lung Center
Considering Deborah already has a busy catheterization lab, the opening of a new state-of-the-art catheterization lab this year was big news and will allow them to do many more procedures. The organization's new hybrid operating room is also underway and will allow patients more advanced surgical options by combining complex surgical procedures with less-invasive catheter-based treatments.
"The ability to do both surgical procedures plus catheterization procedures will enable doctors to handle more complex cases and implement more innovative procedures," says Dr. Lynn McGrath, Deborah's vice president of medical affairs and chair of the surgery department.
Deborah is also on the cusp of opening a new Wound Care Center. "Part of our job includes improving blood supply to the legs with a bypass procedure, so adding the Wound Care Center will enable us to save more patients' legs and feet," says McGrath.
"Resistant wounds used to require amputation, but now we have innovative therapies and the Wound Care Center will only help advance that mission."
Inspira Health Network
The re-branding of Inspira Health Network (formerly Underwood-Memorial Hospital and South Jersey Healthcare) was big news. In March, Cumberland County-based South Jersey Healthcare and Underwood announced the name of their newly merged organization. "Inspira is taken from the word 'inspiration,' and we felt strongly that this name embodies the vision of our new network," explains Chet Kaletkowski, president and CEO.
Other big news included the opening of a dedicated eight-bed pediatric emergency department. Inspira Health Center Bridgeton also opened a new Behavioral Health Services unit, doubling its previous space. Inspira has also added new, state-of-the-art technology to treat patients with wounds. With two, new hyperbaric chambers, Inspira's wound care specialists now have another evidence-based therapy to manage and heal chronic wounds.
Kennedy Health System
The redirection of the osteopathic medicine program to Rowan cemented Kennedy as the principal teaching hospital for RowanSOM. That was among big news in 2013, says Joseph Devine, Kennedy's president and CEO. The continued development of the hospital's Acute Care for Elders (ACE) Unit in Stratford, designed to meet the needs of older adults, was also big news. "Caring for the elderly population in a unique way—as opposed to putting them in the normal mix of patients—is an initiative we're dedicated to," says Devine.
Kennedy also has a strong physician initiative known as the Kennedy Health Alliance which began in 2010 and in 2013 opened additional offices, including a Cherry Hill location. Advances in cancer care have also been big news. The expansion of Penn Radiation Oncology at Kennedy includes the introduction of Varian TrueBeam Technology. "This allows patients to be treated right here in New Jersey as opposed to having to go into Philadelphia for cancer treatment," Devine says.
Kennedy is also one of only two comprehensive stroke centers in South Jersey and Devine says that program, which includes their partnership with the Jefferson Neuroscience Center, will continue to grow.
Memorial Hospital of Salem County
The Memorial Hospital of Salem County continues to see growth and advancement of their Salem Surgical Weight Loss Center, led by Dr. Harish Kakkilaya. Kakkilaya recently performed surgery for Maureen Ashfield, who lost 125 pounds and was subsequently named Mrs. New Jersey. "The program has grown primarily because of the technical expertise and skill of Dr. Kakkilaya," says George J. Gennaoui, director of marketing and public relations.
In addition to growing the surgical weight loss program, Memorial Hospital is also proud of its continued Emergency Department success. "We pledge that patients will see a physician within 30 minutes and we've been very successful at meeting that pledge," says Gennaoui. "The total average length of stay in our Emergency Department is only 2.5 hours and that's a point of pride for us. We are a community-based hospital that believes in convenience and comfort and we work hard on delivering on that 30-minute pledge."
Our Lady of Lourdes Medical Center
In 2013, Lourdes was recognized for being among the top five percent in the nation with the Distinguished Hospital Award for Clinical Excellence. "We are honored to be recognized among the nation's best hospitals for safety, quality care, and clinical outcomes for the second year in a row," says Alexander J. Hatala, president and CEO of Lourdes Health System.
Earlier in the year, Lourdes opened LourdesCare at Cherry Hill, a new state-of-the-art outpatient center. In April, Lourdes announced the launch of a Palliative Care Medicine consultation service, naming Samaritan Healthcare & Hospice's Palliative Medical Partners specialty practice as its preferred provider.
Lourdes also made many advances in technology including the introduction of the Synapse Mobility 3.0 app, which allows physicians to remotely access X-ray images, scans, and other information through the use of a smartphone. And with a new patient portal system, patients can now view their health information and communicate with Lourdes physicians with secure online tools. The NextGen patient portal is being piloted at 15 Lourdes Medical Associates (LMA) practices.
Rowan University School of Osteopathic Medicine
The year's biggest news for Rowan University came in July when the New Jersey Medical and Health Sciences Education Restructuring Act went into effect. This included the disbanding of the University of Medicine and Dentistry of New Jersey (UMDNJ) and the merger of its Stratford-based School of Osteopathic Medicine and Graduate School of Biomedical Sciences with Rowan. It also included a partnership between Rowan and Rutgers – Camden to create a College of Health Sciences in Camden, which will create educational and health care programs within the region. Potential programs include areas like pharmaceutical sciences, public health and the allied health fields.
"What has emerged from the Restructuring Act provides us with the ability to create something beyond just adding another medical school," says Linda Rohrer, chairwoman of the Rowan University Board of Trustees. "This act contributes to us serving as an economic engine for South Jersey, to think about the health care workforce needs for the region."
Virtua
The past year was a busy one for Virtua and included a number of openings and expansions. These included the opening of Virtua's newest Health & Wellness Center in Moorestown as well as the dedication and opening of a new state-of-the-art Pediatric Pavilion at Virtua Memorial in Mount Holly. In 2013, Virtua and Samaritan Healthcare & Hospice also expanded its palliative care services within their already existing partnership.
"We are proud of our employees and the safe, high-quality care they provide for our patients every day to assure an outstanding patient experience," says Richard P. Miller, Virtua president and CEO. "We are also proud of everything that we do to help make our communities better places for the people who live there."
Published (and copyrighted) in South Jersey Magazine, Volume 10, Issue 9 December, 2013).
For more info on South Jersey Magazine, click here.
To subscribe to South Jersey Magazine, click here.
To advertise in South Jersey Magazine, click here.