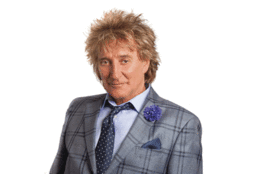 Hot Rod
After decades in the music industry and the public spotlight, Rod Stewart may just be hitting his stride.
Women still want him and men still want to be him. Not much has changed for Rod Stewart over his decades-long career as one of music's biggest talents. He's been at the top of the charts and the top of tabloid fodder, but through all the ups and downs, the 68-year-old has remained consistent and shown great longevity in what can be an unforgiving business. This month, in support of his latest album Time, Stewart brings a mix of new tunes and certified classic hits to the Wells Fargo Center in Philadelphia on Dec. 11. We caught up with Stewart during a break from the tour to talk about what inspired him to start writing songs again, his willingness to share private aspects of his life with the public, and why he doesn't plan on slowing down anytime soon.
Q&A
SOUTH JERSEY MAGAZINE: What can you tell me about the new tour, and how exciting has it been to be back on the road?
ROD STEWART: I'm really excited about the new stage and the production we're delivering. It's quite an eyeful. And I've got 13 musicians and singers on stage with me. Also, I'm doing songs I haven't done in quite a while. And it's a tremendous pleasure to have my old friend, Steve Winwood, opening the show.
SJM: The show will be in Philadelphia and that can be a great crowd; any memorable moments from past performances there, at the Spectrum or elsewhere?
RS: Philadelphia has always delivered a great audience. The energy is terrific and we'll go all out to give it right back to them.
SJM: Have you ever spent any time in this area, in Philly or South Jersey, down in Atlantic City or along the Jersey Shore?
RS: Apart from shows, no. I should change that!
SJM: You've been doing this a long time, do you still get a jolt out of performing or has it become second nature to you?
RS: Absolutely never second nature. I love what I do and I think the audience can feel that. There's nothing better than when the curtains open to the roar of the crowd. Well, sex with my wife is better!
SJM: The music business has changed so much since you started. What do you like about it now and what do you wish was different?
RS: Well, touring is not all that different now. Even though shows like [American] Idol and X Factor have given us overnight music stars, it is hard for them because they have neither the experience nor the material nor the time to hone in on what they do best.
SJM: I've read where you said writing your autobiography inspired you to start writing songs again. How did putting the book together inspire you to find a lost passion?
RS: Writing the book was a cracking good experience in so many ways. One of the things that was fun was talking to my brothers and sister about stories of when we were growing up. And my brother would remind us of a funny story and my sister would jump in and say, "Remember when we did this?" So much came flooding back and some of those experiences turned to music, like the story in the song "Brighton Beach."
SJM: After the Songbook series, was it important for you to challenge yourself and sing your own songs again?
RS: No, it wasn't a thought process like that. I loved singing the Songbook songs and the timing was right for me to sing my own songs again. I didn't have anything to prove.
SJM: Are you a better songwriter than you were years ago, and if so, how have you evolved?
RS: It is hard to compare. I took a long break from writing songs. Now that I am more experienced, my outlook is different, so the songs are different subjects. I will say that before, I found writing songs like homework. Now I enjoy it much more—ideas come to me and I grab anything I can write on—napkins, newspapers. "Quick, who's got a pen?"
SJM: What's the best song you've ever written and why?
RS: Probably either the Killing of Georgie because it was a very controversial song at the time or Can't Stop Me Now because it sums up a very important time in my life.
SJM: What's one song you wish you had written?
RS: [laughing] April Showers by Al Jolson.
SJM: Who are some of the newer artists you enjoy listening to?
RS: My kids introduced me to the new Arcade Fire album. That's wonderful. And I tell you who I've been listening to that is so good—Mountain Man—three girls that sing in an Appalachian style. Sort of like the Carter family with no backing.
SJM: You've influenced many artists, but who were some of your influences early on in your career?
RS: Sam Cooke is an all-time favorite.
SJM: You have always been very open about your life, especially in your book … whether talking about women, drugs, etc. In this day and age, when celebrities are so guarded about their personal lives, why have you been so transparent?
RS: I guess that is my personality. My life is an open book and now it really is. The great thing about writing a book is that you can clear up all the rumors that go around once and for all.
SJM: At this stage in your life and career, what drives you to still make music and remain relevant? Do you feel you still have more gas in the tank, something else to prove?
RS: I love what I do. It's a part of me. I don't have anything to prove but there is plenty of gas left in my tank!
SJM: What's one thing you know now about the business that you wished someone had told you about when you started?
RS: No one could have prepared me for how much I love doing it and how I love interacting with the audience at every single show. That is something I had to learn for myself, and what a joyous lesson it has been.
Published (and copyrighted) in South Jersey Magazine, Volume 10, Issue 9 December, 2013).
For more info on South Jersey Magazine, click here.
To subscribe to South Jersey Magazine, click here.
To advertise in South Jersey Magazine, click here.