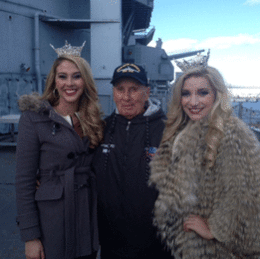 Scene: December, 2013
Click here for all of this month's Scene photos.
Royal Cracovia Grand Opening Benefiting The Durand Foundation
Photo1: Royal Cracovia chef Mirko Loeffler, The Durand Foundation CEO Raymond Cristofoletti, Royal Cracovia owner Stanislaw Stachowski and Durand Academy Education Administrator and Principal Dr. Tom Ryan
Deborah's 8th Annual Red Tie Gala
Photo 2: Deborah President and CEO Joseph Chirichella and Debbie Chirichella, with honoree Jess Coleman Jr. and Doris Coleman
Photo 3: Deborah board members Andy Hanson, Carole Himmelstein, John Quinlan, Charles McAfee, Marty Abo, Sandi Fein and Paul DeMassi
Moorestown Friends School Kindergarten's 130th Birthday Celebration
Photo 4: Moorestown Friends School "Originals," or Moorestown Friends students who have been with the school since kindergarten, with Moorestown Friends School's current kindergarten class
Kennedy Health System's ElderMed Department Honors Camden County Veterans
Photo 5: Sisters Sharon Dezzi and Linda Vadino accept a posthumous Service Medal for their father, World War II veteran John Alan Vadino, from Camden County's Veterans Affairs Office Director Rev. Floyd L. White
New Jersey Senate Honors Thanksgiving Day Troop Dinner Volunteers
Photo 6: P.J.W. Restaurant Group Regional Manager Chris Webb with senators Diane Allen, Jim Beach and Christopher Connors
Symphony in C's Serenade on the River 60th Anniversary Gala
Photo 7: Rutgers Law School Dean and Provost of Rutgers-Camden Rayman Solomon with wife and Symphony in C Board of Directors member Carol Avins
Photo 8: Lee and Rosie Hymerling, Symphony in C President Pamela Brant and Music Director Rossen Milanov
Beau Institute's Day of Hope
Photo 9: Volunteer Stephanie Hadwin with model Kathryn Schischkin and Beau Institute of Permanent and Corrective Cosmetics Founder Rose Marie Beauchemin
Photo 10: Breast cancer survivor and Practitioner Maria Concepcion with model Donna Whalen
Bancroft's Veterans Day Recognition Ceremony
Photo 11: Bancroft Brain Injury Rehabilitation Executive Director Dr. Cynthia Boyer with Bancroft Special Education Programs Executive Director Dennis J. Morgan, of the Air Force and Air National Guard
Photo 12: Jewish War Veterans Post 126's Perry Levine, Army Veteran Jose Bracero, New Jersey Department of Veteran Affairs Deputy Commissioner Raymond Zawacki, and Army veteran John Marolt
The Board of Trustees for the Battleship New Jersey, Camden County Veterans Affairs and Camden County Board of Chosen Freeholders' Thanksgiving Event
Photo 13: Miss Pennsylvania 2013 Annie Rossellini, volunteer and former WWII USS New Jersey crew member Russ Collins and Miss New Jersey Cara McCollum
Bank of America Festival of Arts, Books & Culture of the Katz JCC
Photo 14: Festival Vice Chair Leslie Garonzik Katz, noted lawyer and jurist Alan Dershowitz and Festival Vice Chair Michael Cherkas
Brandywine Senior Living at Voorhees' Veterans Day Event
Photo 15: Economic Development Director Michael J. Marchitto Jr., Voorhees Mayor Michael Mignogna, Brandywine Executive Director Gary Pizzichillo and Director of Community Relations Melissa Repkoe
Joseph A. Maressa Golf Tournament Presents $5,000 Donation to Kennedy Hospital
Photo 16: Kennedy President and CEO Joseph W. Devine, Kennedry Pediatric Unit Nurse Manager Ellen Fernandez, Joseph Maressa Jr., Kennedy University Hospital Board of Trustees Chairman John Durante and Kennedy Health System Board of Directors Co-Chair Albert Smith
Goodwill Honors Virtua President and CEO Richard P. Miller with Helms Award
Photo 17: 6ABC's Amy Buckman, Goodwill Industries of Southern New Jersey and Philadelphia President and CEO Mark B. Boyd, Virtua President and CEO Richard P. Miller and Goodwill Industries board member Ron Weiss
Published (and copyrighted) in South Jersey Magazine, Volume 10, Issue 9 December, 2013).
For more info on South Jersey Magazine, click here.
To subscribe to South Jersey Magazine, click here.
To advertise in South Jersey Magazine, click here.