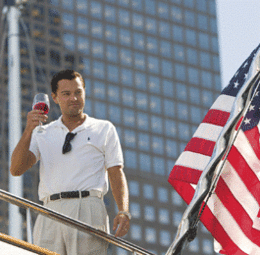 The Sturdy Dozen
KYW film critic and Cherry Hill native Bill Wine offers his take on the 12 films generating plenty of Oscar buzz.
As the 2013 calendar winds down, the studios' biggest potential blockbusters and most likely Oscar contenders duke it out at the box office. And industry execs are hoping for a repeat of last year, when a strong holiday season boosted the box office over the $10 billion mark. The competition for moviegoer dollars is so stiff that some of the marquee films have been pushed until early 2014.
Here, then, are 12 films that have either just premiered or are about to entertain, inspire, stimulate, or maybe even disappoint film buffs. But with names like DiCaprio, Clooney and Cooper coming to a silver screen near you, there's certainly reason to get excited.
THE WOLF OF WALL STREET (Dec. 25)
It used to be the teaming of director Martin Scorsese and actor Robert De Niro that would get us excited with the announcement of each new project: There were eight all told. Now it's Scorsese and Leonardo DiCaprio, who has replaced De Niro as Scorsese's go-to leading man and alter ego.
Their fifth collaboration—following Gangs of New York, The Aviator, The Departed, and Shutter Island—is a serious-minded but comedic biographical drama about the financial collapse of 2008.
DiCaprio plays Jordan Belfort, a real-life stock market whiz who made tons of money illegally as the economy boomed in the '90s. In this extraordinary true story about unthinkable excess, based on Belfort's 2007 memoir of the same name, Belfort creates an empire on Wall Street with junk bonds, manipulates the stock market to the tune of over $100 million, and winds up in prison after refusing to cooperate in a large securities fraud case involving corruption and mob infiltration.
Thus do Scorsese and DiCaprio get to tackle a project with extraordinary contemporary relevance, with the help of supporting players Jonah Hill, Matthew McConaughey, Jean Dujardin, Jon Favreau, Kyle Chandler and Rob Reiner.
Look for a perfect storm of commercial success and serious Oscar consideration.
THE HUNGER GAMES: CATCHING FIRE (In theaters)
The action-adventure science fiction thriller, The Hunger Games, provided a blockbuster of a launching pad for the franchise based on the futuristic dystopian fantasy novels by Suzanne Collins, hoping to be globally embraced in the manner of The Lord of the Rings, Twilight, and Harry Potter. Catching Fire, the first sequel, with director Francis Lawrence—no relation to female lead Jennifer Lawrence—replacing Gary Ross in the director's chair, focuses on the "Victors' Tour" of the districts embarked upon by champions Katniss Everdeen (Lawrence) and Peeta Mellark (Josh Hutcherson) as a rebellion brews.
The engrossing teen epic also features Stanley Tucci, Donald Sutherland, Elizabeth Banks, Liam Hemsworth and Woody Harrelson, all returning, and adds Philip Seymour Hoffman to the mix.
But whereas the original served to introduce promising young actress Jennifer Lawrence to a wider audience, the sequel opens as a Jennifer Lawrence vehicle because in the interim she became the most recent Best Actress Oscar winner for Silver Linings Playbook.
She is now, hunger notwithstanding, well beyond the need for silver linings—as is this potential and probable blockbuster.
SAVING MR. BANKS (Dec. 20)
This behind-the-scenes bio-drama from John Lee Hancock, director of The Blind Side, which won the Best Actress Oscar for Sandra Bullock, focuses on 1964's Mary Poppins, the musical fantasy-comedy that won five Oscars, including Best Actress for Julie Andrews, who starred opposite Dick Van Dyke.
Emma Thompson stars as P.L. Travers, author of a series of beloved children's books about a magical English nanny, while Tom Hanks portrays Walt Disney, who produced the film. Paul Giamatti, Jason Schwartzman, Bradley Whitford and Colin Farrell are also aboard.
The script shifts between Travers' difficult early 20th century childhood in Queensland, Australia, where her blustery, alcoholic father—played by Farrell—would serve as the inspiration for the on-screen Banks patriarch, and her later lengthy and bumpy negotiations with Walt Disney about the bringing of her novel to the screen, which she vocally resisted through all the stages of adaptation.
No spoonful of sugar for this protective author, who was more concerned with the integrity of her creation than with promises of money in the Banks.
AMERICAN HUSTLE (Dec. 18)
It's nearly impossible not to look forward to this drama based on an FBI sting operation that shapes up as a reunion of the principals in last year's ultra-charming romantic dramedy, Silver Linings Playbook, an eight-time Oscar nominee.
David O. Russell, who also co-wrote the script, directs Bradley Cooper, Jennifer Lawrence, Robert De Niro, as well as Christian Bale and Amy Adams (both in Russell's The Fighter), along with Jeremy Renner.
Originally titled American Bullbleep (and I don't mean "bleep"), this fictionalized take on Abscam, an actual investigation into political corruption that took place in the 1970s, focuses on the intersection of the government and the New York mob.
Given that Russell has received Best Director Oscar nominations for each of his last two films and all of his principals are either Oscar winners or Oscar nominees, don't be surprised if his latest hustles its way into an Oscar race or two.
THE HOBBIT: THE DESOLATION OF SMAUG (Dec. 13)
We can only hope that Peter Jackson, the director of The Lord of the Rings trilogy of epic fantasies, can regain his moviemaking stride.
This is a sequel to last year's Rings prequel, The Hobbit: An Unexpected Journey, a Middle-earth quest and journey that was a technically adroit kid flick but otherwise a bloated and dispiriting yawn. Jackson produced, directed, and co-wrote the screenplay, based on J.R.R. Tolkien's 1937 book, of what is the second installment of a three-part film series that will conclude next year with The Hobbit: There and Back Again.
The journey continues as the reluctant hobbit hero, Bilbo Baggins, played by Martin Freeman, along with the wizard Gandalf, played by Ian McKellen, continue on their perilous adventure and attempt, along with 13 dwarves, to reclaim the lost dwarf kingdom of Erebor from Smaug the arrogant dragon, the creature of motion-capture technology who guards a hoard of gold and sounds suspiciously like Benedict Cumberbatch.
Will Erebor continue to bore? Old hobbits do die hard, after all.
ANCHORMAN 2: THE LEGEND CONTINUES (Dec. 20)
"You stay classy, San Diego."
So sayeth the insincere, narcissistic, chauvinistic, empty-headed TV anchorman played by Will Ferrell, and he's headed back our way.
It's been nine years since Will Ferrell, Steve Carell, Paul Rudd, David Koechner and Christina Applegate brought the house down as television newscasters in the raucously funny and apparently eminently watchable and quotable Anchorman: The Legend of Ron Burgundy, of late a cult hit begging for a sequel. So all the principals are back in this sequel, which is set a few years later than its predecessor and is once again co-written (with frequent collaborator Ferrell) and directed by Adam McKay (The Other Guys, Step Brothers), and is once again produced by Judd Apatow.
The absurdist romp further details the reunion and the on-and-off-set shenanigans of what had previously been San Diego's top-rated TV news team. Now they're broadcasting on cable on the 24-hour-a-day Global News Network.
And this just in: Kristen Wiig joins the cast as Carell's romantic interest.
THE MONUMENTS MEN (Feb. 7)
When moviemaker George Clooney shows up, we reach for the hyphens.
Superstar hyphenate Clooney serves as producer-director-co-writer-star of this World War II-era drama about an international Allied task force—the Monuments, Fine Arts and Archives program—of middle-aged art historians and museum curators who, the last time they checked, were definitely not soldiers.
They are assigned to save buildings, bridges, renowned works of art and culturally important artifacts before Hitler can destroy them, which he is absolutely intending to do.
It's based on a true story and the book, The Monuments Men: Allied Heroes, Nazi Thieves and The Greatest Treasure Hunt in History, by Robert M. Edsel, and sounds like a touch of Inglourious Basterds and a smidge of Ocean's Eleven, which is reason enough for optimism.
THE SECRET LIFE OF WALTER MITTY (Dec. 25)
Ben Stiller directs and stars in this comedy remake as the title character in a second adaptation of humorist James Thurber's 1939 very short (two pages long) story of the same title, which was first made into a film in 1947 starring Danny Kaye.
It's about a timid office worker, a photo editor for a magazine, who has put his ambitions on hold and instead indulged his overactive imagination by retreating into daydreams to avoid reality. So he has lived his life vicariously inside fantasy worlds of his own creation. Now he's trying to woo a co-worker played by Kristen Wiig, who has similarly sidestepped the life she wanted to live. Together, they must travel around the real world when both of their jobs are in jeopardy. The supporting cast includes Sean Penn, Patton Oswalt, Adam Scott and Shirley MacLaine, who plays Walter's mother.
Stiller's record as a comedy director is an impressive one: This is his fifth outing, following Reality Bites, The Cable Guy, Zoolander and Tropic Thunder.
AUGUST: OSAGE COUNTY (Dec. 25)
Based on the Tracy Letts stage play of the same name—which won the Pulitzer Prize for Drama in 2008 as well as five Tony awards including Best Play—this dark comedy-drama, scripted by Letts, was directed by John Wells (The Company Men) and produced by George Clooney and Harvey Weinstein.
An examination of the complexity and seeming insanity of family connections, it's set in Oklahoma over the course of several weeks in August, when all the members of the contentious, multi-generational, dispersed Weston family gather in the house they grew up in following the death of the family patriarch, hoping to heal decades-old wounds.
The large ensemble cast includes Meryl Streep and Julia Roberts as matriarch and daughter, as well as Ewan McGregor, Dermot Mulroney, Sam Shepard, Juliette Lewis, Chris Cooper, Julianne Nicholson, Abigail Breslin, Benedict Cumberbatch and Margo Martindale.
Whether the tone of the ending will be as downbeat as it was on the stage has been a source of post-production controversy as audiences have weighed in at test screenings as part of the adaptation process from stage to screen.
GRUDGE MATCH (Dec. 25)
The question, "Who would win in a fight between Rocky and Raging Bull?" finally gets at least the suggestion of an answer.
The main event in this sports comedy is the teaming of the stars who brought fictitious boxer Rocky Balboa and real-life middleweight champ Jake La Motta to life; Sylvester Stallone and Robert De Niro, respectively, as if you didn't know.
They play retired 60-something, ex-boxers who are coaxed out of three decades of retirement to step into the ring for one last bout. Stallone is Henry "Razor" Sharp, while De Niro is Billy "The Kid" McDonnen. Their 30-year-old grudge still percolates, a result of the former having retired the night before their scheduled title match and the latter still resenting it as the incident that, for all intents and purposes, ended both their careers.
Peter Segal (Anger Management, The Longest Yard, Get Smart) directs a cast that also includes Alan Arkin, Kevin Hart and Kim Basinger in a film that ought to at least pack a punch.
FROZEN (In theaters)
The Snow Queen, a fairy tale by Hans Christian Andersen first published in 1845, provides the inspiration for this loose adaptation by co-director and co-screenwriter Jennifer Lee (Wreck-It Ralph), a 3-D computer-animated musical fantasy co-directed by Chris Buck (Tarzan, Surf's Up).
It involves Anna, voiced by Kristen Bell, who teams up with a mountain man (Jonathan Groff) and his reindeer companion Sven on a quest to find Anna's elder sister, Elsa, the Snow Queen, voiced by Idina Menzel. The queen has banished herself to a snow palace in the mountains as a way of ending the eternal winter that she accidentally caused for the kingdom of Arendelle with her snow-based powers.
With virtually no animated competition, look for Frozen to heat up the family-film box office.
GRACE OF MONACO (March 14)
Grace under pressure may be the order of the day as one ravishing actress portrays another.
This American-French biographical drama about Grace Kelly stars Oscar winner Nicole Kidman (The Hours) as the iconic, Oscar-winning actress (The Country Girl) who became the Princess Consort of Monaco from 1956 until her death in 1982.
It focuses on the early 1960s, during a crisis in her marriage to Monaco's Prince Rainier III at the time of his tax laws dispute with France's Charles De Gaulle, when a French military invasion of the principality seemed imminent.
The supporting cast for French director Olivier Dahan, who helped Marion Cotillard win a Best Actress Oscar for La Vie en Rose, includes Tim Roth as Prince Rainier III, Paz Vega as Maria Callas, and Roger Ashton-Griffiths as director Alfred Hitchcock, for whom Hollywood princess Kelly starred in Rear Window, Dial M for Murder and To Catch a Thief, as well as Frank Langella, Derek Jacobi and Parker Posey.
Photo: Leonardo DiCaprio in The Wolf of Wall Street
Published (and copyrighted) in South Jersey Magazine, Volume 10, Issue 9 (December, 2013).
For more info on South Jersey Magazine, click here.
To subscribe to South Jersey Magazine, click here.
To advertise in South Jersey Magazine, click here.