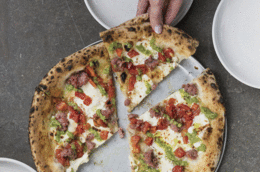 Perfect Pies
The 30 greatest pizzas you can order in South Jersey
Chicago. New York. Even Connecticut. These are the places you hear most closely associated with what people consider to be the best pizza in the country. Well, we say, what about South Jersey? That's right, some of the finest pies are being crafted right here in our own backyard. Ask any local where their favorite pizza joint is and it's likely to cause an hour-long debate over the merits of the crust here or the sauce there. No matter how you slice it, it's evident that South Jerseyans are passionate about pizza.
After eating our way through the tri-county region, we are pleased to present you with the ultimate pizza lover's guide. From traditional to gourmet, here we've selected our choices for the 30 best pizzas in the area. There are old favorites that have stood the test of time and some newcomers earning a fast reputation. We also highlight our favorite spots to grab a slice, five flatbreads you must try, and plenty of feedback from our readers' polls. Trust us, you're going to be hungry after reading this.
Sausage and Pesto Basil at Treno Pizza Bar in Westmont (pictured)
This Neapolitan-style pie can feed up to two people, but we wouldn't blame you if you decided to keep all the slices for yourself. Pine nuts give the pesto an earthiness that harmonizes perfectly with chopped tomatoes, mozzarella and generous amounts of fresh sausage.
Signature Pie at Tacconelli's Pizzeria in Maple Shade
Anyone familiar with Vince Tacconelli's lineage knows the man makes arguably the best pizzas you've ever tasted. (In continuing the tradition, his son will be joining him when the shop moves to a new location in town early next year.) Our favorite, hands down, has to be this dangerously delectable pie. The thin crust—garlicky and perfectly blistered by the oven—serves as the foundation for (sliced, not shredded) cheese, chopped vine ripened tomatoes and spinach.
Caramelized Onion and Goat Cheese at Slice in Washington Township
Jason Dilks grew up eating in Trenton's famed pizza parlors, and now he's brought that taste of Mercer County to Gloucester County. Old World-style pies get the gourmet treatment and we can't get enough. That goes especially for this audibly crunchy, credit card thin pizza littered with oh-so-sweet caramelized onions, goat cheese and hefty chunks of bacon.
Fig-Tastic at Catelli Duo in Voorhees
Nestled into the Voorhees Town Center, this restaurant's "artisan" pizza will stick in your mind long after you've finished your last bite. Sweet figs are counterbalanced by the cured saltiness of speck while gorgonzola and pesto add an intense flavor profile that is so much more rewarding than that greasy large pepperoni you ordered last night.
Braised Short Ribs and Onions at Mangia Bene Pizzeria in Bellmawr
To some, short ribs and pizza may sound like an odd couple, but like Paula Abdul once sang: Opposites attract. The meat is as tender as tender as can be and sits atop a crackery oven-kissed crust along with an amalgamation of cheeses and caramelized onions. It's got the substance to make it more of a meal, but all the true comforts of eating solid pizza.
Original Tomato Pie at Holy Tomato in Blackwood
This shoebox-sized spot formerly known as Alfred's takes tomato pies to a whole new level. Yes, there's cheese on this pie, but it's used sparingly as to not distract from the real star of the show: the tangy sauce made with hand-crushed tomatoes. It sounds simplistic, but that's part of what makes it so satisfying. Toppings play second fiddle here, but if you must, go with the thick-cut pepperoni.
Breakfast at Gia Nina's in Woodbury
In college, we practically survived on cold pizza for breakfast. At Gia Nina's, we can get a more traditional morning meal—on our pizza. Ricotta, mozzarella, sausage and egg rest atop sesame toast, er, crust. It's the best of both worlds and makes so much sense we're kind of upset we never thought of this while on campus.
Riviera at Toscana Pizzeria and Grill in Mullica Hill
This aptly named pie celebrates some true treasures from the coastline like scallops, crabmeat and shrimp. Chili peppers provide added depth, while the bitterness from arugula helps cut through the heat, helping to not overpower the shellfish.
South Beach at Forno Pizzeria and Grille in Maple Shade
The South Beach diet craze may have gone the way of the Bowflex and Thighmaster, but this Lamberti-owned joint keeps in mind those of us who like to indulge as much as we like to exercise. Healthy toppings come way of grilled zucchini, eggplant and yellow squash while the whole wheat crust is ideal for all you carb counters.
Grilled Chicken and Goat Cheese at Marino's of Mullica Hill
You can get this as a traditional round pizza, but we prefer the Sicilian version because it gives a little more real estate to distribute the haunting array of toppings on this extremely gratifying offering. Grilled chicken stars with supporting roles from goat cheese, tomatoes, mozzarella, green olives and drizzles of extra virgin olive oil.
The Godfather at Luigi's Pizza Fresca in Marlton
Wander into this place at lunchtime and you're likely to see a line as deep as the offerings on the slice counter. That's where we first fell in love with The Godfather. An airy crust gives way to mozzarella, hits of pesto, diced tomatoes, dollops of ricotta and prosciutto. Stuff our cheeks and call it an offer we can't refuse.
Sausage at Rexy's in West Collingswood Heights
Rexy's may have undergone a facelift in recent times, but thankfully we can still get this pie that has attracted diners for decades. On the surface, it may seem elementary (hot Italian sausage, mozzarella cheese and sauce), but there's an understated, if not undeniable, appeal in every bite.
Don Ho at Legends Pizza in Burlington
All the pizzas at Legends are named after, well, legends. Thus, the Don Ho: a pineapple pizza with a twist courtesy of the additions of applewood smoked bacon, fontina cheese and Mandarin oranges. It's good enough to make us throw on a Hawaiian shirt and start belting out "Tiny Bubbles."
Chicken and Broccoli Alfredo at Passariello's in Moorestown
Consider this hefty pie two meals in one sitting. Big bites of grilled chicken and broccoli are coated in a cheesy, buttery cream sauce that only a thick crust could manage to cradle without getting overwhelmed and soggy.
Pizzazz at Cacia's Bakery in Blackwood
Most bakery-style pizza is rather one note, simply an extension of bread with sauce lathered on top. Not this square pie at Cacia's, where the airy crust is like a down pillow for slices of American cheese, chopped tomatoes and plenty of hot pepper rings. Make ours an end slice.
Quatro Formaggi at Al Dente Italiana in Moorestown
Cheese lovers look no further. A satisfyingly gooey blend of mozzarella, provolone, Parmesan and Romano intermingle over ladles of homemade sauce, culminating in a pizza that is as distinctive as it is delicious.
Lamb Meatball at Iron Hill Brewery in Voorhees
Pizza and beer—is there a more perfect combination? Iron Hill Brewery takes that duo to new heights, with a selection of craft beers brewed on location and artisan pies made using either traditional or malted barley dough. You won't want to miss this pie, loaded with juicy house-made lamb meatballs, a zesty tomato-pepper relish, olives, and topped with mozzarella and feta cheeses.
Vince Pie at Palermo's in Bordentown
We don't know who Vince is, but we're thankful for his innovative pizza, which covers a typical sauce and cheese pie with hearty slices of yellow potato, then adds crumbled sausage. Sure, pizza and potatoes aren't a typical pairing, but when combined with mozzarella cheese and the salty sausage, it's a match made in pizzeria heaven.
Pizza Positano at Illiano Cucina Mediterranea in Medford
This pie is light on the cheese—using just a shaving of Parmesan—but heavy on Mediterranean flavors. It's a personal-sized serving covered with jumbo lump crabmeat, fresh garlic and chopped tomatoes drizzled with olive oil—straightforward ingredients that combine to create something really special.
Chicken Vodka Pasta at Upper Crust in Tabernacle
We didn't think it could get better than penne pasta in a vodka blush sauce with grilled chicken and mozzarella cheese. Then we realized we could skip the garlic bread and put it right onto pizza crust. Grab a fork and knife and dig in immediately.
Pizza Stagione at Femmina Italian Grill in Medford
This veggie pizza is inspired by stagione operas, which use separate performances to create one powerful show. In this case, the crust is topped with mozzarella and then quartered into four separate vegetable pies, featuring mushrooms, artichokes, spinach and red peppers. Bravo!
Big Bertha at Pizza Logic by Montagnaro's in Voorhees
Sauteed button and portabello mushrooms added to the Big Bertha are rich and meaty enough to please both vegetarians and carnivores alike. Add the trio of fontina, mozzarella and goat cheeses along with fresh garlic and rosemary and you have a pizza that absolutely bursts with flavor.
Lasagna Pizza at Bellisimo's in Cinnaminson
We love lasagna as much as Garfield. Here, they deconstruct the dish to create a pizza that is part Friday night staple, part Sunday evening dinner. No pasta sheets here; just ground beef, ricotta, mozzarella, and plenty of rich, peppery tomato sauce.
Riverton Pizza at District Riverton Bistro in Riverton
The former District 611 is back with a new name, new owners and some re-invented pizzas on their new menu, including this eponymous selection with plenty of hometown appeal. Ricotta, mozzarella, corn, sorrel greens and avocado rest atop a wonderfully charred crust that is finished with drizzles of a homemade pesto.
Meatball Pizza at Speranza in Westville
Chef Dave Strano puts out a fair selection of entrées, but the wood-fired pizzas coming out of his kitchen have really gotten diners buzzing. Witness the meatball pizza, a red pie sprinkled with both mozzarella and Parmesan cheeses, complemented with tomatoes and aromatic basil. The finishing touch comes courtesy of handmade meatballs that have been roasted in the same oven as the pizza.
B.B.Q. Chicken at Grand Lux Café in Cherry Hill
Don't let the rest of the Grand Lux Café's giant menu distract you from their pizza selection. Our choice? Their barbecue chicken, which replaces typical tomato sauce with a tangy alternative and comes with chopped grilled chicken, slivers of red onion and plenty of smoked Gouda.
Pizze Rustica at La Locanda in Voorhees
Peppers, both sweet and hot, share space with caramelized onions and arugula. It's finished with sharp provolone cheese that adds a nice salty bite, and the pizza can be constructed on focaccia bread, as opposed to standard pizza dough, for heightened taste experience.
Parma Pizza at Ristorante Toscana in Cherry Hill
This Tuscan restaurant boasts a wood-fired brick oven that perfectly scorches pizzas into mouthwatering meals. Our favorite offering consists of a layer of mozzarella, sliced prosciutto, tomatoes from the Garden State, Parmesan and fresh arugula.
Calamari Pizza at A'Pizze Tuscan Grill in Woolwich
Crispy calamari and diced cherry peppers are a great appetizer and, it turns out, an even better topping combination for this standard thin-crust tomato and mozzarella pizza. It's all cooked in A'Pizze's rotating wood fire brick oven, which was designed in Tuscany to make some high-impact pies.
Capricciosa at Stella Pizza in Collingswood
Salty and savory, this pizza takes classic ingredients and treats them with the respect they deserve. All four food groups are represented from the crust and mozzarella cheese to the pepperoni and ham along with the black olives and mushrooms.
SLICE OF THE PIE
Our eight favorite places to grab a couple slices
Angelo's Pizzeria Ristorante in Mount Laurel
With two locations in town, the loyal masses that flock here are never too far away.
Bruno's Restaurant and Pizza in Haddonfield
For our money, Bruno's serves up some of the best Sicilian tomato pie you'll find anywhere.
La Bella Pizza in Medford
The "monster" slices are as big as a laptop and may require a spotter for the heavy lifting.
La Vita in Mount Holly
Slices come traditional and in gourmet offerings like an Asian-influenced pie that features teriyaki with sesame chicken.
King of Pizza in Berlin and Cherry Hill
This king's castle may not look like anything fancy, but this institution's pizza is known for its royal taste.
Milanese Pizza in Riverton
We love to mix and match here, but you can never go wrong with a slice of their signature margherita.
Sal's Pizza in Washington Township
Sal's reputation for quality pizza extends far beyond Washington Township's expansive borders.
Vito's Pizza in Cherry Hill
This popular pizzeria has dished out an array of slice options for more than two decades.
FIVE FLATBREADS
When pizza won't cut it, try these mouthwatering alternatives.
Tomato and Avocado at Braddock's in Medford
You can never go wrong with tomatoes and avocados, especially when you add some light queso fresco, garlic and finish with a little cilantro.
Broccoli Rabe and Sausage at Carlucci's Waterfront in Mount Laurel
The bitter vegetable is the perfect partner for the salty Italian sausage, a little garlic and drizzles of olive oil.
Buffalo Chicken at The Pour House in Westmont
Smoked mozzarella is the building block for chunks of chicken, a hybrid buffalo-blue cheese sauce as well as blue cheese crumbles and some celery leaves.
Artichoke and Goat Cheese at Seasons 52 in Cherry Hill
This calorie-conscious menu is known for its flatbreads, and we find this one divine. Artichokes and the creamy goat cheese are rounded out with balsamic-glazed onions, leaves of spinach and roasted peppers.
Wild Mushroom at Terra Nova in Washington Township
Porcini, maitake and shiitake mushrooms coexist with stringy fontina cheese and arugula for a bite that is enhanced with a truffle-infused aioli.
Published (and copyrighted) in South Jersey Magazine, Volume 10, Issue 8 (November, 2013).
For more info on South Jersey Magazine, click here.
To subscribe to South Jersey Magazine, click here.
To advertise in South Jersey Magazine, click here.