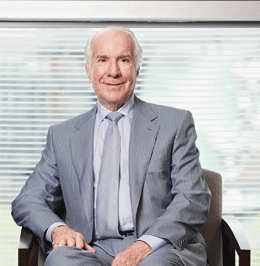 Tough Guy
Ed Snider, the man who gave life to the Philadelphia Flyers, desperately wants to bring the Stanley Cup back to the area. He also has another goal, one kinder, nobler but no less ambitious: to help at-risk youth earn a better life.
Even the toughest players to don the orange and black of the Philadelphia Flyers—from Dave Schultz to Rick Tocchet to Wayne Simmonds—have showed him deference. In every interview, in every mention, men who earn a living in measures of blood, sweat and broken bones refer to him respectfully, even quietly, as "Mr. Snider."
Ed Snider, the man who brought professional ice hockey to South Philadelphia, has built a franchise notorious for doing whatever it takes—dropping the gloves to fight an opponent as a way to turn the tide of a game, playing through pain and sickness, even blocking 100-mile-per-hour slapshots (to the face, if needed, as now-retired forward and current assistant coach Ian Laperrière did, rather famously, during the Flyers' run to the Stanley Cup Final in 2010)—to gut out a win.
Snider, a native of the Washington, D.C., area, originally came to Philadelphia in 1964 as a vice president with the Philadelphia Eagles. Since founding the Flyers franchise in 1967, his teams have brought two championships home to Philly and endeared themselves to scores of rabidly passionate fans, from the northernmost Philadelphia suburbs to the southernmost tip of the Jersey Shore.
Yet Snider, 80, has done much more with his considerable resources than relentlessly pursue the hardest-earned trophy in all of professional sports. Yes, he has been enshrined in the Hockey Hall of Fame, the U.S. Hockey Hall of Fame and the Flyers Hall of Fame, and he continues to lead one of the country's most successful sports and entertainment companies as chairman of Comcast-Spectacor, which owns the Flyers. Even so, some of Snider's greatest achievements have happened away from the ice … at least away from the ice of Wells Fargo Center, where the Flyers now play, or its predecessor, the much-revered Philadelphia Spectrum.
Eight years ago, he created the Ed Snider Youth Hockey Foundation to improve the quality of life for underserved populations living in the Delaware Valley, including some who have never before seen a hockey game. Its purpose: to use ice hockey—a game traditionally played by kids from white, middle-class families—as a tool for teaching lessons about competition, sportsmanship and hard work to boys and girls from Philadelphia's inner-city neighborhoods. (Executives hope to soon expand deeper into the likes of Camden and Chester, Pa.) In addition to the athletic curriculum, children enrolled in the program also hone their strengths in more essential parts of their lives, specifically in matters of academics and character development.
The foundation has grown to offer programming at rinks throughout Philadelphia and parts of South Jersey, including the Flyers Skate Zones in Pennsauken and Voorhees. At these locations, it provides full protective equipment, ice time and experienced coaching—all of which can be expensive even for kids from affluent families—to more than 3,000 children, at no charge. The benefits to the boys and girls involved, however, extend far beyond the ability to stickhandle and body check.
Snider, who has become known for his intensity and desire to win, clearly has a softer side; for every $1 donated to the foundation, he donates $2 of his own, and his contributions far exceed dollars and cents. We spoke with Mr. Snider about the foundation's beginnings and goals for the future, his early years and his expectations for the Flyers season—one rife with both promise and anticipation, considering the fact that last season's squad missed the playoffs for just the second time since 1994.
Prior to the season's start, Snider admitted to being "more excited this year than I have been in a long time," due to the team's potential and the off-season additions of "three outstanding players" in goaltender Ray Emery, forward Vincent Lecavalier and defenseman Mark Streit. Things haven't exactly gone according to plan, however. The team lost its first three games of the season, which cost Peter Laviolette his job as head coach, and the team continued to struggle in the immediate aftermath of the shakeup. But through the years, the Flyers have shown tremendous heart and resiliency—much like the man who brought the franchise to life nearly 50 years ago.
SOUTH JERSEY MAGAZINE: Why did you decide to create the Ed Snider Youth Hockey Foundation?
ED SNIDER: I was trying for years to figure out how to help kids in the inner city. I always felt that their condition—and the condition of the inner city—is pretty sad, and I wanted to do something. The best way I knew to do that was through hockey. I grew up in a rough neighborhood; I was in a gang for protection and there were fistfights. Now these kids aren't dealing with just fistfights but guns and the threat of being killed. I knew how scared I was growing up. Imagine living someplace where getting shot and killed was always a threat; that would be a pretty horrible way to grow up day in and day out.
SJM: It's not just about teaching kids about hockey and how to play. What did you see as the most important lessons for kids to learn in the program?
ES: [Hockey] is the hook; you get the kids in and they love it. In order to participate, you have to get good grades. We help them with homework, we teach them the right skills, and the results are incredible. I think 97 to 98 percent of the kids who are involved matriculate to the next grade, compared to 50 percent of the population [elsewhere].
SJM: Are there any foundation success stories in particular that stand out for you?
ES: There was one young woman I took an interest in. It was the first year of the foundation, and she was skating at [one of our rinks], and she wrote me a letter saying that before the foundation she had no hope in life. I decided I wanted to know who this young lady was. To make a long story short, she stayed in the program, and we helped her get into West Chester University. She's a defenseman on the hockey team, and last year they won the national championship at their level. She's on the dean's list, and she has turned into a magnificent woman. That's a story I know personally, but we as an organization take an interest in every kid.
SJM: Are you pleased with how the foundation has grown over the past eight years?
ES: The hockey program has worked out beyond my wildest dreams, and we've accomplished a lot more this soon by virtue of the city deciding to close four or five city rinks. We stepped in and run them at our own expense. The city was grateful, and it worked out well for us because you didn't have city rinks right in the heart of where the people were that we want to serve.
SJM: How does South Jersey fit into the mix?
ES: We have a huge fan base in New Jersey, and you might consider South Jersey almost an extension of Philadelphia. Our goal with the foundation is to provide as much support for as far as we can, and that obviously includes places like Camden and other parts of South Jersey that could benefit from our programming.
SJM: What happens next with the foundation?
ES: We want to continue with what we're doing, and continue to serve more kids. Our goal is to someday have 10,000 kids in the program, and right now we have 3,000. It will require more rinks and spreading our wings further. We want to serve the entire Delaware Valley, growing in places like Chester and Camden, and we have other things ahead that will be opportunities for growth.
SJM: It's been almost 50 years since the Flyers started playing in Philadelphia. How's the experiment going?
ES: [Laughs.] I doubt I'd call it an experiment. It's the best thing in my life other than my children. We keep trying for another Cup. I never realized how hard it would be to get back there.
SJM: Every Flyers player I've interviewed—past and present—has wonderful things to say about the organization, specifically mentioning you by name. What about the culture here makes it so special?
ES: We've treated the organization like a family. We have a great alumni group which we've always supported; I would match our alumni up with any in professional sports. We look after our own. I can't tell you how many ex-Flyers we have working for us—in the front office, in the buildings we manage and run, things of that nature. We make sure our people are taken care of. It's a rough sport, and we always appreciate everything they do for us.
Published (and copyrighted) in South Jersey Magazine, Volume 10, Issue 8 (November, 2013).
For more info on South Jersey Magazine, click here.
To subscribe to South Jersey Magazine, click here.
To advertise in South Jersey Magazine, click here.