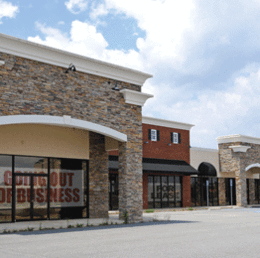 Empty Feeling
Strip mall vacancies create a void that's tough for towns to fill.
In a state long known for its 24-hour diners and expansive turnpike, New Jersey has also become synonymous with another icon—the strip mall. Towns across the state boast hundreds of them, and those in South Jersey are no exception. No matter where you're reading this right now, it probably wouldn't take you long to get to the nearest one.
While their abundance suggests a proliferation of activity on the commercial front, a sagging economy and high rents have left a good number of these units vacant. And along with the vacancies come dated signage, boarded windows and broken sidewalks. While many towns have ordinances in place to address such problems, we all could point to at least one or two strip malls that need some help.
"With the economic downturn, a lot of small retailers, the moms and pops as they're called, are closing their shops," says Leor Hemo, executive vice president of Wolf Commercial Real Estate in Marlton. "The properties are falling apart. Even tenants surviving the downturn are leaving because they're not getting the services they need to be successful from their landlords." Hemo says strip mall vacancies are especially evident on the outskirts of bustling town centers. "What we're seeing is the old saying, 'Location, location, location,' is very true," he says. "In Marlton, the Route 70 and Route 73 shopping centers are performing very well, and there aren't many vacancies left. As you go out to the peripherals of these towns, the outskirts, you're still seeing properties that are struggling with vacancies, and in some cases, completely vacant."
David Bujnicki, vice president of investor relations and corporate communications for Kimco Realty, a nationwide real estate investment trust, says smaller tenant vacancies are a national trend. "Most anchor boxes are highly occupied," he says. "Smaller shops are hard to fill. The economy caused a lot of them to be washed out. They had financed their operations, and they didn't have the same access to capital, because the banks didn't lend to them as easily as they had. Or, if they were financing with a home equality loan, that money dried up as home values dropped."
As of June 2013, Bujnicki says Kimco's own shopping center portfolio showed 94 percent occupancy in spaces greater than 10,000 square feet. In spaces smaller than 10,000 square feet, the rate was 84 percent. Hemo says locally, similar figures are presenting themselves, as there is a proliferation of available space in less developed areas, and the more high-end, developed areas have little, if any, vacancies.
While the vacancy rate is noticeable, the sheer number of strip malls themselves is also an issue.
Washington Township resident Adam Olsen grew up in Mullica Hill, where for years there was little retail development. Today, there are several strip malls in its limits, and plans for more are in the works. While Mullica Hill is no Washington Township in terms of size, Olsen believes the two could learn from each other when it comes to their storefronts.
"I like the idea that locally I can acquire what I need without having to drive far and wide," he says. "However, I don't want to feel that I live in a commercial district. Having a couple of average-sized strip malls with businesses that are a right fit for the community is a great idea. Ensuring that these strip malls are never vacant and that the areas they're in are always kept up and reflect the good standing of the community is also a good idea."
Olsen is not the only South Jersey resident with such sentiments, and they have let their feelings be heard during many a town meeting. Concerned citizens are telling their local politicians it doesn't make sense that despite all of the abandoned or mostly vacant strip malls with the potential for redevelopment, new construction is still being proposed and approved. Fortunately, some officials are listening.
"I can understand residents' concerns about the proliferation of retail centers throughout many towns in South Jersey," says Bob Smith, business administrator for Washington Township. The issue, he says, is that "owners and developers make independent judgment on what should be built," so beyond specific zoning of land parcels, the township has little say as to what goes where.
What the township does have control over is property maintenance, and Smith says a "comprehensive set of property maintenance standards" are in place in Washington Township, as they are in most towns across the state. Smith also says, "There is nothing in Washington Township that we would characterize as in need of redevelopment or where the township needs to exercise eminent domain. We do have some vacancies, but thankfully, those vacancies don't exist for long periods of time."
Property maintenance standards are the primary defense many townships have against property owners who have seen their strip malls decline and do not want to maintain them when moving on to bigger, better and more profitable ventures. Tri-Towne Plaza on Route 70 in Marlton is an example of a strip mall that has seen tenants come and go, and now, "because it has sat there vacant and the owners have refused to upgrade it," according to Mayor Randy Brown, the township is in the process of taking the unit by eminent domain.
"We addressed delinquent properties over a year ago and we're in the final stages of eminent domain on them," he says, also referencing the sites of the former Olga's Diner and G-Boys. "Tri-Towne sits next to a community of 800-1,000 homes in Heritage Village. It is a valuable property, and the moment you upgrade a commercial property, it increases its value. You always want to make your town more attractive than other towns. I want people to pick my town when they're moving."
A restaurant and dry cleaners are currently the only businesses that call Tri-Towne home, although faint signs of a hair salon, insurance company and retail store are still visible in the strip mall that Kmart and Super Fresh also used to inhabit. A TD Bank is located within the limits of the strip mall, although not under the actual structure, and Kate Toy, media relations specialist for the bank, says the location has not seen a "notable change in customer volume since the other businesses left the area."
Attorney Richard Hoff represents site management firm RD Management, LLC, the current owners of Tri-Towne. He says his clients have no comment on the state of the strip mall or Marlton's decision to take it by eminent domain, but that "applications for improvements have been made … and they were rejected." He says the proposals include a "complete redoing of the façade, and a site plan application [submitted as recently as August] includes a complete renovation of the property."
Brown could not elaborate on plans for the site, but did say, "We are in the process of adopting a significant redevelopment plan for Tri-Towne plaza, G-Boys and Olga's. We are doing everything in our power to improve our rateables, commercial base, increasing tax revenues by increased commercial development and bringing jobs to Evesham with new building and construction projects."
There have been success stories when it comes to redevelopment of empty strip malls, although, as Hoff suggests, developers may find undeveloped land more appealing because "renovation costs are often more than building new." Just up Route 70 from Marlton in Cherry Hill, LourdesCare at Cherry Hill opened on a site that had previously been occupied by an under-performing shopping center. "In Cherry Hill, there is not much vacant land left for 'new' development, and we do not support the clearing of any open space, environmentally friendly land, etc.," says Mayor Chuck Cahn. "In some towns, it may be less costly for a developer to purchase unimproved land only and build himself then to buy an existing building (and land) and try to renovate. In Cherry Hill, we strongly encourage the redevelopment of older properties, called grey-fields, like the Lourdes property."
Another example of redevelopment of a vacant strip mall is currently taking place in Deptford at the former Deptford Plaza on Deptford Center Road. Kimco Realty previously owned the parcel, but sold it to Bed Bath and Beyond, which will be bringing Buy Buy Baby, Christmas Tree Shops and Harmon Face Values, along with its namesake store, to the lot.
In an effort to encourage more redevelopment like what's taking place in Cherry Hill and Deptford, District 12 Assemblyman Robert C. Clifton, together with District 11 Assemblywoman Mary Pat Angelini, is sponsoring a bill that would give incentives to land owners and developers willing to bring "business revitalization in distressed shopping centers."
"The reason I became a primary sponsor of this bill is because a number of communities, throughout the state, have experienced the economic decline of their long-standing, successful shopping centers after new or larger commercial developments located within close proximity in their community," Clifton says. "The scale and market power of new superstores locating nearby longstanding and more moderately sized facilities located in familiar strip shopping centers can force many of these older retailers to abandon their neighborhood businesses. The tax and other incentives proposed in this bill are intended to encourage these familiar neighborhood commercial centers to cut their vacancy rates and reward their merchants for locating therein, for hiring more employees, and the hiring of those who have recently not been gainfully employed."
In a state already plagued by taxes and overpopulation, the hope is that the pair's proposed bill will offer some relief to property owners, developers and residents. "While this bill does not directly address open space in New Jersey, any bill that incentivizes using existing structures or storefronts for new businesses will ultimately help preserve open space for our future generations," Clifton concludes. A notion that has been a long time coming, one can only hope that sooner rather than later, the strip malls New Jersey has become known for will again be a source of positive feedback instead of negative.
The Tipping Point
Are high-end restaurants enough to save the Moorestown Mall?
It's true that what's old can be new again, and locally, the potential poster child is sitting on Route 38 between Lenola Road and Nixon Drive—the Moorestown Mall.
In the face of dwindling occupancy rates (it's currently down to 68 percent), property owner Pennsylvania Real Estate Investment Trust (PREIT) has vowed to turn things around and, so far, they've stayed true to their word.
Since 2011, their successful campaign to allow four liquor licenses at the mall—though the rest of the town remains dry—passed, paving the way for high-end restaurants: James Beard-winning chef Marc Vetri's Osteria is set to open Nov. 18, followed by Firebirds Woodfired Grill on Dec. 16 and Iron Chef Jose Garces' Distrito next spring. The new 12-screen Regal Premium Experience theater, replacing the outdated four-screen United Artists that once stood in its place, will open before the holiday movie season. And the most recent announcement is next year's relocation of the upscale Rizzieri Salon and Spa from Marlton. Already, $30 million has been invested in this first phase of redevelopment.
But will these additions be enough to attract people to come into the mall? We sat down with Joe Aristone, PREIT's senior vice president, to find out what's next to keep the momentum going.
The retail focus: "If you look at the mall in general, there's a pretty good presence of national retailers, and that won't change," Aristone says, adding the attention now is on boutiques to continue to cater to the high-end crowd that the restaurants as well as Rizzieri will draw in. "We're in discussions now with best of breed boutiques," he says, adding they'll allow for a number of them to take up a portion of Moorestown's 1 million square feet, creating a sort of "boutique row." Two or three will be announced in early 2014. "This is unique quite frankly to both South Jersey and the Philadelphia markets."
The one remaining liquor license: With three restaurants coming, that leaves one liquor license up for grabs. "We're not in a position to announce it yet, but it'll be consistent to the caliber of what we've already done. We'd like to announce it by the end of the year," Aristone says. "Quite frankly, we've had more demand than supply. We're in an enviable position."
About that food court: "We're going to reposition the food court," he says. "When Regal opens up, it'll be the only RPX [Regal Premium Experience] in the trade area and we expect that'll satisfy a big void. The fast-casual concept can really piggyback off the movies. We'll reposition the food court in both size and offerings."
This time next year: As soon as people start coming to Osteria later this month, they'll begin to understand what the vibe will be like at the mall, Aristone says. "Now we have the beginning of the vision. You'll have the realization of that vision in 2014."
Published (and copyrighted) in South Jersey Magazine, Volume 10, Issue 8 (November, 2013).
For more info on South Jersey Magazine, click here.
To subscribe to South Jersey Magazine, click here.
To advertise in South Jersey Magazine, click here.