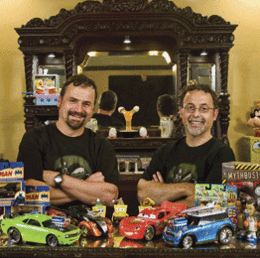 Products of Our Environment
Not only are more items being made in America, but many are being made right here in South Jersey.
Made in America. There was a time not too long ago when that was a forgotten phrase, as more and more companies began outsourcing jobs overseas in an effort to cut costs and increase profits. Times have changed, however, due in no small part to the economic uncertainty caused by the latest recession. In an effort to strengthen our country's economy, businesses are once again proudly boasting a "Made in the U.S.A." tag.
The trend is no stranger to South Jersey, either. With close proximity to major cities like Philadelphia, New York and Washington, D.C., there are some amazing products being created right in our own backyard. Here are five that are not only boosting the local economy, but are also making waves across the country and firmly putting South Jersey on the map.
Victus Sports
Baseball bat makers Jared Smith and Ryan Engroff had been experimenting with their craft for years before deciding to settle into Blackwood with CEO Gregg Balin in 2012 to open Victus Sports. So what made Smith and Engroff, both originally from Harrisburg, Pa., and Balin, of Ocean City, settle into South Jersey?
Location, location, location.
Victus' South Jersey location gives the trio access to teams up and down the East Coast, putting them within driving distance of major league teams like the New York Yankees, the Baltimore Orioles and, of course, the Philadelphia Phillies. Then there's the handful of minor league and independent teams like the Camden Riversharks, Lehigh Valley Iron Pigs and the Lakewood Blue Claws, all featuring heavy hitters looking for the perfect swing.
And their strategy is paying off. These days, it's not hard to find Victus' signature "V" on the bats of major leaguers like the Yankees' Mark Teixeira, the Orioles' Adam Jones, and San Francisco Giant (and former Phillie) Hunter Pence.
Wellshire Farms
For families looking to find all-natural, healthy meat products, Wellshire Farms is a fairly familiar name. That's because the Woolwich-based Wellshire Farms, and their family of other products, has made its way into grocery stores across the country, including in Hawaii and even British Columbia, and is still one of the few meat companies to produce deli, breakfast and refrigerated products with as little processing as possible.
From hot dogs and bacon to sausages and even chicken nuggets, Wellshire Farms founder Louis B. Colameco III has been putting out products since the company began in 1996. As the company grew, Colameco knew he wanted to pursue an all-natural product, and he has stayed close to their Cape May startup location to do so.
These days, Wellshire Farms puts out more than 10 different brands featuring more than 350 products, and has become one of Whole Foods' largest U.S. and Canadian suppliers. But they still operate out of their 10-acre Woolwich headquarters, with no plans to move any time soon.
Melitta
Drive down I-295 between exits 31 and 32 and you'll most likely get hit with the pleasantly familiar smell of a fresh cup of coffee. What makes that stretch of road smell so good—and tease morning commuters on their way to work? Just thank international coffeemaker Melitta and their 40-year-old coffee roastery.
While Melitta USA's headquarters is in Florida, and it originated in Minden, Germany, coffee for the 105-year-old company is produced right off I-295 in Cherry Hill. The company produces filters and coffee makers, but it's from their South Jersey location that all coffee is ground for sale in the United States, be it ground and canned, bagged as whole beans, or in their more modern recyclable, single-serve pods.
With a $10 million renovation in 2010, making the day-to-day operations in the plant more efficient, production has increased. Melitta has even gone organic, with a line of Fair Trade coffees, which uses beans from certified organic family farms from around the world. Still, the final product is finished off in Cherry Hill.
Hingestix
Cherry Hill's Sam Ruttenberg has been drumming since he was a child and has been teaching percussion students in the Philadelphia area since he was 18. But in the past few years, Ruttenberg has earned a new reputation: as inventor and creator of the newest teaching tool in drumming—HingeStix. Ruttenberg's HingeStix came after he discovered a problem among young and old drummers alike. "Through the years, I saw that my students would come to me with bad technical habits already developed," says Ruttenberg. He noticed drummers of all ages couldn't find the correct way to hold their sticks. "I'm very diligent with techniques, so I would always be correcting them."
To help, Ruttenberg began working on a prototype out of his home, sticking plastic pegs inside standard drumsticks as a guide. "Other teachers that I had in the past would tell me to feel the balance point—or the hinge—in between the thumb and the index finger."
And with that, HingeStix were born.
The special sticks come with adjustable swivel pads that line up a drummer's grip so that fingers don't slide or fall into an incorrect position. Drummers grip the stick with their thumb and index fingers to give them an anchor on their top fingers while forcing them to stabilize their back fingers correctly.
Eventually, Ruttenberg took the sticks on the road, displaying them at national conventions and with fellow drummers. After winning Best in Show at the National Association of Music Merchandising Convention in 2011, worldwide manufacturer Vic Firth took notice. They began manufacturing the sticks for the public last January using Vic Firth materials, but still keeping the HingeStix name.
Scrambled Eggz Productions
Spiderman; SpongeBob SquarePants; Dora the Explorer. Some of your kids' favorite television and film characters come to life out of one Medford office.
Right off Main Street sits Scrambled Eggz Productions, a toy, confections and gifts manufacturer that has been making kid-friendly creations for companies like Hasbro, Fisher Price and Mattel for almost 30 years.
And while the physical manufacturing isn't done here, almost everything else is. Companies come to co-owners Tom Watters and Jim Mendillo with a concept, and from there the team of designers and artists set out to develop everything and anything the company would need—from the actual toy or candy product to the labels and packaging. All of this out of South Jersey, a location that Watters considers perfect for budding businesses.
Scrambled Eggz also creates and markets their own original toys, like their newest creations The Zelfs, a series of elf-like creatures. So what's it like seeing your final creation in the hands of kids across the country?
"It's awesome. It never gets old," says Watters. "The trends are always changing, but some things still stay popular. We work with a lot of Thomas the Tank Engine products and SpongeBob toys and candies. It's funny because my son played with these toys and he's 23 years old now."
Photo Caption: Scrambled Eggz; Productions co-owners Tom Watters and Jim Mendillo
Published (and copyrighted) in South Jersey Magazine, Volume 10, Issue 8 (November, 2013).
For more info on South Jersey Magazine, click here.
To subscribe to South Jersey Magazine, click here.
To advertise in South Jersey Magazine, click here.