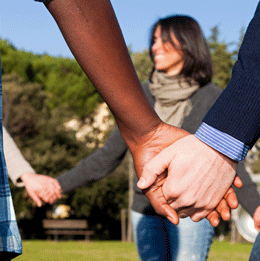 Strength In Numbers
Through Gilda's Club, the late comedian Gilda Radner leaves a legacy of laughter, love and hope for those touched by cancer.
Jenn Sides is a single mom and special education teacher with a palpable warmth. The effervescent Eastampton resident talks with a smile in her voice, despite a serious health scare five years ago. At age 37, she was sent for a mammogram after noticing a strange mark on her right breast. Much to her surprise, it was her left breast that contained the problem—ductal carcinoma in situ, the most common type of non-invasive breast cancer.
Sides recalls, "The first time you hear the words, 'It's cancer,' it blows you away. It puts you on a whole other level of life." Stunned and scared, Sides turned to her family for support. "This whole thing put everybody's lives into a tailspin because we don't have cancer in our family," she adds.
Feeling helpless, Sides' parents, who live in Ocean City, learned about a support group at Gilda's Club South Jersey in nearby Linwood. Named for comedian Gilda Radner—who lost her battle with ovarian cancer in 1986—Gilda's Clubs across the country honor Radner's dream of providing free social and emotional support for people with cancer and their families and friends. According to its website, the nonprofit organization offers "information and inspiration, fellowship and fun, hope and heart."
For Sides' parents, it was just what the doctor ordered, but it took Jenn a little longer to get on board. She underwent a double mastectomy and then spent about a year grasping the reality of what had happened. When she finally made the trip to Gilda's, it was a life-changing experience.
Sides chokes up as she explains, "I ended up going to a meeting, and it was the most emotional evening I ever had in my life. It was amazing."
Gilda's is a laughter-through-tears kind of place with evidence of the iconic funny woman all around. At the South Jersey club, visitors are greeted by a caricature of Radner's big-haired Roseanne Roseannadanna peeking out from behind the signature red door. There's also a mural of Roseannadanna leaping off the Steel Pier on a diving horse, and callers are treated to Radner stand-up routines while on hold.
Erin McAllister, program director, explains, "Our 'clubhouse' is designed to be a home-like, warm and welcoming environment. Meeting rooms look and feel as if you are in someone's living room. We have a large community room for educational workshops, as well as a beautiful demonstration kitchen. Our space is ideal for offering a variety of popular activities—everything from yoga, Zumba and cooking workshops to professional lectures and support groups."
The heart of Gilda's, as in any "home," is its people—especially the skilled staff, donors and volunteers. McAllister says, "Volunteers are an essential, highly-valued part of the Gilda's Club community and program. We could not function without their generosity of time, skills and enthusiasm. And there are so many ways to help."
Volunteer Charlie Roberts, of Williamstown, has been sharing his talents as a Reiki master there for more than 10 years. A computer programmer by day, Roberts spends at least two evenings a month practicing the Japanese relaxation technique with members. "I believe it helps improve their quality of life, along with everything else that happens at Gilda's," he says. "As volunteers, we offer our support, our love, our caring and a desire to help."
Last year, Gilda's Club South Jersey served more than 2,500 members and offered more than 1,200 program activities at no charge. Sides' family has taken advantage of everything from the "Gladiators" dragon boat team, which her parents joined, to Noogie Nights and Camp Sparkle, where Sides' 13-year-old son Ben found the support he needed. "We talk about our family or friends who had cancer and how it changed our lives," he says. "It really helps you open up more and you don't feel alone."
Sides adds, "It kind of saved our family. It just gave us all that peace; it gave us somebody to go to at all times, and I just wish that there were more of them around for other people."
Kristine Fredericksdorf, an oncology social worker from Mullica Hill, couldn't agree more. So she contacted Gilda's Club South Jersey to explore a partnership with her employer, Regional Cancer Care Associates, LLC, that would bring Gilda's a little closer to home.
She says, "In speaking with the administration at RCCA, Cherry Hill, they believed in the vision of Gilda's and believed it would be a great idea to bring their services here to benefit our patients, as well as the community. Virtua Hospital also agreed and offered a conference room in their health and wellness building in Voorhees."
As a result, new member meetings and wellness support meetings began there in October, much to the delight of local residents. Cindy Murphy, of Somerdale, attended Gilda's first-ever Virtua gathering after being diagnosed with lung cancer in August. The widowed, former bus aide is already looking forward to how Gilda's can help her encourage others. "When I go to chemo, I see a lot of long faces. I see people discouraged and worried," she says. "I would actually like to learn how to help take care of and support these people."
Jeana Drane, of Mullica Hill, has been fighting stage III, non-Hodgkin's lymphoma since February. "Gilda's is an organization that's been long-awaited in our area, and I hope that people come out to support it and really embrace it," she says. "It's something that can touch so many people's lives if we all really get behind it."
The ultimate goal is to build a full-blown clubhouse in the region. Fredericksdorf adds, "My hope is that we can assist Gilda's in expanding to serve those that so desperately need all the support and resources they can get during one of the most difficult fights of their lives."
Sides concludes, "I'm not saying I'm happy I had cancer. But, if you can look at something beautiful that comes from something horrendous, it's Gilda's Club." n For more information, call Gilda's Club South Jersey at (609) 926-2699 or visit GildasClubSouthJersey.org.
Published (and copyrighted) in South Jersey Magazine, Volume 10, Issue 8 (November, 2013).
For more info on South Jersey Magazine, click here.
To subscribe to South Jersey Magazine, click here.
To advertise in South Jersey Magazine, click here.