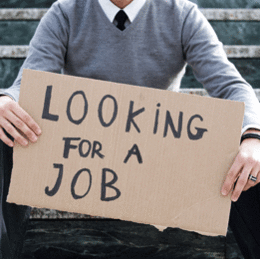 Hire Impact
Though the economy has shown signs of improvement, local unemployment numbers remain daunting. Is there hope on the way?
After a year and a half of being unemployed, Margie Simon is running out of options. The Mount Laurel resident spent 12 years in a managerial position in customer service, only to see the company sold and her office closed; 30 people lost their jobs.
Simon (not her real name) has given up hope of finding a management position, but even regular customer service jobs have been difficult to get. Not only does her experience make her over-qualified, but her age is an issue. "I don't think it shows up in my résumé," says the 59-year-old, "but when I show up for the interview … they can read how old I am. And that's where I think it comes into play."
Simon and her husband have made ends meet, but the severance is long gone and the unemployment money too. The longer she is out of a job, the more difficult it is to get one. She knows, having been on the other side of the table, judging the people who had been out of work and interviewing with her for a job. "The first thing that came to my mind was they're just milking the unemployment the government is handing out," she says. "Now that I'm in that position, I don't see that as being the case. I wish I never would have thought that way."
For a distressingly high number of New Jersey residents, her story is far too familiar. As of August, New Jersey's 8.5 percent rate of unemployment was among the highest in the country. The situation is even more dire in South Jersey, where Burlington (9.2 percent), Gloucester (10 percent) and Camden (10.6 percent) counties all exceed the state's average. The jobless are left to ask: Is there hope? Are there places to turn to for help? Experts believe the answer is yes.
New Jersey's unemployment may be high, but it's heading in the right direction. In just six months, the state's rate has dropped nearly a percentage point. Even more encouraging, there have been sustained increases in job growth for four consecutive years. Last year there were 59,100 jobs added (doubling the number from 2011), and this year is on track for even greater gains. "Job growth is across the board," says James W. Hughes, dean of Rutgers' Edward J. Bloustein School of Planning and Public Policy, noting the highest gains are in health services, education and leisure and hospitality.
But the positive signs do little to comfort people who've been stuck with the unemployed label and who aren't in one of those in-demand fields. Take for instance Sean Murphy, 46, of Cherry Hill, who hasn't had the experience of being laid off just once, but three times in the last four years. The first time came in 2009 when he worked at a local newspaper, followed by being let go from a South Jersey-based publishing company in 2012. He soon found a position as a data management coordinator for a medical research company in Delaware, only to be laid off again that August.
"I remain positive because I think something will work out in the end," Murphy says. Though it's hard not to get frustrated when he's applying for at least three jobs every week (a requirement to keep the unemployment checks coming). Fortunately, his wife makes a good living and they're able to get by for now on the one income source.
A big part of the problem, he feels, is that employers are flooded with résumés, making it hard to stand out. "I'm sort of in a tough spot," he laments. "I have more than 25 years of experience. ... While that may seem an asset, I think it's not because there is always someone younger with more energy who will work for less."
That's why he's broadened the list of jobs he'll consider, even applying for retail and janitorial positions.
The competition is fierce, as it affects not only the unemployed, but college graduates trying to make their way into the workforce. "A recent grad who barely had any experience before would have been able to find an entry-level job when they first got out of college," says Roseanne Buckley, director of career services for Burlington County College. "Well in the past six years, that hasn't been the case. People with 15 years of experience are willing to take entry-level jobs to keep benefits going and the bills paid."
While difficulties remain in finding work, a number of resources are available for job seekers. The state offers a job board (Jobs4Jersey.com) and One-Stop Career Centers in each county that are free and available to everyone—not just the unemployed.
The Burlington County center, for example, offers workshops on networking and résumé writing, seminars on subjects like LinkedIn, and career counseling for those seeking objective advice. The center features a Jersey Job Club started in the last year that Manager Robert DeMarco says has yielded positive results for several participants.
"It's a way of giving assistance," DeMarco says, "and focusing on providing job-seekers the tools and support they need."
Colleges and grad schools too offer workers a chance to maintain their professional development. Burlington County College experienced a 26 percent increase in students 35-44 years old from 2008 to 2011 (at a time when that demographic was decreasing in the county). The college's Career Services Center offers a free career assessment for older workers. "It allows them to see the results of their likes and dislikes, and how they match up to people that are happy in their profession," says Buckley, who has built the center up in her six years at the college. "It gives them some avenues on different career paths they can take, and then we research those avenues to see if they are in demand or not." Students can take popular workshops on subjects like cleaning up their online image, and alumni and community residents too have the chance to browse the school's Career Builder-like online job board.
While the goal for the unemployed is to secure a steady full-time job, temp work provides a decent alternative—despite the perception of low pay. "It is not true," says Edward J. Damm, owner of Cherry Hill-based ACCU Staffing Services, which has 2,500-3,000 people working per day at places of employment. "There are low-end jobs out there, and we do fulfill those jobs as well, but it can go up to $15, $18, $20 an hour depending on the customer and what they need." Plus, temp work can lead to a full-time job, as evidenced by the 20 percent of workers through ACCU that have gone on to be hired by the company.
As the economic conditions improve, the jobless of South Jersey aren't giving up hope.
"I have been consistent in trying to land a job, but have had only a few interviews," Murphy says. "I honestly don't know what's next, but I'm hoping one of the irons in the fire will work out."
Having a Plan Lost your job and don't know what to do? Don't take a break to recover. "It is much more helpful to try to immediately get back into the game," says Dr. Lynn M. Levine, a licensed professional career and life counselor at the Cherry Hill-based Career and Life Options. "Sometimes people take off too much time, and they lose the momentum necessary to make good networking connections and to seek out new job leads." Follow these tips to maximize your chances of getting back to work.
Keep networking.
Internet job sites merely scratch the service says Levine, who offers in-depth career assessments and skill evaluations in her practice. Networking through social media and professional trade associations are essential. "Personal contacts, or leads through personal contacts, are key to the search," she says. "Do not restrict yourself to your immediate circle, as that will limit your options."
Stay active. Go back to school, volunteer in your field, maintain industry contacts – do whatever you can to stay involved. This will prove crucial to future employers to demonstrate you used the time to improve yourself.
Learn how to stand out.
Employers are looking for reasons to eliminate candidates rather than taking a chance on someone less than ideal. As such, differentiation is the name of the game in a crowded job market. "What can that candidate bring to the table outside of the job description that the company is looking for?" asks Christine Schafer, founder of CEM HR Strategies. "Is there an extra skill set that would be a fit for that company?"
Published (and copyrighted) in South Jersey Magazine, Volume 10, Issue 8 (November, 2013).
For more info on South Jersey Magazine, click here.
To subscribe to South Jersey Magazine, click here.
To advertise in South Jersey Magazine, click here.