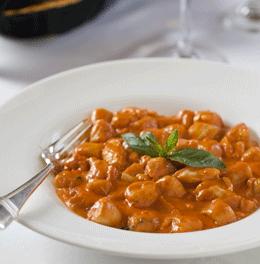 Palate Review: Il Villaggio
It Takes a Village: Il Villaggio
211 Haddonfield-Berlin Road
Cherry Hill
(856) 795-1778
3 and a half forks
One thing to note when walking through Il Villaggio, the space formerly known as Nonna's, is the overwhelming size of this building. On a Saturday night, one room was closed off to a large private party, while two other rooms remained open with room to spare. High ceilings, tall windows and floor-to-ceiling hand-painted murals made the room look even bigger, but also made our seat tucked into the corner seem a little more private and personal. A fire crackled in the other dining area while a performer sat down with a mandolin and strummed tunes in a classical Italian style.
Plenty of regulars dotted the room, shaking hands with management and greeting servers familiarly. It was a comfortable feeling, like the warm Italian Sunday dinner table people hope for.
An appetizer of beef carpaccio came with more than a generous amount of thinly sliced raw beef, pounded out, seasoned lightly with olive oil and served with a mound of peppery arugula and Parmesan cheese. The seasoning was light and complemented the taste of the meat, especially when paired with the arugula, but the meat had been pounded so thin that it was broken into messy pieces that crumbled before they could be scooped up. Still, the overall taste was highly redeeming.
Portobello mushrooms arrived next, another creative appetizer I hadn't seen many times before. Two hearty mushrooms were topped with sautéed spinach, roasted red peppers and gorgonzola, then broiled and drizzled with a fig balsamic reduction sauce, which paired beautifully with the meaty mushrooms. The spinach, peppers and mushrooms were all cooked nicely, and the small bite of gorgonzola that came on top added a fantastic earthy and salty flavor. I could have easily handled more gorgonzola, which only made it onto a fraction of the plate.
As the night went on, the tables continued to fill up, servers multiplied, standing back in ties and vests waiting to serve wine glasses for BYO bottles and running food out table by table. It was a team that knew exactly what they were doing and where they had to be, a professional operation that makes a dinner so much more relaxing.
My dish of gnocchi Adriatico arrived, followed by a scoop of freshly shaved Parmesan. The handmade pillows of potato pasta were in a thick vodka sauce, topped with mounds of fresh lump crab meat. Amidst the creamy sauce, the gnocchi was fluffy and light, and the crab meat was hearty and naturally sweet. Sure, it was a heavy dish, but a really satisfying indulgence. Veal paillard, while originally a French dish, was given an Italian facelift with a mound of fresh tagliatelle. The veal chop was cut thin and grilled so that its natural flavors really stood out. It was a nice change from typical Italian veal dishes, which are all too often coated in flour and fried. The chop was then sautéed in a butter sauce filled with olives and caper berries and drizzled with truffle oil, then laid over the tagliatelle which was sautéed in chopped mushrooms and another small dose of butter. The sauce could have been thicker, and would have benefited from more flavor, though there was a nice balance between the olives and mushrooms.
Once dishes were cleared and leftovers were wrapped up—like many Italian restaurants, the servings could last well into the next evening—a dessert menu arrived comprised of standard treats like gelato and cheesecake. We opted for the house-made tiramisu, and received a mound of filling and soggy cookies that were far too oversaturated, dripping with watery espresso that did nothing to mask the bland mascarpone cream. I would have loved to see the same careful attention to the desserts as the entrées, so it was a rather unsatisfying finale.
Despite the dreary dessert, the evening ended on a high note. A genuine smile from a friendly server seems to make a well-balanced dish taste even better, and the "village" atmosphere of Il Villaggio makes an evening out for Italian more of an experience, not just a dinner.
Published (and copyrighted) in South Jersey Magazine, Volume 10, Issue 8 (November, 2013).
For more info on South Jersey Magazine, click here.
To subscribe to South Jersey Magazine, click here.
To advertise in South Jersey Magazine, click here.