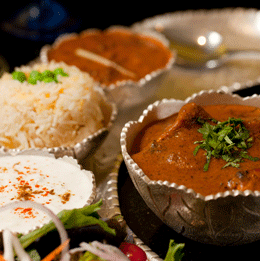 Palate Review: Indiya
The Spice Road: Indiya
612 Haddon Ave.
Collingswood
(856) 858-0020
4 forks
The first thing to greet me on this particular trip to Indiya wasn't the friendly server at the front door. Instead, my welcome came a few steps down Haddon Avenue as a warm and spicy gust of curry connected with the wind and practically pulled me into the restaurant. But that's to be expected in South Jersey, where Indian food comes as close to authentic as any American city that I've been to. After all, big flavors should pack a big punch.
Indiya is the second Indian restaurant from owner and chef Vipul Bhasin, the man behind Voorhees' Coriander. Having earned his start more than 20 years ago cooking in the elite hotels across India, Bhasin has worked to modernize and sophisticate his native cuisine for the American palate with from-scratch ingredients created in house.
A dinner inside Indiya is far different from their popular lunch buffet, which lays out an all-you-can-eat spread alongside one of their bright yellow walls. It's a great deal, but when looking for a more intimate evening, I find it best to opt for the dinner menu and tuck yourself away into one of the bright blue booths. Lit by glass Moroccan lanterns and divided by privacy walls, it's an ideal spot for a date or for catching up with a small group of friends.
Onion bhajias were the first bites to arrive to our table, along with complimentary papadums, or crispy thin rice chips. Bhajias are an Indian fritter, with strings of onion mixed with chickpeas, all battered, fried and served with Indiya's signature cilantro mint chutney and tamarind chutney on the side. There was a nice hit of spice, which paired well when dipped in the minty chutney that accompanied every dish of the evening, but overall the bite-sized bhajias were soggy and doughy and suffered from a lack of crunch.
The two large vegetable samosas that came next, however, were crispy and flaky, just the way they should be. The outside pastry hid a soft blend of ground chickpeas, potatoes, peas and spices; hearty but still moist.
The vegetarian selection here, like most Indian restaurants, is extensive. But that doesn't mean you'll struggle for some diversity. In fact, both starters had very similar ingredients but produced resoundingly different flavors. And while Indian dishes are known for their spiciness, nothing was too extreme. Plus, there's always drinks like their mango lassi to help you cool down. The creamy drink came blended with fresh mango and yogurt and finished with ice cubes. It was a nice palate cleanser when the heat became a little too much.
Entrées arrived in a grand gesture. First came your empty plate, then a curved metal dish with each part of your meal was placed alongside it, giving guests the chance to mix basmati rice with a side of dal makhani—or slow-cooked black lentils in a creamy sauce—and of course your curry of choice. My pick was the lamb roganjosh from Kashmir, which arrived in a rich red sauce with chunks of cherry tomatoes. The chunks of lamb were so tender that they had practically melted into the sauce, but didn't lose the slight gamey taste that makes lamb so unique. While the dal makhani was bland on its own, it was a pleasant side when piled on top of the basmati rice, flavored with plenty of cilantro.
Chicken pepper chettinad had a rich aroma from fennel, which hit with accompanying herbs right off the bat. The chicken was stewed in a sauce bursting with cracked black pepper that added just the right hit of spice, and tickled my senses. I sopped up the smooth sauce with accompanying naan bread, baked until crispy and hot and listed among a selection of Indian breads on the menu.
The night ended with a plate of gulab jamun, a very traditional Asian dessert that places fluffy custard-based balls of dough in a fresh rosewater honey syrup. The dumplings that arrived—traditionally made from cheese curds—were slightly gritty, not the smooth bite I was expecting.
But the sticky syrup more than made up for it. Like the entrées, while you might think it was heavy, the bites were light and the sauce was fresh and thin. It was a menu that was so clearly thought out over centuries of home cooking—a beautiful harmony of spicy and creamy, heavy and delicate, that came together like a culinary symphony.
Indiya meets the requirements of what I consider a really quality Indian dinner. It's not just about the ingredients, it's about the entire experience. The smells, the look and the world you are transported to are as important as cooking temperature and flavor. I don't think you'll find food in South Jersey that hits every sense as our Indian food does, but I certainly don't mind the search.
Published (and copyrighted) in South Jersey Magazine, Volume 10, Issue 8 (November, 2013).
For more info on South Jersey Magazine, click here.
To subscribe to South Jersey Magazine, click here.
To advertise in South Jersey Magazine, click here.