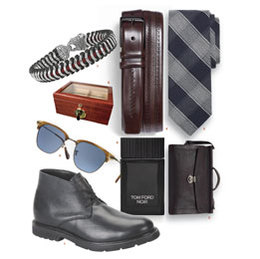 Good Buy: Leading Man
Ever have a hard time finding the right gift for the man in your life? Maybe he's too picky or maybe you're just not looking hard enough. We took a look around South Jersey to find what every guy wants this fall, from the classic staples like a sharp tie to desired accessories like the humidor he's been sending smoke signals about since his last birthday.
1. Step Up. Classic boots are more popular than ever this fall, and luckily they're easy to wear for any occasion. Pair these particular leather boots by the Vintage Shoe Company with a pair of tapered jeans for an evening out or with khakis and an oxford around the office. Vaughn Boot in Black by Vintage Shoe Company, $279 at Benjamin Lovell Shoes, 212 Kings Hwy. E., Haddonfield, (856) 429-7801, BLShoes.com
2. Ramblin' Man. Whether you're a jet-setting associate or a weekend wanderer, there's no reason not to travel in style. Luckily Hugo Boss stepped in to make your packing a lot cooler with their leather weekender. This bag comes with plenty of space to store clothes, toiletries and even technology, with a reinforced compartment designed to keep iPads and tablets safe. Santik Textured Italian Leather Weekender by BOSS, $1,045 at Hugo Boss, 2000 Route 38, Cherry Hill, (856) 488-2010, HugoBoss.com
3. Tied Down. Let's be honest; a tie featuring your favorite cartoon character or sports team is never a good idea. A classic, quality tie is the best way to take your boardroom look to the next level. Take this pure cotton, plaid number from Brooks Brothers: It's got enough of a design to stand out, but still subtle enough to keep you from being the talk of the water cooler. Framed Plaid Tie, $98.50 at Brooks Brothers, 500 Route 73 S., Marlton, (856) 983-0143, BrooksBrothers.com
4. It's a Cinch. The finishing touches make all the difference, so don't neglect the details, like a classic belt that goes with everything. Mezlan's brown leather belt is made in Spain and comes with simple but sophisticated accents and is finished off with a sleek black metal buckle. Vaqueta Leather Belt by Mezlan, $95 at Nordstrom, 2000 Route 38, Cherry Hill, (856) 773-5600, Nordstrom.com
5. Smoke Break. There's always an occasion to break out a good cigar. Keep your celebratory stogies fresh with a cedar-lined humidor, equipped with a front-mounted hygrometer. This particular humidor is the perfect size for your desk, made to fit up to 30 of your favorite brands, but it also comes in a larger size for serious collectors that holds up to 150 different cigars. Mahogany Glass Top Humidor by Savoy, $99.95 at Hemingway's Cigar Shoppe, 107 Merchants Way, Marlton, (856) 985-7580, HemingwayCigars.com
6. Throwing Shade. Summer may be behind us, but that doesn't mean the sun is going anywhere anytime soon. So cover up with class using these Oliver Peoples shades. Their wire and acetate frames serve as homage to the '50s retro style that's made a comeback in recent years. Banks Sunglasses by Oliver Peoples, $420 at Fortuna Optical, 501 Route 73 S., Marlton, (856) 797-0600, FortunaOptical.com
7. Brace Yourself. There's more to men's jewelry than your typical timepiece. For a less-clunky piece of wrist bling, check out this bracelet, which features a strand of red leather surrounded by sterling silver links, all bound and finished with black leather and a heavy-duty sterling silver clasp. Unkaged Samurai Collection's 12mm Link Woven Leather Bracelet by Scott Kay, $625 at Billig Jewelers, 300 Route 73 S., Marlton, (856) 983-2300, BilligJewelers.com
8. Base Notes. They say smell is the most powerful of your five senses, so make sure you leave a good first impression wherever you go. There's plenty of colognes available at the department store counter, but one of the newest scents to hit the market is Tom Ford's Noir, which comes infused with citrus oils and herbs to create a subtle but sensual smell. Tom Ford Noir, 1.7 oz. by Tom Ford, $90 at Lord and Taylor, 400 Route 38, Moorestown, (856) 608-7967, LordAndTaylor.com
Published (and copyrighted) in South Jersey Magazine, Volume 10, Issue 8 (November, 2013).
For more info on South Jersey Magazine, click here.
To subscribe to South Jersey Magazine, click here.
To advertise in South Jersey Magazine, click here.