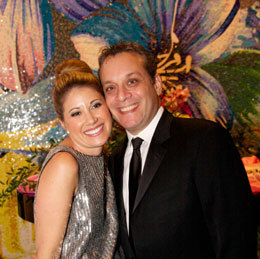 Scene: November, 2013
Click here for this month's Scene photos.
Moorestown Visiting Nurses & Hospice 18th Annual Golf Classic and Networking Party
Photo 1: Golf Classic Co-Chairs Andy Fritz of CareOne and Scott Klesmer of GlaxoSmithKline with Moorestown VNA President and CEO Chickie Holcombe
Photo 2: Dr. Andrew Pecora, Moorestown VNA's Jeff Defrehn and Dr. Ken Giacobbo
Photo 3: South Jersey Magazine's Gerry Haggerty with son Max Haggerty
Rothmael Bratton LLC's 4th Annual Golf Outing
Photo 4: Bill Barnshaw, Jeff Suwak, John Rothamel and Jeff Montagano
Photo 5: Bob Salotto, Chris Bratton, Rob Walsh and Norm Stites
Burlington County United Way's 2013-14 Campaign Kick-Off
Photo 6: United Way of Greater Philadelphia and Southern New Jersey President and CEO Jill Michal and Executive Director Bruce Conway with children on-hand to help celebrate the kick-off.
The Third Annual Jim Fifis Lung Cancer Research Fund at Cooper Benefit Dinner
Photo 7: Ponzio's Partner John Fifis, The Cooper Board of Trustees Member Chris Fifis, The Cooper Foundation President and CEO Susan Bass Levin, Invitations by Vi Owner Vi Fifis and Ponzio's Partner Nick Fifis
Photo 8: Cooper University Health Care President and CEO Adrienne Kirby, The Cooper Health System Board of Trustees Chairman George E. Norcross III, and Population Health Institute at Cooper University Health Care Deputy Chief Medical Officer and Medical Director Dr. John Mazzarelli
Photo 9: Capehart Scatchard's Nikitas Moustakas, 94 WIP Sportscaster Howard Eskin and School of Diagnostic Imaging at Cooper Director Martina Harris
Val Nunnenkamp of Prudential Fox & Roach's 30 Year Celebration
Photo 10: Jack Morrison, Bob Dobbs, Val Nunnenkamp and Tony Santos
Photo 11: Nicole Fox, Val Nunnenkamp, Liz Hepp and Loretta Runyan
The Susan G. Komen Philadelphia '50 Shades of Pink' Tie Ball
Photo 12: Jay Roberts Jewelers' Jake Spigelman, breast cancer survivor Jeannine Donahue with Jay Roberts Jewelers' Jay Golde
Photo 13: MB and Associates Mindie Barnett with Jason Lichterman
Fante's Plumbing Heating & Air Conditioning, Inc. During Breast Cancer Awareness Month
Photo 14: During Breast Cancer Awareness Month, Fante's employees sported pink shirts to support breast cancer research and awareness.
Occupational Training Center of Burlington County's Annual Dinner Dance
Photo 15: Freeholder Joanne Schwartz, Freeholder Joseph Howarth, Freeholder Director Joseph Donnelly and Mike Kripner
Katz JCC Maccabi Games
Photo 16: Katz JCC Games Chair Dr. Mark Dannenbaum, Sen. James Beach, Camden County Freeholder Jeffrey Nash, Cherry Hill Council members Melinda Kane and Jim Bannar, Katz JCC Games Director Robert Kiewe, member Susan Shin Angula and Council President David Fleisher
CareOne Harmony Village at Moorestown's Oktoberfest Five-Year Celebration
Photo 17: Joe Samoni, Andy Fritz, Kathleen Clark and Dawn Bock
Photo 18: CareOne Harmony Village's Donna Roberts, Amy Tesler and Katie Young
Photo 19: Sen. Diane Allen, right, receives a proclamation certificate from CareOne Harmony Village Marketing Director Kathleen Clark
Published (and copyrighted) in South Jersey Magazine, Volume 10, Issue 8 (November, 2013).
For more info on South Jersey Magazine, click here.
To subscribe to South Jersey Magazine, click here.
To advertise in South Jersey Magazine, click here.