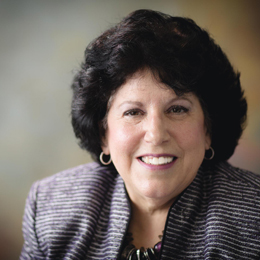 Super Women
October 2017
WOMAN OF THE YEAR
Linda Coppinger
Coppinger, the owner of Senior & Special Needs Solutions, has long been involved in local nonprofit work. From 2007 until earlier this year, she served the Alzheimer's Association as an executive director for the South Jersey region. During that time she was recognized by Gov. Christie for her efforts and was chosen to serve on a state commission studying the disease. Though no longer working with the organization, Coppinger remains heavily involved through volunteer work and is currently a member of their South Jersey Advocacy Committee which includes serving as an ambassador for Rep. Donald Norcross. Coppinger also spent nine years as a professional Girl Scout and has worked in the field of intellectual and developmental disabilities for years. She began her career working at Robin's Nest helping at-risk girls, but has also spent time at the Arc of Camden County and the Bancroft School. She has also been on the board of trustees at the Alice Paul Institute for more than five years and in April of this year, she was named board chair. Furthermore, Coppinger is a founding member of the Burlington County Regional Chamber's Ambassador Club.
Amanda Kimmel
A Collingswood resident with a master's degree in social work from Temple University, as well as a bachelor's degree in psychology from St. Joseph's University, Kimmel was recently appointed as the assistant vice president for population health for Kennedy Health Alliance. With a background that spans having overseen four Kennedy ambulatory programs and serving as social services manager for the Specialized Health Services Division of Philadelphia-based Public Health Management Corporation before joining Kennedy, Kimmel oversees all of the operations at Kennedy Health Alliance. Kimmel also serves on the board of directors of the Camden Coalition of Health Care Providers, is a member of Thomas Jefferson University's Grandon Society and is an active supporter of Kennedy's annual Cancer Survivors Day celebration. She is even the founder of Kennedy's Young Professionals Philanthropy Association as well as a member of the Collingswood Educational Advocacy Group.
Sherolde Smith
Twenty years ago, Smith was at the top of her game in real estate when she came upon the Horace Mann quote, "Be ashamed to die until you have won some victory for humanity." It resonated with her in a powerful way. She left real estate and earned a master's degree in social work from Boston University and directed her talents to the care of sexually abused children and children in residential homes. Today, she is program services manager for Camden Healthy Start, helping at-risk pregnant women, babies and families in Camden live healthier lives by providing family support, home visitation, health education and connection to local resources. In her free time, she is active in her church and volunteers with many other organizations including the American Red Cross and Big Brothers Big Sisters.
Leona Davis
Known for wearing many hats, Davis loves finding the beauty in things and sharing that beauty with others. She's an elementary school teacher at Bells Elementary School in Washington Township, who has been teaching music for over 20 years. In addition to her wedding invitation business, Little Pearl Designs—where she creates custom designed wedding invitations with her daughter—Davis more recently founded Forget Me Knot Flowers with her husband. The premise is repurposing wedding and event flowers into beautiful bedside bouquets for residents of nursing care facilities, those that are suffering from illnesses or are going through lonely or difficult times.
Amanda Bauman
As the senior manager of community affairs at Campbell Soup for the last 12 years, Bauman is responsible for Campbell's overall community affairs strategy and employee engagement initiatives. She leads the company's employee volunteer program, Nourishing Our Neighbors, which engages more than 5,000 employees annually and has received national recognition by the Points of Light Institute. She also manages Campbell's employee giving campaign across 15 U.S. locations— which raises more than $1.7 million each year for United Ways across the country— and is responsible for the Campbell Soup Foundation, the philanthropic arm of the Campbell Soup Company, where she manages relationships with hundreds of local nonprofits and the distribution of $1.6 million in grants annually.
Kimberly Dickstein
Dickstein's dedication and passion for helping others goes beyond her classroom at Haddonfield Memorial High School, where she is an English teacher bringing Shakespeare's work to life. She has committed herself to creating awareness and giving back to hospitalized teens after the passing of her best friend, Alicia DiNatale, in 2003, through the Alicia Rose Victorious Foundation. Once coming on board as the Youth Leadership Council (YLC) advisor in 2009, Dickstein created the "Teen 4 Teens" program to help connect high schools with local hospitals and inspire youth to volunteer and raise awareness for teens battling cancer and other life-threatening illnesses. To recognize her for her inspiring efforts through the years, ARVF nominated Dickstein for the 2017 L'Oreal Women of Worth Award program, which recognizes women making an extraordinary impact in their communities.
Jacquelyn "Jackie" Dixon
Fueling her grief into a driving force, Dixon opened the A.J. Dixon Resource Center in Berlin in 2005 dedicated to her son's memory after he died in Operation Iraqi Freedom in 2004. The center was opened to provide activities, classes and tutoring sessions to those in the community who needed them. Due to a lack of funding, that center closed in April 2016 and a new one emerged in February 2017 as the A.J. Dixon Vets and Friends Center. Finding a void in support for veterans when the suicide rate is growing, Dixon felt their community was in need of a place that those veterans could benefit from. The center accommodates all veterans and family members and is open every Wednesday from 11 a.m. to 3 p.m.
Jacqueline Algarra
Twenty-two-year-old Marlton native Algarra is currently in her last semester of nursing school at Holy Family University. She's also the reigning Miss Atlantic County and has used her position to educate people on body positivity and the National Eating Disorders Association. She has spoken on the topic at many events and volunteered with Children's Specialized Hospital in New Brunswick and Shriner's Hospital for Children, started a CHOP NICU drive as well as a drive for Wiley Nursing Home. She has always loved caring for the elderly population and, upon graduating this December, she will start working as a registered nurse.
Brenda Jones
After feeling so discouraged in January 2009 when a nurse told her that the ugly, itchy and wrinkled hospital gowns would be what she would wear for the next seven weeks of radiation, Jones knew there were others who had to feel the same way. The founder of the nonprofit Hug Wraps, Jones created a line of kimono-style wraps displaying bright colors and patterns in a warm flannel material. With a three-day crash course in sewing and her own sewing machine, Jones created her first Hug Wrap days after her treatment. Today, Jones has created hundreds of Hug Wraps for cancer patients like herself. The wraps have been mailed to patients within the United States, Canada, England, Poland and even Australia. Jones' sewing room even underwent a makeover courtesy of NBC's George Oliphant and his show George to the Rescue.
Kelly Deuchar
While being diagnosed with a progressive disease that will keep you in chronic pain and prevent you from developing muscle mass may dwindle the spirits of most, Deuchar only used her diagnosis of myotonic muscular dystrophy as the flame to start her fire. While her disease will ultimately lead to life in a wheelchair, Deuchar did the unthinkable this past January when she competed in an indoor triathlon. A competition consisting of 10 minutes of swimming, 30 minutes of cycling and 20 minutes of running, Deuchar trained for the event even after some said she couldn't do it. She ended up breaking her personal best records in each leg of the competition.
Amy Petrie
With almost 12,000 followers on Instagram, Petrie is creating a platform for artists, makers and small businesses of South Jersey with the handle @SouthJerseyAdventures. A mother of three and a loving wife, Petrie wanted a place where she could show others the beauty and history of South Jersey to get like minds connected—not only to each other—but the area around them. The platform was created in 2015, and since then has stemmed South Jersey Made in 2016 where Petrie gives affordable, creative services and guidance to those she created the platform for. Adding to her efforts in the community, Petrie is a family advocate for the nonprofit Family Strengthening Network and is the official photographer for nonprofit Bianca's Kids and Big Brothers/Big Sisters of Atlantic & Cape May Counties.
Patricia Butler
A Johnson & Johnson school health leadership fellow, Butler has more than two decades of experience in maternal child health and school nursing. That depth of knowledge, along with her commitment, played a part in her recognizing the symptoms of acute lymphoblastic leukemia in a 5-year-old student at Zane North Elementary in Collingswood. Following chemo, the student is said to be in remission. The news made national headlines and led pharmaceutical powerhouse Pfizer to name her America's Greatest School Nurse in 2017. Butler also received this year's Health Hero Award from the New Jersey Department of Health-Population Health. In her free time, the Collingswood resident volunteers with the Camden Coalition of Healthcare Providers, Terri Ann For A Cure Foundation and CPS MERT and Safety Committee.
Judith Glick Buckman
To say that Buckman has been active in the local community would be an understatement, as she has been serving as a women's rights activist for the past 40 years. In 1984, she co-founded the Alice Paul Institute, a nonprofit that works to educate the public about the life and work of Alice Stokes Paul, who led the final fight to get women the vote and authored the Equal Rights Amendment. Ten years later, she established their Leadership Program and created the "Share Your Voice" one-day workshop for middle school girls, which eventually gave birth to other school-based leadership programs that have reached thousands of South Jersey girls since 2000. She has been a leader in the South Jersey National Organization for Women-Alice Paul chapter for 40 years, currently serving her fifth term as president. And, in 2014, she founded the Judith Glick Buckman Fund for the Future to educate the community about the importance of women's contributions to all segments of American society, as well as the importance of the advancement of women's rights.
Michele Epifani
With expertise in startup firms and nonprofit organizations, Epifani currently serves as the executive director for the Volunteer Center of South Jersey, a nonprofit that connects local volunteers and businesses with opportunities to serve. She has streamlined the volunteer-match process by investing new technologies to allow the center to grow and accommodate the seven counties in South Jersey that the center serves. Today, over 1,775 volunteers have registered on the site and continue to be connected to local nonprofits, while building their volunteer résumé. In her continued efforts to give back she has held numerous volunteer leadership positions for over 15 years with the Girl Scouts of Central and Southern New Jersey, along with presidential offices in the Clearview Regional High School District PTO.
Kahra Buss
Once a stay-at-home mother in Moorestown, Buss has nurtured her three children to such high hopes and creativity that has led her to being the president and CEO of their company, Live Civilly. The organization, Live Civilly, was created in 2009 (officially incorporated in 2011), and went from a family project to a nonprofit movement. The youth service organization focuses on engaging and empowering young people to become conscientious decision makers and in turn has provided more that 100,000 meals through the LCMMFP and the youth service initiatives that supply it. This past January, Buss was recognized as Moorestown's Citizen of the Year for her hard work and dedication to the community. Buss' involvement includes volunteering with the Moorestown Home and School Association, being an active member within her children's schools and at St. Matthew Lutheran Church, a volunteer sports coach through the department of recreation and more.
Kate Schumacher
A self-proclaimed technology enthusiast, Schumacher is a consultant for nonprofits and women-owned businesses in New Jersey through her startup, Founding Mothers. She focuses on helping small operations utilize technology to advance their causes and for women to embrace learning technology skills to empower their career goals. A self-learned technologist, she credits her skills and confidence in technology directly to the support and expertise of the Girl Develop It community and her startup-loving husband, Rich. She has spent 2017 working with Moms Clean Air Force to advocate for children's health and using technology to reach families across the state.
Rose Marie Beauchemin-Verzella
As an internationally acclaimed permanent makeup practitioner, Beauchemin- Verzella is the founder of the Beau Institute of Permanent Cosmetics. The Mount Laurel practice has been open since 1990, specializing in areola tattooing, microblading and scar camouflage. Beauchemin-Verzella even has extensive training in facial morphology, paramedical cosmetics and color theory that has led her to be wellknown among her peers. A renowned permanent makeup instructor, Beauchemin- Verzella holds an annual event at the institute called the "Day of Hope" during which she gives complimentary 3D areola and nipple tattoos to breast cancer survivors. Beauchemin- Verzella even works closely with the Kidney Project and is a supporter of the TLC Foundation for Body- Focused Repetitive Behaviors.
Marcie Dewey
In 2013, Dewey founded Washington Township's CB Kids (Caring by Kids), an organization with a mission to introduce children to nonprofit groups and provide them with opportunities to volunteer. Their goal is to provide the children with lasting memories of volunteering, which will hopefully inspire them to volunteer as adults. Since its inception, the group has collaborated with almost 50 different organizations providing donations of items, monetary donations and sharing the organizations with the public. She also serves as director of club service for the Washington Township Rotary Club and as chair of Interact, the club's high school volunteer group.
Published (and copyrighted) in South Jersey Magazine, Volume 14, Issue 7 (October, 2017).
For more info on South Jersey Magazine, click here.
To subscribe to South Jersey Magazine, click here.
To advertise in South Jersey Magazine, click here.