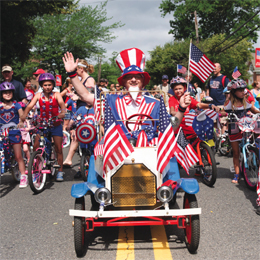 Top Towns 2017
What makes South Jersey one of the best places to call home is not just the stereotypical answers you hear so often about being close to the Shore and to major cities like Philadelphia, New York and Washington, D.C. Rather it's the individual communities that each offer their own unique character and charm.
Some towns are rich in history, while others are seeking to make new history with ambitious projects taking flight in an effort to help usher in an even brighter future.
This year's Top Towns examined these factors more closely to be able to devise our rankings. To do so, we collected data from the state police, the state department of local government services and the state department of education. We then devised a formula that combined average property values and taxes, crime incidents reported per 1,000 residents and high school performance (which took into consideration SAT scores, the number of AP classes offered and graduation rates). Towns are ranked in two categories: more than 10,000 population (big towns) and fewer than 10,000 population (small towns).
Reclaiming the top spot this year is Haddonfield, a picturesque town that boasts high property values and is also well-known for its stellar school system and a downtown with bustling retail shops and quality dining options from casual spots to white tablecloth eateries. But make no mistake, any of the towns listed in the Top 5 could easily jockey for the No. 1 position, as they were separated by the slightest percentages after we crunched the numbers.
The rest of the list is populated with other towns that offer a similarly desired quality of life. Some may have moved up or down only one or two slots, others like Washington Township jumped up five spots from last year while others like Franklin Township returned to the list after a brief absence. Furthermore, towns like Cinnaminson, Mount Laurel and Mantua continue to make their case as established areas that remain very much on the rise. No matter where you call home, one thing is for sure: South Jersey is the place to be.
THE TOP 25 OVERALL
1.) Haddonfield
2.) Medford
3.) Moorestown
4.) Evesham
5.) Harrison Township
6.) Woolwich
7.) Voorhees
8.) Washington Township
9.) Cherry Hill
10.) Mount Laurel
11.) Mantua
12.) Cinnaminson
13.) Southampton
14.) Burlington Township
15.) Waterford
16.) Delran
17.) Lumberton
18.) West Deptford
19.) Bordentown Township
20.) Haddon Township
21.) Franklin Township
22.) Monroe
23.) Florence
24.) Collingswood
25.) Gloucester Township
TOP 10 BY COUNTY
Burlington County
1.) Medford
2.) Moorestown
3.) Evesham
4.) Mount Laurel
5.) Southampton
6.) Cinnaminson
7.) Burlington Township
8.) Delran
9.) Lumberton
10.) Bordentown Township
Camden County
1.) Haddonfield
2.) Voorhees
3.) Cherry Hill
4.) Waterford
5.) Haddon Township
6.) Collingswood
7.) Gloucester Township
8.) Bellmawr
9.) Winslow Township
10.) Pine Hill
Gloucester County
1.) Harrison Township
2.) Woolwich
3.) Washington Township
4.) Mantua
5.) West Deptford
6.) Franklin Township
7.) Monroe
8.) Glassboro
9.) Deptford
TOP 10 SMALL TOWNS
1.) Medford Lakes
2.) Chesterfield
3.) Shamong
4.) Tabernacle
5.) East Greenwich
6.) North Hanover
7.) Mansfield
8.) Berlin
9.) Swedesboro
10.) Wenonah
A Look Around
Development projects, community news and more from a busy year across South Jersey
By Liz Hunter
Cinnaminson
Cinnaminson will be one of five towns in South Jersey to welcome German-based grocery store Lidl. The store will be built where the Garden State Inn currently sits on Route 130.
Cherry Hill
Cherry Hill Township continues to usher in new construction projects. In October 2016, Penn Medicine opened on the former Syms lot. In November, the shuttered Coastline Bar & Grill was razed to make way for a new 48,000-square-foot assisted living facility.
Other proposed projects include a Tesla dealership along westbound Route 70, a Costco for an undeveloped portion of the former racetrack land—which has been under contention with residents for possible inclusion of a gas station—and redevelopment of the vacant Lockheed- Martin building, also on Route 70, by Cooper University Health Care.
The Route 70 corridor resurfacing project finally began last month and is projected to be completed by Thanksgiving.
Collingswood
Earlier this year, Collingswood began the rehabilitation of so-called "zombie houses"—vacant, deteriorated properties that are eyesores to the community. Through court orders, the town can renovate and then sell the properties.
This summer swim season will see the completion of upgrades to Roberts Pool, including a baby pool with water features, new snack stand and playground equipment.
Evesham
After the abrupt closure of Champps, it was announced that Chickie's & Pete's would take over that property. Renovations have already begun and the popular chain is slated to open in fall 2017.
Rocco Regalbuto, age 7, received local and national recognition for his quick action in calling 911 when his mother Danielle suffered a medical emergency. His call for help saved his mother's life. As the news went viral, the family was invited to appear on the Steve Harvey Show where Rocco was hailed a hero.
National burger and milkshake chain Shake Shack is eyeing a spot at Marlton Commons, anchored by ShopRite, as its first South Jersey location. Honeygrow is slated to join them.
Marlton mourned the loss of its hometown singer and The Voice contestant Christina Grimmie, who was fatally shot by a fan after a performance in Orlando, Fla., last June.
Florence
Online retailer Amazon opened a 600,000-square-foot fulfillment center in Florence last fall. The spot was chosen for its proximity to the major roadways that expedite Amazon's Prime delivery availability.
Haddonfield
Haddonfield's first microbrewery, Kings Road Brewing Company, was approved by the zoning board. The brewery is aiming for a fall 2017 launch at a storefront on Kings Highway.
The town has yet to finalize redevelopment plans for the 19- acre Bancroft property. Negotiations continue with the developer, who says he expects the final result to be a mixed-use, 55-and-over community.
The Partnership for Haddonfield launched the Shop Haddonfield program, which offers shoppers discounts at registered businesses and those discounts are applied to their annual property taxes.
Haddon Township
After a fire destroyed the building nearly three years ago, Crystal Lake Diner reopened its doors in December 2016.
After three decades of neglect, the former Westmont Theater on Haddon Avenue was brought back to life with a 24-hour Planet Fitness. Down the street, the new 252-unit Haddon Town Center is having the finishing touches put on.
Harrison Township
The plan for Inspira Health Network's $326 million hospital was unanimously approved by the state health planning board in January. This new facility in Harrison Township will replace Inspira's current Woodbury location.
Medford
The Village at Taunton Forge shopping center is hoping for a resurgence with the help of a new Rite-Aid and Mexican restaurant, Tacos El Tio, both slated to open this summer. Other longtime tenants will remain, such as Illiano Cucino, Medford Eye Care and Fond Memories.
Mount Laurel
Construction is well under way at the new Bancroft site. The $75 million project will include a pool and indoor playground, as well as clinical therapy suites and medical offices.
The Mount Laurel Friendly's on Route 38 is the first one in the state to offer drive-thru service.
International chain Topgolf will open a 65,000- square-foot, multi-level complex near Marne Highway and Centerton Road. The venue will offer climate- controlled hitting bays, food and drink, music and entertainment and event space.
Moorestown
Virtua Health is working on a new construction project planned for the former Acme on Young Avenue. The Virtua Cancer Center will house medical oncology and radiation departments, lab testing and support services for patients.
The Macy's at Moorestown Mall will be one of two stores closing in South Jersey as the iconic retailer looks toward e-commerce and fewer brick-and- mortar stores.
Voorhees
Last month, Recovery Centers of America opened its doors on South Burnt Mill Road. The addiction treatment provider's location will provide outpatient services to those struggling with substance abuse.
Comcast unveiled its new Communications Operations Center of Excellence on the White Horse Pike in late 2016. The 42,000-square-foot complex consolidated the Voorhees and Aston, Pa., facilities.
Earlier this year, the local fire district was dissolved and is now under municipal control. The move was made due to financial mismanagement.
Washington Township
At the start of 2017, Joann Gattinelli was sworn in as the new mayor and Patrick Gurcsik was appointed township police chief.
Washington Township announced it will bring back its 4th of July parade, which has not been held since 2009.
Westampton
Last month, Virtua was granted approval by the health planning board to build its $1 billion medical campus in Westampton. The medical complex proposal includes a new nine-story hospital and other medical facilities on the 110-acre plot. Its expected completion is 2022.
Published (and copyrighted) in South Jersey Magazine, Volume 14, Issue 2 (May, 2017).
For more info on South Jersey Magazine, click here.
To subscribe to South Jersey Magazine, click here.
To advertise in South Jersey Magazine, click here.