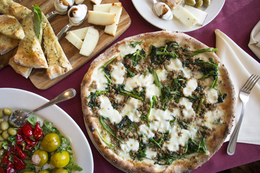 South Jersey's Best Pizza!
There's no denying pizza's popularity in our everyday lives. Whether it's grabbing a quick slice for lunch or ordering up a few pies for Friday evening's dinner with the family, pizza is that familiar go-to food for many of us. But, while some believe there's no such thing as bad pizza, we respectfully disagree. That's why we once again set out to find the best pizzas in South Jersey, from the crackery bites of a thin crust cooked in a gas oven to the ever-popular Neapolitan styles scorched in a wood-fired brick oven, and everything in between. You won't find the large chains that mass produce inferior products, this list is for true pizza lovers who appreciate the care put into creating the perfect dough and then taking something as simple as sauce and cheese and turning it into a work of art with the help of high-end ingredients. With so many stellar options to choose from, it would appear South Jersey's pizza scene has become a little slice of heaven.
Salsiccia Friarielli
at Bruno's in Haddon Township
In this unassuming restaurant attached to a liquor store, you'll find home-cooked meals made with high-quality ingredients. Grab a bottle of vino and order this wood-fired personal white pizza inspired by the classic Neapolitan dish made with Italian sausage and bitter—but delicious—broccoli rabe, with the addition of fresh mozzarella. One taste and you'll know why Bruno's sees so many repeat customers.
Roasted Cauliflower Pizza
at Anthony's Coal Fired in Mount Laurel
Founded on fresh ingredients and the power of an 800-degree coal-fired oven, Anthony's Coal Fired pizza continues to leave our mouths watering with their one-of-a-kind creations. Anthony's gives a nod to their vegetarian friends with their Roasted Cauliflower Pizza with olive oil, garlic, romano and mozzarella cheeses and topped with bread crumbs for an extra crunch.
Quattro Formaggi
at Villa Barone in Collingswood
This Italian gem located right off bustling Haddon Avenue features a menu replete with dinner classics, but this white pizza is a cheese lover's dream. Made with just four cheeses— fresh mozzarella, ricotta, sharp provolone and romano—it's cooked in a wood-burning brick oven, giving it perfect melty cheese-to-crunch ratio.
Chicken Bacon Ranch
at Riviera Pizza in Medford
Otherwise known as "Riv," Medford's family-owned pizza shop has been doling out pies since 1976. While they're famous for their big slices, the Chicken Bacon Ranch pizza is just as well known as it's topped with chicken, crispy bacon against soft mozzarella cheese and a surprising touch of ranch dressing.
Barbecue Chicken
at Montesini Gourmet Pizza & Pasta in Marlton and Maple Shade
Why wait for a summer barbecue when you can have this tasty treat all year long? Available in pan and thin crust varieties, this Montesini concoction doesn't skimp on the grilled chicken, which is lathered with tangy barbecue sauce. With Memorial Day Weekend approaching soon, your cookout could be replaced with takeout.
Rugola
at Luigi's Pizza Fresca in Burlington and Marlton
There are plenty of creative options of pizza to choose from at this bustling lunch spot, and mixing and matching slices is a given. But somehow we always come back to the Rugola, a white pizza loaded with shaved parmesan, salty prosciutto, fresh tomatoes and arugula.
Rizzo
at Legends Pizza in Burlington City
With quality beers and cocktails from their Tap Room and live music on Fridays and Saturdays, Legends is not your average pizza joint. Another highlight is their selection of gourmet pies, including the Rizzo, which combines two great area staples— cheesesteaks and pizza—and comes loaded with chopped steak, onions, green peppers, mushrooms, mozzarella and cheddar cheese.
Grandma Pizza
at Angelo's in Berlin, Mount Laurel, Riverside and Voorhees
In today's world of celebrity chefs and fancy cuisine, sometimes you just need a good old-fashioned meal like your grandmother—or nonna—used to make. Grandma pies were inspired by actual Italian grandmothers in New York, and Angelo's version combines the finest provolone, mozzarella and parmigiana cheeses with dollops of sauce on a square pie.
Old World
at Vesuvio Ristorante in Woolwich
Not to be confused with Artie Bucco's restaurant from The Sopranos, this longtime favorite in the Swedesboro/ Woolwich area is known for quality Italian food in a family-friendly setting. There are plenty of signature pies to choose from and the Old World is actually one of the newer ones on the menu. It features crushed plum tomatoes, basil, sea salt and olive oil, but the fresh, homemade mozzarella takes center stage.
Crosby
at MOD in Marlton and Cherry Hill
MOD is quickly expanding in South Jersey, and we see why. Known for building your own pizza, they also have a selection of unique pies named after close friends of owners Scott and Ally Svenson. This seasonal pizza tastes like spring in your mouth with a combination of mild sausage, fresh, roasted asparagus and sweet fig glaze that's so tasty, you'll ask for more on the side.
Buffalo Chicken
at Stella Pizza in Collingswood
Even with their new location, Stella Pizza still delivers their tried and true recipes, like this signature pie. It's made with grilled chicken breast dressed in medium buffalo sauce with a helping of blue cheese, available in either a small, large-size pie or a Sicilian, depending on your stomach, of course.
Short Rib
at Treno Pizza Bar in Westmont
Oh-so-tender short rib meat blends with the sweetness of caramelized onions and the mild nuttiness of fontina cheese and you can't miss the unmistakable taste of the wood-fired oven in every bite of the perfectly charred crust. A finishing touch of scallions puts everything in its right place.
Certo
at Organico in Marlton
While sourcing organic tomatoes, mozzarella, flour and more, Organico's fresh take on pizza gives it a whole new level of flavor and dare we say; healthiness. Considered one of their "originals," this pie stars a balance of salty, crisp pancetta with creamy goat cheese and a touch of caramelized onions, promising flavor in every bite.
The Pietro
at Angelo's Pizzeria in Haddonfield
When you take as much care with dough as Angelo's does, worthy ingredients are required. Here mozzarella works in harmony with dollops of fresh ricotta while roasted red peppers, heirloom tomatoes and artichokes help to elevate each delectable bite. For added measure, the pie is finished with hits of a homemade arugula pesto and topped with fresh arugula. We challenge you not to fall in love with this pizza.
Carbonara
at Jules Thin Crust in Cherry Hill
The rectangular, credit card thin pies at Jules could be considered borderline flatbreads in some circles, but make no mistake they hold their own in the pizza world. Especially this white pie topped with squared potatoes, bacon and a silky carbonara sauce. The potatoes, bacon and cheese are obvious partners, but the sauce adds another dimension of flavor that has made this our go-to order.
Tartufo
at Speranza in Westville
Cooked in a wood-fired oven, this standout white pizza starts with three kinds of cheeses (mozzarella, ricotta and sharp cheddar) before adding a fried egg and drizzles of white truffle oil. It delivers on multiple layers of flavor as the cheeses play off one another while the yolk of the egg along with the truffle oil add richness to the overall taste.
Chicken Parmigiana
at Naples in Mullica Hill
This Mullica Hill mainstay has long been a favorite of locals who flock for their well-executed pizzas. The chicken parm offering is smothered in an addictive tomato sauce and covered with mozzarella and long chunks of breaded chicken along with fresh basil. It's like two meals in one and we see nothing wrong with that.
Pizzaz
at Slice in Washington Township
Fewer pizzas are as identifiable to our region as the pizzaz, and at Slice they do it great justice. While there's mozzarella cheese on this pie, it's really all about the American cheese. Yes, we said American cheese. It only gets better with sliced tomatoes and hot pepper rings which add, well, some pizzaz to an underrated and perhaps underappreciated pizza.
Meatball with Stuffed Crust
at LaScala's Fire in Marlton
There's nothing like a wood-fire pizza and Marlton's latest hotspot does the trick and then some. With an open kitchen format, pizzas are served fresh hot out of the oven and this savory and spicy Margherita pizza, topped with meatballs and roasted peppers complete with a ricotta-stuffed crust, is worth the wait.
Signature
at Tacconelli's in Maple Shade
For years we've been telling anyone who will listen that this is not only one of the best pizzas in South Jersey, but one of the best you'll find anywhere. It features vine ripened chopped tomatoes, spinach and cheese on a garlicky crust that's been lightly kissed by the oven. It may seem so simple, yet there's a certain level of refinement that becomes increasingly evident with each slice that hits your plate.
Goomba
at Upper Crust in Tabernacle
Even carnivores can appreciate this mouthwatering veggie pizza that showcases eggplant and Portobello mushrooms along with garlic, EVOO, basil and mozzarella cheese. The meatiness of the shrooms pairs well with the eggplant resulting in a pizza that is hearty without being overly heavy.
Cremini
at Mannino's Pizzeria in Pitman
San Marzano tomatoes are the foundation for the sauce on this pizza that also houses mozzarella, plenty of roasted garlic and, as evidenced by its namesake, mushrooms. The pie is blistered in a brick oven at upward of 900 degrees, yet remains soft and chewy as a true Neapolitan-style pizza should.
Zucco
at Bricco in Westmont
Grilled zucchini melds well with imported prosciutto and the mild nuttiness of fontina cheese before being finished off with a rich fig balsamic glaze that brings an unmistakable sweetness as the perfect counterbalance of flavor.
Shrimp Lejon
at Iron Hill in Maple Shade and Voorhees
After a few years of intense cravings, we were thrilled to see the Shrimp Lejon return to Iron Hill's menu in recent times. Rock shrimp, bacon, scallions and cheese would make for a fine pizza in itself. Add a creamy horseradish sauce and you have yourself a runaway winner.
Fig Jam
at The Vault in Bordentown
Fresh homemade mozzarella is melded with calciocavallo, fontina and gorgonzola cheeses while an imported fig jam adds levels of sweetness to coincide with the saltiness of prosciutto. Finished with drizzles of honey this is one of the most inventive pizzas on this list.
Seafood Pizza
at Michelangelo's Italian Restaurant in Cherry Hill
Families have been coming to this neighborhood staple for generations, especially for their weekly pizza fix. We're partial to this variety, which true seafood lovers can't pass up. Offered in white with traditional crust or deep dish with tomato sauce, it's loaded to the gills with whole shrimp, crispy clams and chunky crabmeat, all complemented by just the right amount of garlic.
Gorgonzola Pear
at Forno Pizzeria & Grille in Maple Shade
Don't let the fast-casual setting at this Aldo Lamberti family gem deceive you—the menu still has the creative flair we expect. Our mouths can't help but water over the saltysweet, one-two punch this pie delivers to your taste buds, topped with pungent Gorgonzola, prosciutto, peppery arugula and a pleasant pop of pears and finished with a drizzle of balsamic reduction.
Pesto
at Montegrillo Cucina Italiana in Maple Shade and Pennsauken
Red sauce? Been there, done that. Switch it up with this specialty pizza, topped with a creamy, garlicky, bright green pesto then mozzarella and romano cheeses—resulting in the perfect blend of Italian flavors. Why haven't we been eating this all our lives?
Positano
at Cibo by Illiano in Marlton and Cherry Hill
Add a stamp to your pizza passport with this pie that transports you from South Jersey to the coast of southern Italy in one bite. It starts off simple enough with three essential Italian ingredients: freshly chopped tomatoes, olive oil and garlic; then hits another level with jumbo lump crab meat to cap off this flavorful journey.
Taco Pizza
at Picasso's in Mantua
When the choice of pizza or tacos for dinner becomes unbearable, Picasso's is there to help you through life's toughest decision. Their Taco Pizza is topped with ground beef, lettuce, tomatoes and sour cream with a special taco seasoning to bring your two favorite foods to one mouthwatering plate.
Published (and copyrighted) in South Jersey Magazine, Volume 14, Issue 2 (May, 2017).
For more info on South Jersey Magazine, click here.
To subscribe to South Jersey Magazine, click here.
To advertise in South Jersey Magazine, click here.