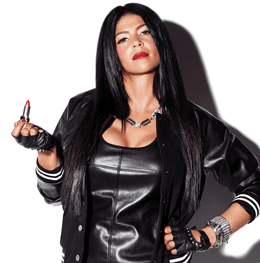 Mom Boss
Marlton's Alicia DiMichele heads up her business and her family—as well as the buzz surrounding one of VH1's most popular reality series.
Tank tops emblazoned with "Family Over Everything" and "Real Mob Wife," all sporting "#TeamAlicia" on the back, weren't always available at Cherry Hill's Addiction Boutique.
But like most aspects of Alicia DiMichele's life, her store's inventory has undergone sizable changes since late last year.
"Alicia DiMichele Garofalo is on the new season of Mob Wives," entertainment site Heavy.com reported in the days after the December premiere of the VH1 reality series' fourth season, "and she's all anyone can talk about."
One of two Philly-area women introduced to Mob Wives' preexisting ensemble of Mafia-connected frenemies (renamed Mob Wives: New Blood this season, in their honor) the demure DiMichele, 40, hardly seems a blueprint for a reality television breakout star. She chooses words carefully. She speaks with a spirituality-infused positivity ("If you're not constantly pushing your limits, you will never know what you're really capable of," she Tweeted in February). And even while exchanging f-bombs with more raucous co-stars, she manages to exude a sense of class that not only defies the situation, but that might typically sound the death knell for reality TV ratings.
"I was very worried about how I was going to be perceived on TV," the Marlton resident says. "But when I see myself, I feel like I come across how I actually am. People I went to high school with will text me or Facebook me and be like, 'You're still the same. You're still the same sweet girl.'"
For whatever she lacks in dramatic flair, you see, DiMichele makes up for in dramatic circumstances—the likes of which seem dreamed up by reality TV gods. For starters, she is one of only two current Mob Wives legitimately married to mobsters (co-stars Drita, Renee, Angela and Natalie are credited as wife, daughter, niece and cousin of men with Mafia ties, respectively).
That said, DiMichele is filing for divorce from said husband—reputed Colombo enforcer Eddie "Tall Guy" Garofalo Jr., who's serving seven years in Brooklyn's Metropolitan Detention Center for witness tampering, extortion and conspiracy to commit murder.
All of which leaves Alicia as single mom to three boys—Anthony, 19 (from a previous marriage, but who Eddie treated, she says, "like a son"), Rocco, 12, and 8-year-old Carlo, whose on-camera phone conversations with their imprisoned dad made for some of season four's most sobering, if not uncomfortable, moments.
And that's only the tip of the personal drama iceberg. DiMichele herself awaits sentencing for embezzlement of union funds from the trucking company she co-owned with Garofalo, a crime to which she pled guilty in 2012. The judge's decision to postpone her sentencing probably doesn't bode as well for DiMichele as it did for the show's much-talked-about season finale. She's bracing herself for the likelihood that she'll have to serve time.
"This is a really hard time for us," she says, exhibiting what's arguably her greatest asset: her seemingly sincere vulnerability. "We don't know what's ahead."
Oh, one last thing about DiMichele: She's drop-dead gorgeous. Model-worthy gorgeous. Even when fighting back tears over a salmon salad. So gorgeous that it's almost hard to believe the statuesque brunette wasn't famous before Mob Wives.
But she wasn't. Raised in Cherry Hill and a graduate of Cherry Hill West, DiMichele was a single mom back when she first met Eddie Garofalo in Atlantic City. It was he who inadvertently awakened her entrepreneurial inclinations by taking her on trips to New York City.
"After visiting Brooklyn a couple times and going to those funky boutiques, I was like, 'There's nothing like this in South Jersey.'"
Addiction Boutique, with an inventory DiMichele sums up as "affordable rocker chic," opened its doors soon after, immediately drawing crowds from the other side of the Delaware. A second Addiction Boutique, on East Passyunk Avenue in South Philly, launched last year. "I love running a business. I love going to work. I love being my own person."
Which is a good thing, because when Eddie's legal troubles landed him behind bars, Addiction Boutique became DiMichele's sole source of income—though not a foolproof one.
"I have my stores, but it still wasn't cutting it. I'm a single mom with three boys. (Eddie's) hands are tied. I'm not even blaming him. But I had to save myself. I have to do what I have to do to survive."
Which meant answering the door when VH1 producers came knocking. "I chose to do the show to support my boys." The fruits of which, she says, have been more than just financial.
"I feel like we were hiding for so long, because I was embarrassed," she says. "Now that our story's out there, the support has been more amazing than I ever expected. I'd been portrayed in the newspapers as this wise gal—that I'm basically running the mob, which ... I'm completely not that person." Choked up, she sips her water. "Since the show, people have gone as far as creating fan pages for my younger boys. And it gave them confidence. It actually gave them a boost. Like, our story's finally out there."
These fringe benefits are also good things, since DiMichele's decision to join the ranks of Mob Wives for financial gain might prove futile: Postponement of her sentencing is potentially chalked up to the prosecution's efforts to fine her $96,000 for earnings from the show (she's paid a reported $8,000 for each of 12 episodes), citing her involvement with Mob Wives as glorification of organized crime.
It's a legal situation DiMichele's not at liberty to discuss. But she can, and will, talk about the tension from being a bona fide mob wife without fitting its stereotype—a tension that's seemingly making these both the best and worst of times for DiMichele.
"I don't consider myself a mob wife. I don't think that I fit that stereotype. But I do feel as though I'm showing a different side of that world. Mob wives don't necessarily have to be so loud-mouthed and rough. And I think that people assume that behavior comes with the lifestyle. But it doesn't. And I'm sure I'm not the only one who feels this way. I'm sure there are hundreds of women out there just like me."
VH1, no doubt, hopes she's right.
Published (and copyrighted) in South Jersey Magazine, Volume 11, Issue 1 April, 2014).
For more info on South Jersey Magazine, click here.
To subscribe to South Jersey Magazine, click here.
To advertise in South Jersey Magazine, click here.