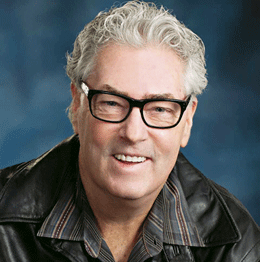 Big Words: Trick or Treat!
God, I love Halloween. Always did. My mother was a freak on the holiday and would make elaborate, clever costumes for me. Not once did I ever wear a store-bought costume. It wasn't the money; she just thought that was cheating.
One year, the TV show Batman was the rage and she took this old green suit from my older brother and sewed question marks all over it and I was the Riddler. Although this is certainly going to sound strange, when I was 10, I actually wore her wedding dress and I was "The Bride of Frankenstein." Maybe this explains my lifelong love of Elton John.
Then there was the candy. Growing up in Philly, there were approximately 50 rowhomes a block! You would fill up the first giant bag of candy, run home, drop it off, grab another bag, and head back out for more. It was terrific.
Then the neighborhood took a turn for the worse and my last Halloween memory in Southwest Philly was being jumped by three dudes on the 70th Street bridge. The shiner I sported for a week didn't bother me as much as the fact that they stole my hard-earned candy. As each Halloween passed, fewer and fewer kids would come to the door and, sadly, it got pretty depressing.
Then I made the jump to Mullica Hill and the development I moved to jumped on Halloween. The doorbell chimed all night long. I was thrilled. Houses were decorated like it was Christmas time. Experiencing Halloween again was worth the move all by itself. I resurrected my famous Halloween house party and now I look forward to the big night as much as I ever did.
Here are 10 of my favorite costumes of folks who came to my parties over the years, in no particular order.
Deuce Krause came as an artificial Christmas tree. He had taped the tree stem to his body and inserted all the branches into the holes. That's how he entered. Then we decorated him as the night went along with bulbs and tinsel and lights and we actually plugged him into an outlet. It was fantastic except he was pounding down beers and, when it came time to take a leak, the entire thing had to be dismantled.
Along those same lines, my wife spent more than a week designing a Christmas tree dress for 2-year-old daughter Keely to wear at one of our parties. It was a work of art. One little problem: She wouldn't wear it. She screamed like she was being dressed in barbed wire. At the last second, I threw my authentic No. 6 Julius Erving Sixers jersey on her and everything was fine after that.
I had put on my party invite that I was going to be wearing the scariest costume of all time. When the party was jammed and rockin', I announced to everyone that I was going upstairs and changing into my outfit. When I came back down, I was wearing black slacks, a white button down shirt, and a blue tie. Everyone exclaimed "What's so scary about this?" Then I slapped a big sticker over my pocket that said "IRS agent" and everyone went running.
My daughter Ava came to the party just last year as Flo the Progressive Insurance chick and I'm happy to say my rates have gone down by 18 percent.
Elmer Chestnut came as his own dog. Literally. He had a three-legged sheep dog by the name of Barley and for two years he saved the hair every time the pooch got a haircut. He grabbed a pair of pants and a shirt and glued all the dog hair on them. Other than the fact that he wouldn't stop humping my Aunt Aurora's leg, the costume went over tremendously.
Goob Ruppert came as the Pope one year and, when the cops showed up to break up the party, we had Goob answer the door and the gig went on as planned. Who's gonna tell the Pope to pipe down?
My buddy Mouse McCourt not only brought the house down one Halloween as Cousin Itt from the Addams Family, he actually helped clean the house later. It wasn't all that tricky of a costume. He simply bought a dozen stringy mop heads and draped them all over his body starting from his head down. At the end of the night when we were cleaning up the messy kitchen, we used Mouse as a mop and he was too drunk to notice.
My daughter Keely came to our party and then proved victorious at her school Halloween contest one year dressed as Judge Lance Ito who, in case you forget, presided over the O.J. Simpson murder trial. I say, "in case you forget" because when that case was over, no one ever saw him or my daughter's costume again.
This may rank as one of the cleverest and sickest costumes you ever heard of. On Oct. 20, 1977, the southern rock band Lynyrd Skynyrd was involved in a tragic plane crash that killed three of its members and severely injured the rest of the band. Just days later, a bunch of guys showed up at my party dressed collectively as the band with banged up guitars and blackened up faces. Whacked? Yes. Memorable? Obviously.
My wife dressed for the party one fortunate year for all invited as Dolly Parton. Other than piling up some blonde hair extensions for that beehive look, the other two important aspects of her costume were very real and very much all her own. She easily took first prize. What can I tell you? I'm a very lucky husband.
Published (and copyrighted) in South Jersey Magazine, Volume 10, Issue 7 (October, 2013).
For more info on South Jersey Magazine, click here.
To subscribe to South Jersey Magazine, click here.
To advertise in South Jersey Magazine, click here.