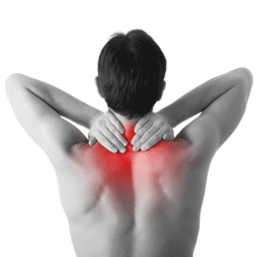 Seeking Comfort
Those suffering from chronic pain can find solutions that work in South Jersey.
Pain comes in many forms, but no matter where or how it manifests, living with chronic pain can become a major life burden. Anyone suffering from ongoing pain knows there are often good days and bad days. Fortunately, there are steps one can take to control it.
We've spoken to some local pain management experts who want to make sure your good days far outnumber the bad. It's an important discussion because there is a strong link between pain and mental health, so managing pain is good not only for the physical self but for emotional and psychological well-being, as well.
"Chronic, long-term pain is very emotionally draining," says Dr. Michael O'Keefe, of O'Keefe Chiropractic Center in Medford. "Patients may have difficulty sleeping or become discouraged by what seems like a lack of options."
Alternative solutions
When a person is suffering with pain, it's not uncommon to feel helpless and frustrated—especially if doctors have exhausted a number of treatment options. Many patients say they were told by doctors there was "nothing more they could do." Others rely on various drug treatments to deal with it. But sometimes the solution may come in the form of complementary medicine, and chiropractic is one such possibility.
"Chiropractic care relieves pain by gently relieving pressure off the nerves that exit the spinal column," says Dr. Jesse Liebman of the Liebman Wellness Center in Marlton. "This corrects the source of pain instead of masking the symptoms. Today's chiropractic care has seen revolutionary changes in technology with instruments that make the proper spinal adjustment with less than one pound of force, creating a pain-free adjustment."
Liebman says chiropractic has become one of the top choices for relieving back pain. But he says it's also very effective at relieving pain in the neck, shoulders and hips, as well as disc-related disorders, degenerative spinal conditions and even headaches.
"It's very common for us to see patients who have associated pains where the root problem is really the spine," adds O'Keefe. "Nerves in the shoulders, arms, and all the way down to the hands come from the neck, so if a patient is suffering from a pinched nerve, it's common they'll have pain, weakness or numbness in their arms and hands. In addition, the nerves from the lower back run down the legs and into the foot, so there are associated problems and pains there, as well."
There are a number of treatments within the chiropractic field that can assist with pain management. "Technology along with low-force chiropractic adjustments in our office is the key to aid in pain relief," says Liebman. "Cold laser therapy is an excellent way to relieve pain in the spine, shoulders and knees. Spinal decompression therapy has been a godsend for many patients with disc issues in the neck and lower back. We also use a technique called deep vibratory percussion massage which releases muscle spasms and scar tissue in minutes. And we use the ReBuilder footbath for patients that have peripheral neuropathy. It reinvigorates the damaged nerves in the feet by using a small microcurrent. This helps the numbness and burning associated with peripheral neuropathy."
Finding a solution
Chronic pain is often a complex issue that doesn't always have a simple solution. Those suffering with pain may need to take a multi-faceted approach to have the best results. "It takes time and it takes thinking outside the box," says Dr. Scott Greenberg of Magaziner Center for Wellness in Cherry Hill. His practice provides non-surgical relief, such as adult stem cell therapy, for chronic joint pain, along with other alternative methods to help with problems of the heart and immune system and other chronic illnesses. "You have to go by a combination of the findings, both from an MRI and a physical examination, and find a comprehensive solution. It's more than just a picture. You have to take the whole patient into account and figure out what's going on with them."
Dr. Alan Kwon, of Helios Interventional Pain Specialists in Marlton, says there are a number of approaches he may take with a patient suffering from pain. His practice sees many patients with back, neck, leg and upper extremity pain, often from an accident or injury.
There are certainly times when surgery is the best approach. For instance, when injections and medication are no longer working for joint pain, the best option may be joint replacement. Following surgery, pain management is incredibly important.
"Our goal is to get pain under control quickly after surgery so that the patient can do their rehab," says Dr. Manny D. Porat, of Reconstructive Orthopedics, which has multiple locations in South Jersey. "For instance, as soon as a patient can bend his knee, he or she will rehab quicker. Being aggressive and staying on top of pain really does help the recovery process."
Kwon adds patients often need to consider lifestyle changes on top of whatever pain treatment they pursue. Things like weight management, blood pressure management, and just leading an overall healthier lifestyle can make a big difference. But he says there have also been wonderful leaps in the field of pain management that are helping patients overcome pain with more minimally invasive procedures instead of surgery. "New products we're seeing include spinal cord stimulators that provide patients with excellent relief from painful conditions with lower risk than surgery," Kwon says. "Patients are overcoming disabilities that would have previously had them on chronic medication."
Getting off medication is certainly an important goal for many. "Patients don't want to have to take medication all the time," says O'Keefe. "Medication has side effects and is not the ideal long-term solution. Patients are beginning to realize that medications are just covering up the pain and not getting to the root of the problem."
The complexities of pain
When pain manifests as a result of a chronic condition or a disease, it may require a specialized approach. Palliative medicine is a medical subspecialty for patients who have complex illnesses that cause symptoms which need aggressive management in order to keep the patient out of the hospital, explains Dr. Marianne M. Holler, hospice and palliative physician at Samaritan Healthcare & Hospice as well as the director of Samaritan's new Palliative Medicine Fellowship, the first in the state, in collaboration with Rowan University School of Osteopathic Medicine. Palliative care can also help patients continue to participate fully in the aggressive treatment of their illness and/or activities of daily living. Examples of pain symptoms those undergoing palliative care may suffer from include shortness of breath, anxiety, nausea and vomiting, depression, fatigue and more.
"Pain is an individual experience that requires an individualized treatment approach," says Holler. "First it is important to establish the type and source of the pain—emotional, spiritual or physical. If it is physical, what is the quality, location, duration and precipitating factors? If it has spiritual or emotional roots, it is important to assess what the cause is."
It's also important to remember that when it comes to pain management, what works for one person may not for another. "There's no one correct way of doing things," says Porat. "Pain management is both an art and a science. But the goal is always getting the patient to recover as quickly as possible."
The bottom line? Managing pain is an important issue when it comes to quality of life. Even for patients who are nearing end of life, it can have a tremendous impact and should be a top priority. Adds Holler: "Aggressively treating pain may not change the overall outcome for a patient, but it can change how a patient and/or their family feels about that outcome."
Published (and copyrighted) in South Jersey Magazine, Volume 10, Issue 6 (September, 2013).
For more info on South Jersey Magazine, click here.
To subscribe to South Jersey Magazine, click here.
To advertise in South Jersey Magazine, click here.