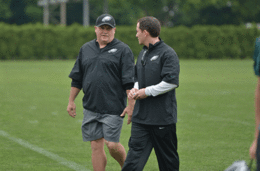 Ready to Take Flight
Head coach Chip Kelly and GM Howie Roseman usher in a new era of Eagles football.
Chip Kelly
New coach brings plenty of both excitement and intrigue
Football fans don't tend to get excited about a team that struggled as much as the Philadelphia Eagles did last season. The 4-12 campaign was enough to finally send Andy Reid—the most successful coach in franchise history—out the door after 14 seasons. So why did the Birds draw record crowds to practice this summer during training camp? Two words: Chip Kelly. No one knows for sure whether the new head coach, who brings with him the up-tempo, innovative offense that made him a coaching star at the University of Oregon, will be a hit in the NFL. But after two straight disappointing seasons to end the Reid era, the hiring of Kelly has helped revitalize the organization. South Jersey Magazine caught up with the new boss to get his thoughts about his first NFL job and what made him want to come to Philadelphia.
You had opportunities to leave for the NFL before but chose to stay in college. You even turned the Eagles down at first. Why was it such a tough decision for you to leave Oregon?
I took a long time with the decision, but I've always coached and I've always been involved in this game because of the people. I knew what Philadelphia was all about and it's where I wanted to be. But I love my players at Oregon. We had a great culture there and we had an unbelievable coaching staff that was together since I took over as a head coach, and it was really the knowns versus unknowns. It was just very, very difficult to say goodbye to a bunch of men that I truly love and respect. The way our players handled it when I talked to them after making the decision was nothing short of amazing to me. I probably cried more than they did, but they just wanted the best for me just like what I wanted for them. Saying goodbye to people you love and respect is difficult. I wanted to make sure I talked to my players and talked to our staff, and did it in the right fashion. I feel like I did that. The game of football to me is always about relationships and it's about people, and you win because you have great people. I had great people at Oregon and it took a real special opportunity for me to leave them.
What is it about Philadelphia and the Eagles that made this the right place for you?
When I first met with [owner] Jeffrey [Lurie] and [president] Don [Smolenski] and [general manager] Howie [Roseman] in Phoenix, the passion for this franchise was very, very evident to me. Obviously, there aren't many opportunities to coach in the National Football League. There are 32 opportunities and it's a special situation. In meeting with these three guys, it was very evident to me that it's an iconic franchise with a passionate, passionate owner and great, great people in this company and that's the thing that struck me. That's something that is extremely important to me because of the history and the tradition here. From Tommy McDonald to Chuck Bednarik to Reggie White, there have been some unbelievable people here. When you just walk into this building, the NovaCare Complex, and you see all the pictures of the all-time greats, it really makes you do a double take. But it also makes you understand that every time you come to work, there's a standard of excellence that this organization stands for. And I've got to hold that up and I've got to live up to that every single day. It kind of keeps you on your toes and it makes you understand what this place is all about. That's what excites me. I know that this organization is one of the top organizations in all of sports, not just football. I don't take that responsibility lightly.
You are known as an offensive innovator who has created this unique, up-tempo offense that had tremendous success at the college level, but everyone is wondering if it can succeed in the NFL. How much does your offense revolve around the option?
I think people saying that is the biggest misconception. If you watch us, we may run two options in practice. We don't come in here and say we've got this play that no one knows about, watch it, and we run it twice. It's not like we're doing something that someone hasn't done in this league. I've seen [San Francisco 49ers quarterback] Colin Kaepernick run up and down the sidelines. We have an offense that has a great size to it in terms of what we're doing, and that's just one small part of it. It's a weapon to be used. It's a tool in the toolbox. If that situation comes up, you use that tool. If that situation does not come up, we may not use that tool. But we have it in our toolbox, and what we want to do in our offense is have enough tools in our toolbox that we can compete every Sunday. And then take those tools out. It's a fallacy that we run quite a bit of it. People try to look at what we've done in the past and where I've been and kind of paint it with one brush because everybody wants a sound bite to say your offense is this. I don't think what we do offensively can be said in one or two words, that we're either this or we're this. We're an equal opportunity scoring operation. Whether we run the ball over the goal line or throw the ball over the goal line really doesn't bother me; it's, how do we move the football? There have been games we've had to throw it in our league 50 times and there are games we have to run it 50 times. You need to be built for the long haul.
What type of quarterback is best-suited to run your offense?
Whoever gives us the best opportunity to win. Our offense is always going to be tailored to who's playing. If you're going to ask someone to do something that they're not capable of doing, then obviously that's a recipe for disaster. I'm not married to whether we have to do this or that. I'm an equal opportunity scorer, and we'll score any way we can. It's all based on what our personnel is. I'm not going to try to take a quarterback who can't run and make him run, and a quarterback who can't throw and make him throw. It's about putting your players in the best position you can to be successful, and how you can score points. The offensive game of football is all about scoring points, and how they get the ball across the line isn't the deal. It's not about style, it's about substance and how we score points.
How do you feel about the fans, and what's the transition been like for you going from a small town like Eugene, Ore., to a big city like Philadelphia?
The passionate fans here are awesome. That's one of the strengths of the city. That's an awesome situation to be in. I was familiar with Philadelphia because when I was at New Hampshire, I recruited here for 10 years. It's not like this was my first time in Philadelphia. I know my way around. I've got an understanding of it. I'm not from here, by any stretch of the imagination, but it wasn't a big cultural change.
Howie Roseman
Youngest GM in the NFL dreamed about these days
As the key decision-maker on personnel matters for a team with a passionate and demanding fan base like the Eagles, Howie Roseman knows he's going to face heat from time to time. But that just comes with the title of general manager, a job he's been pining for since his childhood days in Central Jersey. Roseman, who grew up in Marlboro, got his foot in the door with the Eagles in 2000 as an unpaid intern, and worked his way up to his dream job of GM in 2010. Still the youngest general manager in the NFL, he was instrumental in hiring Chip Kelly as head coach as the Birds look to become a playoff team again.
You became the youngest GM in the NFL when the Eagles promoted you in 2010. You're 38 now and still the youngest GM in the league. When did you first realize this is what you wanted to do for a living?
My mom and dad weren't huge sports fans. But I remember watching the Jets play the Bills in a playoff game in 1981 [when I was 6]. I got incredibly hooked. I became obsessed. There was something I loved about the game from a very young age. I would go out in the backyard and throw the football around and I thought I was going be an NFL quarterback. When I quickly realized my genes weren't going to make me big enough, I decided I wanted to be a GM. So I would watch college games, watch NFL games and I'd take notes about players and try to evaluate them. I would do the same during the draft. I'd have my draft board and I would sit there with a note pad long before the Internet. I would pretend I was picking. At that time, I would do this as if I was picking for the Jets. I would do this while in elementary school, middle school, high school. When people met me and asked what I wanted to do when I grew up, I'd say: 'Be a general manager in the National Football League.' They would laugh at me. I was 8 or 9 years old and I was convinced this is what I was going to do. I just needed someone to eventually give me a break.
How did you end up getting that break?
When I was a senior in high school, I started writing letters to NFL teams trying to get an internship. But I kept getting rejected. When I got to the University of Florida, I tried to get a job with the football program. But again I was rejected. I kept sending letters to NFL teams twice a year. And then I'd send thank you notes. Basically, 'Thank you for rejecting me.' I wouldn't stop and, finally during my senior year in college, I called the Jets because that's where I wanted to be. [Former Jets GM] Mike Tannenbaum worked in the front office and he didn't have a traditional background. So, I called him and talked to his assistant and finally he called me back. He said: 'I'll give you 10 minutes and the reason is I was in a situation like that and I can help you for advice.' So he said to me: 'The [salary] cap is just starting. It's going be hard to find a team that will hire you as a scout. Go to law school and build yourself as a contract negotiator/cap guy and get yourself in the league that way.' I figured that was great advice. I went to Fordham to get my law degree and, while I was there, I sent more letters and got more rejections. I tried every team. I would've worked anywhere. I just wanted an opportunity, a summer internship. I would've worked for free. I'd tell teams I can do anything. I'd send my own scouting reports of college players to teams. For certain teams like the Jets, I'd send a breakdown of their players by position. But it was just more rejections. I even tried to get a job in the league office but I didn't know anyone. I had no connections.
You eventually were hired by former Eagles President Joe Banner for a non-paid summer internship in 2000. That's a long a way from GM. How did you rise through the ranks?
He gave me this opportunity for no money and no promise of a job. Timing is everything in life and the organization was changing and we were moving from the Vet to the NovaCare Complex. It was just an internship and I didn't even have a desk. I'd wake up at 4:15 a.m. to catch a train from New York to Philadelphia, get home at 9:30, get up and do it all over again. I had student loans to pay back and I was spending all of my money on train rides. But I was pursuing my dream. I was in the NFL. There were people in the personnel department that allowed me to watch tape when everyone else left for the day. So I was learning the cap and contract stuff during the day and then at night I was getting exposed to the personnel part of it, which was my passion and what I wanted to do. When [former Eagles GM] Tom Modrak left the team and Tom Heckert came in, I was one of the few holdovers from the front office. I wasn't the new guy on the staff anymore. Tom was a young guy and I was a young guy and his door was always open. I was being exposed to all those areas of personnel. Jeffrey Lurie and Andy Reid opened the door for me, so I started evaluating pro personnel and went from there. The way Jeffrey built this organization is that he wanted people who showed a passion or a feel for an area. Just because they had a nontraditional background, he wasn't going to close the door. I didn't get in this to do contracts and salary cap. I got in it because I had this passion for the game. Now getting someone to give me this opportunity is a different story because there's a lot of people that are passionate about it but because we had people here who were open to that and to teaching that, I got a chance. Then it was going to be based on what my evaluations were, what my grades were, and now it was on the record in the system for everyone to look and see what I was saying about players and I was going to be judged by how they turned out.
What advice would you give kids with similar aspirations?
I knew no one in the NFL. I wouldn't say I'm the most spiritual person, but there was something inside me that said this is what I'm going to do. One of the most important lessons that I want to teach my kids when I look back at it is when you have a goal and you decide early enough that you want to achieve it, you are so far ahead of the pack because so many people, when they are going through high school and college, they're trying to figure out what they're doing. But when you are focused in one direction, you have an edge. Not that it's going to happen, but you have an edge and I was very lucky someone gave me a break.
Being a GM makes you a target for criticism if the team struggles. How do you handle that?
I've been criticized before. I'll be criticized again. I'm fortunate we're in such a passionate market. I wouldn't trade being GM of the Eagles for any team in the league because I love that everyone in this city cares so much about our team that it evokes strong passion, whether it's good or bad. That's what is so rewarding about being GM of the Eagles—that everyone cares.
I talk to GMs of other teams and they don't have that sort of passion.
Published (and copyrighted) in South Jersey Magazine, Volume 10, Issue 6 (September, 2013).
For more info on South Jersey Magazine, click here.
To subscribe to South Jersey Magazine, click here.
To advertise in South Jersey Magazine, click here.