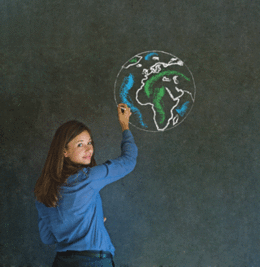 Cultural Connections
Hosting foreign exchange students can provide an incredibly unique experience for the whole family
When Wendy Milstein was younger, her family hosted a boy from Switzerland for 12 months. Forty-four years later, he is still a part of their family.
That's because Milstein's family, like so many others that host a foreign exchange student, formed a bond and friendship that was incredibly strong. It's an experience that South Jersey residents say is truly one of a kind and one that has led the Washington Township resident to her current role as community coordinator for Global Friendships, a leading organization in foreign exchange programs.
Milstein says many of the families that host stay in touch with the students and their families for years to come. "With Skype and social media, we are able to stay in touch with our former students so much more easily. Over the 25-plus years I've done this, I've been able to show hundreds of people New York City, Washington, and other areas they've never seen.
"They also improve their English and learn little nuances of our language," she adds.
"Host families can also learn about the students' language and culture and see how similar we all are. It's a way to narrow the gap and improve relationships with other countries."
JT Niu, president of Ivy International Group, which is recognized as one of the top educational placement agencies for students from China, says hosting an international student is a uniquely rewarding experience. "Host families not only have the opportunity to provide a student with a warm house to live, but are often the student's first encounter with American life—including religious and spiritual dimensions—which can have a lasting impact," Niu says.
The commitment factor
When it comes to hosting, the commitment may seem daunting. Whether you're hosting a student for a couple weeks, a summer or even a year or more, it's certainly something that is going to require your time. But most of those who have hosted students say beyond time and space (you must be able to offer appropriate sleeping arrangements), the commitment is not overwhelming. Eileen Wallace, of Washington Township, who has hosted students from Spain, says the students have their own spending money so it's not a large monetary commitment. "It's up to you if you want to treat them, but they do have money to pay for their own activities," Wallace says. "You just have to provide them a bed and three meals a day."
Wallace says she enjoys opening up her home and meeting new people. "It's a nice way to show that Americans are good-hearted people," she adds. "And it's also nice to experience a different culture. They may cook a meal for you or share stories about their own culture."
Sue Trimble, the director of admissions and development as well as the coordinator of the international program for Kings Christian School in Cherry Hill, says families who choose to host students should definitely be interested in learning about another culture and sharing the American culture with the hosted child. Part of the Kings School ministry is to welcome international students and, since the demand for American education in China is growing, their international program is also rapidly expanding. This year alone, Trimble says she's received 62 applications from students from China. Of course, those students need a place to stay—and that's where the search begins.
"Host families basically welcome these students as if they were a child of their own," Trimble explains. "They have to be willing to go to events and support the child. These kids do get homesick and they also go through a lot of the typical teen issues, so they really need that support. On top of everything, they're also dealing with culture shock."
Memorable experiences
Jane Fort, the pre-school/elementary principal of Kings, has four children of her own and has always enjoyed having a full house. When two of her boys left for college, the family began thinking about hosting an international student. "We thought that it must be hard for these students to come to a country, some not knowing the language well, and living on their own without a mom and dad image with them from day to day," Fort says. "We had a great desire to fill that gap. We wanted to do something for these students and they have ended up doing so much to expand the cultural and emotional boundaries of our family."
Since then, Fort has hosted four students in the past four years. "One was from South Korea and lived with us all four years of her high school career," Fort says.
"She just graduated and is attending Penn State in the fall. We will continue to be her U.S. family and she'll spend breaks with us. She truly became our 'daughter' after four years with us."
Archie Williams and his wife Dr. Janet Kinkead, of Moorestown, found when they first opened their home to a Chinese exchange student last year, it became a great opportunity to learn and understand a different culture. It was also beneficial to their daughter who is studying Mandarin in school. Their exchange student will return again for the 2013-2014 school year. "The commitment is approximately 9 ½ months per school year," explains Kinkead. "You have to be there for the happy and the sad moments, attend their games, concerts, activities, and support their interests. You are actually serving as surrogate parents."
As America continues to diversify, exposing children to various cultures can be a huge benefit. "For our school, the international program has been wonderful," Trimble says. "You hear a lot of talk about 'diversity training,' but here it's just a way of life. The fact is, our children will be working side by side with first-generation Chinese and there is no better training for that than real life situations—on both sides. We're learning about their culture and they're learning about ours."
Trimble says the students at Kings go as far as to celebrate Chinese New Year and have Chinese food delivered on different occasions. "These cultural familiarities enrich the educational experience for everyone," she adds. "We don't have to teach diversity when it's just part of everyday life with a foreign exchange program."
Published (and copyrighted) in South Jersey Magazine, Volume 10, Issue 6 (September, 2013).
For more info on South Jersey Magazine, click here.
To subscribe to South Jersey Magazine, click here.
To advertise in South Jersey Magazine, click here.