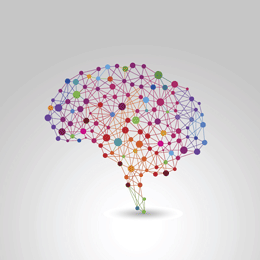 Meeting of the Minds
Gathering intelligence with local Mensa members
Lesley Slepner was wearing a gorilla suit and hot pink boa when she first met her husband, Steve. On that fateful evening, she was delivering balloons to a friend at a monthly birthday social. It was a lively gathering of a diverse group of people with one thing in common—their exceptionally high IQs.
Call it a meeting of the minds, as this gathering featured a collection of Mensa members, "an international society whose only qualification for membership is a score in the top two percent of the general population on a standardized intelligence test," according to the group's website.
Mensa was founded in 1946 by Roland Berrill and Lancelot Lionel Ware in Oxford, England, and today the Slepners, of Berlin, are among the 1,000 members that make up the Delaware Valley chapter; and the some 100,000 members worldwide.
In Latin, the word mensa means "table," mens means "mind" and mensis means "month"—a monthly meeting of great minds. And in South Jersey, Mensans gather to discuss everything from reincarnation to caring for aging parents.
"The goal is discussion, because Mensa, as an organization, holds no political position. We can't do anything along those lines because there's bound to be someone who's offended," says Rosemarie McDowall, a retired widow from Egg Harbor. She adds with a laugh, "Mensans are very opinionated, and of course we all know we're right, but we're all different."
Mensans range in age from 2 to 106 and include everyone from students to CEOs. And they're not the elitists that non-members might suspect—at least not most of them.
Pat Horsley, public relations coordinator for the Delaware Valley chapter, says, "Mensans are just like everybody else, only more so. They're exaggerated versions of regular people."
Early Mensans thought the group could be a kind of brain trust, where members would be tapped to help solve the world's problems. But today, it has evolved into a much more social happening.
Haddon Township resident Kathy Hogan is a lawyer who joined Mensa in her 20s. "The benefit for me is the camaraderie and comfort level of being among folks who have a generally similar intellectual baseline, who, hopefully, don't take it all that seriously, and just see it as being what it is," she says.
McDowall adds, "Some join for social reasons, others for bragging rights, and then there are those who join because they want to be the most superior person in a group. Those are the people who don't return to meetings when they realize that they're not."
In the case of the Slepners, Lesley, a registered nurse, joined because she was looking for a new group of friends after a bad breakup. She always thought of herself as having "normal intelligence," saying, "I fit in with the rest of my birth family who are also quite intelligent."
Steve Slepner, on the other hand, knew his IQ was high, but did poorly in school. This is not unusual among Mensans, some of whom didn't perform well due to boredom or lack of encouragement from teachers or parents.
Both Slepners turned out to be Mensa material. Leslie submitted "evidence of prior testing" since Mensa accepts more than 200 tests for admission. Steve, who planned to use his Army GT score—until he discovered that the records had been lost in a fire—took the Mensa test.
The test, which takes about two hours to complete, includes two portions with questions involving logic and deductive reasoning. Applicants who score at or above the 98th percentile on either of the two tests can join Mensa.
Local tests have taken place at a site in Medford, but can virtually be done anywhere, from your office conference room to your dining room table. Coming up on Oct. 20 is Mensa Testing Day, appropriately taking place during Mind Challenge Month. Testing sites, which can be found at us.Mensa.org, will take place across the country.
Other Mensa events include everything from national and regional conventions to local traditions—like camping and canoeing at Atsion Lake, Chinese New Year dinners in Cherry Hill and game nights in Leisuretown.
Vic Mariani has hosted the monthly game nights since 2000. The gatherings start in the late afternoon and end when the last person leaves—often in the wee hours of the morning. Mariani explains, "We don't play games like charades or Trivial Pursuit, since a Mensan may look at all the cards ahead of time and memorize the answers." Instead, the group enjoys favorites like The Settlers of Catan, a German board game where players compete to create roads, settlements and cities.
As much as Mariani enjoys the competition, it's the friendship that he really values. He adds, "It's a wide variety of people with a lot of similar history. Many of us were treated differently in school and at work. Many of us are quirky in some way and have minds that work a little different than most."
While Mensans are thankful for the understanding they receive from within the group, some are cautious about revealing their status to outsiders. Don, a Gloucester county resident and second-generation Mensan who asked that only his first name be used for this story, prefers to keep his affiliation with the organization under wraps. "Many Mensans have awkward experiences with co-workers who find out that we are members," he says. "I have friends who work in situations where that's not an issue, but I keep a low profile. That would also be true of my daughter (also a Mensan) who is currently a college student."
He continues, "In the past, I've seen people who consider Mensa members to be elitist, or that we are smart enough that we are angling for their jobs."
But all in all, Mensa is about acceptance, belonging, and sometimes even love, as with the Slepners, who are among the many "Mensa matches."
Some meetings of great minds are just meant to be.
Published (and copyrighted) in South Jersey Magazine, Volume 10, Issue 6 (September, 2013).
For more info on South Jersey Magazine, click here.
To subscribe to South Jersey Magazine, click here.
To advertise in South Jersey Magazine, click here.