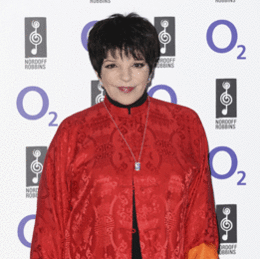 Liza's Back
The iconic Liza Minnelli talks the Atlantic City stage, Arrested Development, and staying inspired
As the first daughter of Judy Garland, Liza Minnelli was born into fame. But it wasn't until her teenage years that her star was born, descending onto Broadway with a series of performances that helped kick-start her 50-year career. Minnelli has ruled the stage, and has captured audiences on television and in films like Arthur, New York, New York, and her most famous on-screen appearance, Cabaret—which earned her an Oscar and a Golden Globe.
Minnelli is one of only 11 performers ever to have won a Grammy, Tony, Oscar and Emmy award, joining the likes of Audrey Hepburn and Barbra Streisand in what is considered by most to be the most universally prestigious accomplishment for a performer.
Most recently, Minnelli reunited with the cast of the Ron Howard-produced comedy Arrested Development as Lucille Austero, the wealthy, vertigo-stricken neighbor whose love interests and plot twists helped earn the show six Emmys while on Fox and four nominations for the 2013 season.
It's just one of a lifetime of hits to add to her impressive résumé. And with thousands of performances, television and film appearances under her belt, the passion is still there.
"Every person you speak to is different, just like every show is different. It's new every time," she told South Jersey Magazine while preparing for her appearance at Atlantic City's Caesar Palace on Sept. 28.
SOUTH JERSEY MAGAZINE: Do you have any specific memories from your past Atlantic City performances?
LIZA MINNELLI: I've always loved working there. When I lived in California, there were all these movies made about Atlantic City. It was so mysterious and magical, and it was so exciting to get to go and perform there.
SJM: How has your approach to the performance that has made you so famous changed since your start?
LM: It depends on the material, and where you're singing and who you're singing to. I feel like it always has to be the first time you've ever sung a song. It always has to be exciting and new. People don't want to see a performance they've always seen before, and it has to be exciting. I have so much fun.
SJM: How much of an influence was your mother on your music career?
LM: Of course she was wonderful, but I wanted to go on Broadway and perform live. She was in the movies, and that was so different. And she finally let me come to New York and study. And I got a job, so I was allowed to stay.
SJM: How do you adapt your show while staying true to your lifelong fans?
LM: When the audience comes in and the doors close, we're going to be together for an hour and a half, and we're all in one room and getting to know each other. For me, it's a wonderful experience every time.
SJM: What music influences you?
LM: Mostly I think I was influenced by a man called Charles Aznavour; he's a French man and I sing a lot of his songs, only in English. I saw him when I was 17 and he made every song like a movie; he would be like a different character for every song. And I approach each song like that; I act every song out. I think "What was she feeling? Why is she doing this?"
SJM: What is your most memorable performance in your career to date?
LM: I've been so lucky I've had so many. I feel like every performance that I finish is one of a kind because each audience is so different and responds differently.
SJM: What do you have planned for this show?
LM: I've written a special show just for Atlantic City. I like to act each song, and that's what the audience likes to see.
SJM: Arrested Development developed a cult following after it was canceled. What was it like returning to the show and the cast after such a lengthy hiatus?
LM: It was great because the whole cast is so wonderful and the writing and directing is just brilliant. And the show moves so quickly, there is always something happening. It's so exciting.
SJM: The newest season of Arrested Development on Netflix was a big hit, and your character left the season with a big cliffhanger. Is there anything you can tell us about the next season or movie?
LM: I wish, but I have absolutely no idea. I know as much you do!
SJM: What's next for you?
LM: I have some things in the works that I'm not ready to discuss. I'm just so looking forward to coming to Atlantic City and to being there and being able to perform for this audience.
Published (and copyrighted) in South Jersey Magazine, Volume 10, Issue 6 (September, 2013).
For more info on South Jersey Magazine, click here.
To subscribe to South Jersey Magazine, click here.
To advertise in South Jersey Magazine, click here.