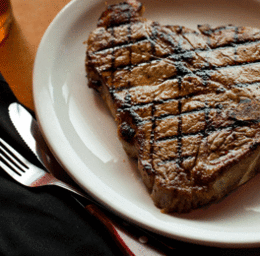 Texas Roadhouse
Texas Roadhouse: A Little Bit Country
631 Cross Keys Road
Sicklerville
(856) 740-4388
3 forks
These days it seems like Southern style is all across South Jersey. Country music star Taylor Swift, who spent her summers at the Jersey Shore, still stops by Avalon from time to time; there's even one of the country's most famous rodeos farther down south in Pilesgrove. More recently, country grilling and Southern barbecue are becoming a new part of South Jersey dining. Among the restaurants and eateries that are popping up across the counties is Texas Roadhouse, a national steakhouse chain that's settled into Sicklerville.
It's a rugged, Wild West-style eatery where, when you walk through the front doors, you're hit with the sound and smells of steaks sizzling not too far away. A glass display case greets you, packed with Texas-sized cuts of raw beef, which guests are welcome to browse and pick from when selecting their entrée.
The first thing to arrive at our table—even before we sat down—was a bucket of salted peanuts and a basket of fresh bread, which practically slid out of an oven and onto our plates. All bread comes served with a cinnamon sugar butter, which melted over the pillowy bread to create an addicting sweet-and-salty combination.
Had we not had so much food on its way, I could have spent the rest of my night tearing into the bread and butter, but as soon as our entrées were in, the table started filling up.
First came one of our dining sides: traditional Texas-style chili, or chili in a tomato-based sauce without beans. It came loaded with chunks of beef and hearty pieces of tomato, which still had a fresh sweetness to them, all swimming in a nice, spicy combination of sauce and vegetables.
I had never tried fried pickles, but not being one to miss a trend I decided to give them a go. A basket of crinkle-cut dill pickles came battered and fried with a side of Cajun horseradish sauce. While they were a bit greasier than I would have liked—which was made obvious by the pool of oil at the bottom of the basket—the breading was crispy and the pickles were perfectly spicy. When dipped in the accompanying sauce, the horseradish and vinegar in the pickle combined perfectly. I could see why they were so popular.
Before the plates could be cleared, the waitress somehow managed to wedge a plate of the "Killer Rib" appetizer onto the packed table. The chain's ribs are their pride and joy, having earned awards in national barbecue cook-offs through the years. The four ribs arrived smothered in barbecue sauce and sitting on a bed of steak fries. Overall, it just didn't feel like an appetizer. The meat was tender and juicy, but bland. Thankfully, the tangy sauce and smokiness from the grill helped add a much-needed burst of flavor. And the fries were soggy, in desperate need of a crispy exterior.
Throughout the evening, each dish seemed to double in size. My 20 oz. bone-in rib-eye with sautéed onions barely fit onto the plate. And their porterhouse T-bone was even bigger, coming in at a whopping 23 oz. The "everything is bigger in Texas" steaks were a bit gimmicky, but the T-bone was tender and juicy, and the rib-eye still packed a ton of flavor, with a crispy exterior and soft, medium-rare center. The additional onions, however, were a flop: undercooked, and covered in a gritty dose of garlic powder that did nothing to help the bland flavor. And on both plates, the accompanying vegetables tasted straight from a can, flavorless and way overcooked.
But despite the bland sides, the steaks did not disappoint. I found that everything was very moderately priced, with both satisfying steak entrées, including the chili starters, managing to come in under $50.
The feast ended with a plate of Granny's Apple Classic, warm apple pie coated in a cinnamon and brown sugar sauce and topped with vanilla ice cream. Of course the slice was huge, big enough for a family of four to split happily. And while the crust was a little undercooked and doughy, the sauce was unlike your usual caramel sauce, naturally sweet with a nice added spice from the cinnamon.
It's reassuring to know a chain like Texas Roadhouse can still provide good food at decent prices. Is it a place you might bring a date on a romantic night out? Definitely not, unless you're the "Boot Scootin' Boogie" type of couple. But despite the kitschy country vibe, a night out at Texas Roadhouse should get you some big portions of solidly good Southern eats.
Published (and copyrighted) in South Jersey Magazine, Volume 10, Issue 6 (September, 2013).
For more info on South Jersey Magazine, click here.
To subscribe to South Jersey Magazine, click here.
To advertise in South Jersey Magazine, click here.