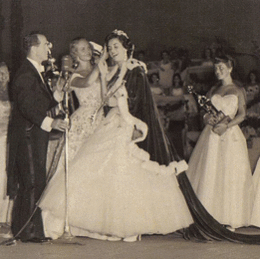 Back on the Boardwalk
Miss America's return to A.C. brings economic boost, fond memories
"There she is, Miss America."
Though those words will not be sung at this year's crowning due to a legal issue, they still ring true for the many South Jerseyans who have felt the void since the pageant packed its glitzy gowns and sexy swimwear for Las Vegas seven years ago amid sagging ratings and growing production costs.
This month, however, the glamour returns to its birthplace in Atlantic City and, for locals like Haddonfield resident Liza Cartmell, president of the Atlantic City Alliance, it's a long overdue reunion. "It had a lot of people feeling deflated that something so historic and critical to the region had left," she says.
Dena Blizzard, of Deptford, concurs. Back when she needed money for graduate school, one of her mother's coworkers suggested she try the pageant route. She had no idea what would lie ahead.
Blizzard recalls, "I competed in my first local pageant and I was awful. I put on my prom gown from four years earlier, put mascara on and put my hair up in a barrette on the side of my head, and I was like, 'I look amazing.' I was pretty bad, but I won a talent award for piano, and that was it."
Seven pageants later, Blizzard became Miss New Jersey 1995 and went on to compete for that year's Miss America title. "I was probably the most inappropriate Miss New Jersey," Blizzard says. "I didn't grow up in pageantry so I didn't really know what you were supposed to do."
Blizzard didn't go on to become Miss America, but she did leave with talent and community service awards and enough money to get her master's degree in gerontology.
Since then, she's become a stand-up comic and host of the three-night Miss America preliminaries. "This is the first year that I will host on the stage that I competed on, so that's a little surreal," Blizzard says. "I don't think that any of my kids believe that I competed, so it'll be nice to prove to them like, 'Look, I was really here!'"
So how did Miss America find her way back to the hallowed Boardwalk Hall stage? Cartmell had a lot to do with it.
"It was really the governor's office and particularly Lt. Gov. Kim Guadagno who started the charge to begin negotiations between Miss America and Atlantic City representatives," Cartmell explains. "It was a multi-partnership that worked to bring the pageant back." Along with the Casino Reinvestment Development Authority and Atlantic City Convention and Visitors Authority, Cartmell's group helped seal the deal.
As a result, Atlantic City and the surrounding region is expected to benefit from the 6-7,000 people who will be in town for the pageant, generating an estimated $30 million in economic activity.
A new three-year deal with network partner ABC will help put Atlantic City back in the national spotlight, and Cartmell plans to make the most of it. "During the broadcast, contestants will be introduced from locations all over the city. It's about putting Atlantic City forward in the best light possible to increase tourism," she says.
"We are so pleased to welcome Miss America back to her birthplace in Atlantic City," Guadagno echoes. "The seaside resort's famous boardwalk, fine dining, diverse shops and entertainment venues will showcase the city's vibrancy and attract thousands of visitors who will attend the Miss America pageant year after year."
In addition to the main event, there will be old favorites—like a supersized "Show Us Your Shoes" parade, which will now be televised on ABC in Philadelphia, and the iconic morning-after dip in the ocean—to help generate buzz. Plus there'll be new features, including the "Road to the Crown" walking tour, "Miss America Through the Decades" window exhibits, and eventually a year-round attraction on the boardwalk.
Atlantic City is welcoming her prodigal pageant home with open arms, and hopefully the lessons learned since the split will ensure it's here to stay. "Both Miss America and Atlantic City have learned a lot of the mutual benefits they get from each other, so there's a lot more flexibility and understanding of the relative roles and importance. Also, we no longer have a monopoly on gaming, so this has become a more important business enterprise," says Cartmell.
Dollars and cents aside, Atlantic City promises to return Miss America to her rightful throne, rather than getting lost in the glitz, like she did in Vegas.
Former Miss Gloucester County and current Miss Atlantic County Lindsey Giannini attended last year's competition and says, "There is so much going on in Las Vegas at all times that the pageant was not a centerpiece. In Atlantic City, it is the centerpiece."
It's also cause for celebration farther inland. Hammonton resident Jeanine Whittaker, Giannini's award-winning parade-shoe designer, will be hosting her third-annual sash party on pageant night. "Everyone gets a tiara and sash that they decorate with funny names. Past entries have included Miss Steak, Miss Judged and Miss Piggy. We'll also have ballots to score the actual contestants and prizes at the end," she says. "I plan to make this year extra special in honor of the pageant's homecoming."
But even those who couldn't care less about the parties and pomp can't deny that Miss America remains relevant as the world's largest scholarship program, offering $45 million each year to deserving young women, not to mention a platform for everything from the dangers of texting and driving to bullying.
Bellmawr native Sharon Pearce, president of the Miss America Organization, says, "We are bringing the pageant tradition of Miss America home to Atlantic City and we are also bringing the nation's attention to what Miss America is today—a platform for young women to advance their education and serve others."
Blizzard believes it's a tradition worth keeping. "You can't think of Miss America and not think it's the Jersey Shore, it's South Jersey. It's one of our things, so we're keeping it."
Photo caption: Evelyn Ay crowning Lee Meriwether in 1954
Published (and copyrighted) in South Jersey Magazine, Volume 10, Issue 6 (September, 2013).
For more info on South Jersey Magazine, click here.
To subscribe to South Jersey Magazine, click here.
To advertise in South Jersey Magazine, click here.