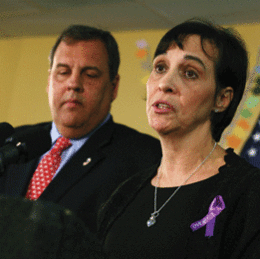 Answering the Call
Local mothers who lost their loved ones to overdoses find a simple way to keep their memories alive—encouraging others to pick up the phone.
It was very clear when police discovered Sal Marchese, dead of a heroin overdose in a parking lot in Camden, that he hadn't been alone.
His missing wallet was the first clue, but when his mother—whose car he had borrowed—was told the passenger seat was lowered way back, she knew. Someone had left her son to die.
He had been clean for about 90 days, following a hard-fought struggle in and out of treatment.
"I remember him kissing me goodbye," says Patty DiRenzo, of Blackwood, of that Sept. 23, 2010, night, "and the next thing I knew, the police were knocking on my door at 2 a.m."
For Kass Foster, of National Park, it was early on a Sunday morning in 1997 when she received the call. Her son, Christian, was found dead—lying on the lawn of a friend's house. He had been left there all night.
"My husband ran across town and tried to revive him, but it was too late," she recalls, her voice still shaking.
DiRenzo and Foster have more in common than they'd prefer. Their sons were left alone when they were most in need of help.
But rather than be consumed by grief, they became empowered. Their sons weren't what people envision of drug users, which is often the case. They were good kids raised in good homes, both well known around town as the guys who would give the shirt off their backs to help a neighbor.
They deserved the same in return. And so in 2011, when they heard of the New Jersey Drug Policy Alliance's campaign to pass legislation that would protect both the caller and victim when a 911 call is placed to report an overdose, their paths crossed when they saw their chance to help others.
Their victory came this past May when, after an initial veto, Gov. Chris Christie did an uncharacteristic 180 and signed the Overdose Protection Act into law—otherwise known as the Good Samaritan law. With DiRenzo and a crowd of other parents around him—including Jon Bon Jovi, whose own daughter had charges dropped following a drug overdose in New York—Christie announced his support for the bill, which provides protection against charges and parole violations, as well as shields health care professionals or bystanders who administer overdose antidotes like naloxone.
Now, after a two-year battle, another campaign begins to get the word out and make sure users and law enforcement alike are aware of the law.
"This is the one thing I can do in Sal's memory to make a difference," DiRenzo says of her mission, and with September not only marking the three-year anniversary of his death but also National Recovery Month, she's ready.
A growing problem
Drug overdoses overtook car wrecks as the leading cause of accidental death in New Jersey in 2009, according to the Drug Policy Alliance, which mirrors the national trend. According to the National Center for Health Statistics, fatal drug overdoses have increased for 11 straight years.
Nearly 6,000 people have died in New Jersey alone since 2004, including 752 in 2009, and the majority was from prescription opioids, followed by heroin. The highest amount of deaths in the state was found in Camden County with 97. In Burlington and Gloucester counties, it was 35 and 36, respectively.
For Marchese, his addiction began like most—with marijuana, followed by prescription drugs that then became too expensive. The alternative was heroin. "He was a really good person who unfortunately struggled with a disease," DiRenzo says. "He wanted so hard to not be that person because he was embarrassed. You could see the pain in his eyes."
There was a good three-year period. He went to Pennco Tech, graduated with the top of the class and went into the heating and air conditioning business. But then he was prescribed painkillers for a tooth problem, and it all started again. He was 26 when he died, leaving behind a fiancée and 18-month-old son.
"I basically do everything I can to keep his memory alive to make sure what happened with Sal doesn't happen with another child," says DiRenzo, 52, noting there are several aspects to this fight—such as increasing funding and access to treatment—but a simple phone call could have saved his life, so it's a good place to start.
According to Roseanne Scotti, state director of the Drug Policy Alliance, that's the case in the majority of overdose deaths. Typically, an overdose victim doesn't pass away until one to three hours after the drug is taken; and often, they are not alone.
"Any time you criminalize and stigmatize something, you're driving people into the shadows," Scotti says. "That was the situation we had here in New Jersey. We had overdose being the leading cause of accidental death and people being terrified to pick up the phone and call because they were going to be arrested."
Their position was clear: Calling 911 should never be a crime.
There are 14 states now that have passed similar overdose protection laws in the last five years. "We're talking about people," Scotti says. "These are people's children, people's brothers, sisters and parents. What you want to do is build bridges to people to get them the help they need instead of erecting barriers. That was the policy we wanted to change."
It changed rather quickly; two years of campaigning is relatively short in terms of getting bills passed. It was a sense of urgency that she feels got the job done, with overdoses rising every year and it being recognized as a public health issue.
And it couldn't have been done without parent advocates, particularly a fortuitous phone call from DiRenzo inquiring about how she could help. Gov. Christie, during his press conference, said it was the thoughtful—and persistent—letters he received from her in particular that changed his mind on the issue.
DiRenzo says after the governor signed the bill, it was the first time she really smiled since her son passed away.
Spreading the message
DiRenzo and Foster, one of the numerous other parents who attended the high-profile press conference, are now immersed in getting the word out about the Good Samaritan law.
Foster herself is no stranger to advocacy. Following her son's death at age 27, she formed the Marlton-based Parent-To-Parent organization in 1998, along with Susan Foose, Louise Habicht and Kathleen Dobbs, which is a support group and coalition to fight substance abuse. One of its major accomplishments was their push to open Daytop in Salem County in 2006, a residential treatment center focused solely on addiction among teenagers and young adults.
"He wasn't the type of kid who had problems in school," Foster says of Christian, who picked up heroin at age 25. "Everyone loved him. Even his older brothers looked up to him."
The family tried multiple times to get him help, but available beds are hard to come by. He was on the waiting list for a facility in North Jersey when he died, and Foster had to make the call afterward to say they could take him off.
Now she works in conjunction with DiRenzo, the Drug Policy Alliance and the state Department of Health. They hand out posters and palm cards in English and Spanish at police departments, pharmacies, rehab and treatment facilities, needle exchange locations, public health meetings, train stations and even grocery stores—anywhere they'll be noticed.
"I have that fight in me to make changes and keep his memory alive," Foster, now 70, says. "This could have made a big difference [for my son]. No one called 911. I don't know why no one called 911 and why they just let him lay there. People are afraid, but this law will make a big, big difference and save many lives."
The New Jersey Attorney General's Office has also assisted in the effort by sending out notices to every police department to make sure they are up to speed on the change. Despite some initial opposition from some for fear of a "get-out-of-jail free" card, most are now on board, including the Camden County Police Department, which witnesses much of the state's cases in Camden City.
"Actually, the Good Samaritan Law is congruent with the highest priority of the police, which is to preserve life," explains Chief J. Scott Thomson. "Unfortunately, in the city, we see a disproportionate number of people who succumb from overdoses while battling their disease of addiction. Law enforcement can never lose perspective that each one of these individuals is somebody's son, daughter or loved one. I support the new law in large part because it puts the person before the penalty and ultimately will save lives."
Exactly what difference it makes will be hard to quantify. Scotti says the ultimate goal is obviously to see overdose numbers decline, but for now, anecdotal evidence will suffice. There has been plenty so far, she says, such as a grandfather who recently called the alliance to report his granddaughter was arrested despite the law. It's a success in that he knew of the law, and in that the police then dropped the charges.
The law doesn't provide blanket immunity, of course. Large quantities of drugs—i.e. from a drug dealer—would still warrant charges. Police can also seize drugs and paraphernalia, but advocates feel this helps chip off a portion of the fear.
"I believe this is what Sal would have wanted," DiRenzo says. "It's hard to tell people my son's story. You want them to know the person he was and for them to understand, but it's hard for people to get past that stigma of addiction. These are kids who want help, and we need to save our kids."
Marchese never received more than 11 days of treatment due to underfunding and bed shortages. The last time he was in treatment, he was discharged involuntarily due to funding, while court-mandated patients—the ones only there because they had to be, as DiRenzo puts it—got to stay.
Foster recalls the time her son called in the middle of the night asking for help. She and her husband went and picked him up from K&A, a crime-ridden corner in Kensington, and took him to a treatment facility, only to be turned away because he didn't have a referral.
The Good Samaritan law is just one piece of the puzzle, they both note.
"I'm not done yet because I'm the type of person who's out there and I just want to make it happen," Foster says. "If you sit back and complain, no one's going to know about it. Nothing's going to change."
Photo caption: Patty DiRenzo with Gov. Chris Christie
Published (and copyrighted) in South Jersey Magazine, Volume 10, Issue 6 (September, 2013).
For more info on South Jersey Magazine, click here.
To subscribe to South Jersey Magazine, click here.
To advertise in South Jersey Magazine, click here.