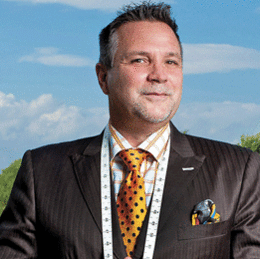 2013 Best of the Best: Retail
It's been a year since we last brought you our annual Best of the Best issue, but the wait is finally over. And trust us when we say that we've been busy these past 12 months, working extremely hard to make sure this roundup of the greatest people and places in South Jersey is our best effort to date. From the stellar meals we enjoyed to the punishing exercise classes we endured, this list represents South Jersey's cream of the crop.
Why else would we call it the Best of the Best?
COCKTAIL DRESSES
Marlene's Dress Shoppe
You can never go wrong with that little black dress, but sometimes the night calls for a little more pizzazz. Marlene's collection of cocktail dresses help you stand out from the crowd so you can worry less about how you look and more about who's looking at you. Collingswood, (856) 858-4777, MarlenesDressShop.com
PROM GOWNS
Jan's Boutique
When it comes to prom night, few names are as synonymous with the occasion as Jan's. With more than 50 designer lines and 5,000 dresses, this Cherry Hill store has been dressing local teenage girls since 1974. That track record is no accident either, due in part to a wide range of prices that suit any budget. Cherry Hill, (856) 428-8181, JansBoutiqueOnline.com
VINTAGE CLOTHING
Second Time Around
This upscale consignment shop makes traveling back in time easy with a large selection of premium wares that, despite their age, remain timeless. And once you've got your retro look pinned down, be sure to check out the many bags and accessories that will help finish your new, but old, outfit. Haddonfield, (856) 354-9400
CUSTOM MENSWEAR
Morroni Fino Toccare
Dan Morroni is a firm believer that clothes make the man, so rather than give his clients run-of-the-mill, ready-made department store looks, he outfits them in stylish one-of-a-kind tailored choices. Using a calculated approach to his sartorial splendor, Morroni only uses the finest fabrics and thread counts to craft your new wardrobe. Just ask some of his clients, which include Phils skipper Charlie Manuel and former Flyer Bernie Parent. (856) 241-8428, MorroniCustom.com
UPSCALE WOMEN'S CLOTHES
Erdon
This high-fashion women's shop carries runway-ready looks for the well-heeled crowd that takes their couture seriously and are never afraid to be fashion forward. Not only do they fill the store with cutting-edge American designers, but they also stock the hottest brands from Europe and Japan. Marlton, (856) 810-7577, Erdon.com
CASUAL WOMEN'S CLOTHES
South Moon Under
This place was already one of our favorite stores long before they found a home at The Promenade. Now we don't have to cross the bridge to get our hands on all the latest from Free People and Alternative Apparel. Marlton, (856) 988-0254, SouthMoonUnder.com
SHOE REPAIR
Carl's Shoes
Whether you're talking about a pair of heels or a cap-toe oxford, a nice pair of shoes is like an investment that requires great care. That's why, when it's time to get a new heel or have the leather restored, we trust our soles to Carl's Shoes in Moorestown for their expert cobbler service. Moorestown, (856) 235-6223, CarlsShoes.com
DAY-TO-NIGHT OUTFITS
Tehen
A staple in the local women's fashion scene, Tehen is the place where you'll find that top and bottom combo or that stylish dress that works as good in the office as it does at cocktail hour. Tory Burch, Alice + Olivia and Ellie Tahari are just some of the recognizable names here. They also carry plenty of accessories and purses to help you complete your changeover with little effort, but it will sure look like you spent all day getting ready. Cherry Hill, (856) 424-4347
BIKE SHOP
Action Wheels
From entry-level to top-of-the-line, the value added to every bicycle sold at Action Wheels is that you gain a friend in the business. Owner, cycling community advocate and resident action figure Patty Woodworth encourages you to join in the fun: She leads weekly group rides for all levels, stressing safety and road etiquette. For more serious cyclists, she organizes yearly trips to Europe. If your pride and joy happens to squeal in protest, hand it off to their mechanics for expert service. Deptford, (856) 468-5115, ActionWheels.com
ACCESSORIES
Charming Charlie
Charming Charlie carries all the necessities to help you make a statement, complement your look or maybe give an old outfit new life. Adding a little flair was never so easy thanks to their array of styles that fit any personality or age group. Deptford, (856) 384-5942; Marlton, (856) 983-3520; Mount Laurel, (856) 234-1814, CharmingCharlie.com
WEDDING COORDINATOR
Two Little Birds Planning
With backgrounds in event planning and public relations, this dynamic duo has the experience and knowhow to make sure the biggest day of a bride's life goes as smooth as the icing on her cake. They'll help you conceptualize the day and be with you every step of the way to make sure things not only go according to plan, but they exceed expectations. (609) 760-2844, TwoLittleBirdsPlanning.com
BRIDAL BOUTIQUE
Jay West
Anyone that's ever been married or at the very least watched an episode of Say Yes to the Dress knows that finding the right wedding gown can be an adventure. At Jay West, their expert staff takes the guesswork out of the equation by helping you find a dress that suits both your style and personality. And thanks to their vast selection of dresses, it's also the place that will make your bridesmaids look their best, without stealing any of your attention. Haddonfield, (856) 795-0424, JayWestBridal.com
EVERYDAY CHIC
Joeys Unique Boutique
From the J Brand denim to tops from Splendid, Joeys carries a hand-selected batch of designers that make you look your best without trying too hard. The store also stocks everything from Hardtail yoga gear to dresses from Dolce Vita so you'll never have to use the laundry day excuse ever again. Marlton, (856) 810-3496, JoeysUniqueBoutique.com
FINE JEWELRY
Billig Jewelers
From bold baubles to more refined nuggets, Billig's line of fine jewelry is second to none. We are especially fond of their highly skilled custom design capabilities because it means not only can we find the best diamond cuts here, but we can transform them into a truly one-of-a-kind piece that is sure to turn heads. Marlton, (856) 983-2300, BilligJewelers.com
SPECIAL OCCASION JEWELRY
Family Jewelers
When your night on the town requires the proper eveningwear, you shouldn't overlook the need for something shiny to complement your attire. You'll find lots of name-brand works here, including those created on-site by store manager and award-winning designer Gary Spivak. Marlton, (856) 983-6337, FamilyJewelers.com
HANDBAGS
Henri Bendel
We were hip to Henri Bendel's jaw-dropping line of handbags long before they debuted at the Cherry Hill Mall last year, but we're so thankful they've finally set up shop in our backyard. From sexy clutches in colors that pop to elegant shoulder bags, there's something here for every season. Cherry Hill, (856) 910-8006, HenriBendel.com
MEN'S WATCHES
Jay Roberts Jewelers
A timepiece is an important, and sometimes the only, accessory a man needs. At Jay Roberts, they focus on putting well-designed watches on your wrist with names like Cartier, Breitling and Baume and Mercier. Sure, your smartphone may have a clock, but it's nowhere near as pretty to look at. Marlton, (888) 828-8463, JayRobertsJewelers.com
STATEMENT JEWELRY
Morton and Rudolph
The jewelers at Morton and Rudolph have nearly four decades of experience in South Jersey, so they know that sometimes your bling needs to make a statement. Let these knowledgeable pros guide you in choosing the right tennis bracelet or chandelier earrings that are sure to be a conversation starter wherever you go. Cherry Hill, (856) 424-1101, MortonandRudolph.com
PERSONAL SHOPPING EXPERIENCE
The personal shoppers at Nordstrom
If you're, how can we put this delicately, oblivious to what's in fashion, the personal stylists at Nordstrom are at the ready. Their team of experts will not only help hand-pick clothes that will keep you current, they'll show you how to wear them properly and effortlessly without having to sit front row at Fashion Week.Cherry Hill, (856) 773-5600, Nordstrom.com
INTIMATE APPAREL
Rita's Bra Boutique
Ever wonder why those department store bras never seem to fit right? The staff here knows the answer, which is why they custom fit all of their clients. And it's not only about fit; their techniques can help give a slimmer appearance and alleviate pain associated with your neck and back. Cherry Hill, (856) 424-2277, RitasBraBoutique.com
STATIONERY
Remember Me Stationery
In this day and age of quick emails and shorthand text messages, it's nice to get a handwritten note every once in a while. When you want to show someone you care, the right stationery can enhance that message and make the difference between a keepsake or something to be tossed in the garbage. This Moorestown business not only understands this, they preach it. Moorestown, (856) 778-1440, RememberMeStationery.com
RUNNING SHOES
Running Co.
We get a runner's high every time we jog into one of this store's three locations. They carry all the latest gear and accessories, and their "right-fit process" consultations will help you reach optimal performance by making sure you're wearing the proper shoes. Once you're on the mark, they'll even help you link up with one of the several local running clubs. Haddonfield, (856) 428-1666; Moorestown, (856) 234-9371; Mullica Hill, (856) 223-9350, RunningCo.com
RECORD STORE
Tunes
No, this isn't a misprint, we didn't actually mean iTunes. This record store still caters to those audiophiles among us who appreciate music the way it's supposed to sound, not the compromised quality that MP3s deliver. They buy, sell and trade, which means good prices and that you may just uncover the out-of-print copy of that record you've been searching for. Marlton, (856) 983-2566;Turnersville, (856) 227-0558; Voorhees, (856) 782-3733, TunesOnline.net
FLORIST
Moorestown Flower Shoppe
It doesn't take a botany expert to know this floral shop is budding with amazing arrangements. No matter the occasion, the skilled professionals here can create works of art to cater to your needs and make sure the appropriate statement is made. Moorestown, (856) 234-0660, MoorestownFlowerShoppe.com
READER'S CHOICE
2013 Best of the Best:Retail
CIGAR SHOP
Hemingway's Cigar Shoppe
Marlton
ANTIQUE SHOP
Medford Company Store
Medford
JEWELRY
David Arlen Jewelers
Hainesport
CHILDREN'S BOUTIQUE
Dare Boutique
Cherry Hill
PET STORE
Medford Pet Supplies
Medford
MEN'S CLOTHING FORMAL
Rochester Formal Wear
Maple Shade
TEEN FASHION
Six on East
Haddonfield
FINE JEWELRY
Bernie Robbins
Marlton
EYECARE/EYEWEAR
Optique Boutique
Mount Laurel
To find the rest of 2013's Best of the Best, click on the following links:
For 2013 Best of the Best: Food & Drink, click here
For 2013 Best of the Best: Health & Beauty, click here
For 2013 Best of the Best: Lifestyle, click here
Published (and copyrighted) in South Jersey Magazine, Volume 10, Issue 4 (July, 2013).
For more info on South Jersey Magazine, click here.
To subscribe to South Jersey Magazine, click here.
To advertise in South Jersey Magazine, click here.