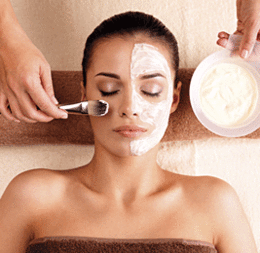 2013 Best of the Best: Health & Beauty
It's been a year since we last brought you our annual Best of the Best issue, but the wait is finally over. And trust us when we say that we've been busy these past 12 months, working extremely hard to make sure this roundup of the greatest people and places in South Jersey is our best effort to date. From the stellar meals we enjoyed to the punishing exercise classes we endured, this list represents South Jersey's cream of the crop.
Why else would we call it the Best of the Best?
THREADING
Dharma Karma
Dharma Karma has gained a reputation for excellence in threading. They use two thin threads to quickly remove lines of hair from the brow, as opposed to the standard waxing technique. The result? A relatively painless procedure, with much cleaner lines and a more natural look. Cherry Hill, (856) 751-0801, DharmaKarma.com
BLOWOUT
Verde Salon
There's nothing quite like that first blow dry after getting your hair cut, but it can be a hard look to replicate at home. That's why we go to Verde Salon when we need a quick fix—and a little "good hair day" confidence. If you're looking for more, splurge and treat yourself to the Keratin Complex Express Blowout. It takes an hour, but the frizz-free, smooth and refreshed look will last for up to six weeks. Collingswood, (856) 858-0911,VerdeSalon.com
MANI/PEDI
In the Village Salon
Sometimes there's no better indulgence than a really great manicure and pedicure. You'll want to treat yourself to one of In the Village's treatments, where pros scrub and shape your nails to perfection. There's also added perks, like warm paraffin treatments to soften damaged skin and a deep tissue foot massage. Mullica Hill, (856) 223-1774, 120 Center Square Road, Suite 102, Woolwich, (856) 241-1218, InTheVillage.com
FACIAL
Davis Cosmetic Surgery's Skin Spa
When we want to go beyond the standard facial, we entrust ourselves to Dr. Davis and his selection of alternative options. From a Kojic acid brightening facial that lightens age spots or freckles to a treatment that caters to the needs of always-evolving teenage skin, the options offered at the Skin Spa extend a single day of pampering into weeks of glowing. Cherry Hill, (856) 424-1700, DavisCPS.com
MEN'S FACIAL
Michael Alan's Fine Barbers
For the guy who isn't intimidated by a facial but would prefer to skip the flowery scents and cucumber eye covers, look no further. This Cherry Hill spot is the quintessential barbershop, serving men only in an old-school setting that evokes memories of the days when a cut and a shave was a time-honored tradition. But they also focus on the needs of the modern gentleman, which is why their facial tends to razor burns or rough skin more specifically. Cherry Hill, (856) 354-1212, MABarbers.com
YOGA
Laughing Buddha Hot Yoga
An intimate setting is what you'll discover at this studio, which specializes in hot yoga but also offers hot vinyasa and power yoga, and caters to beginners and advanced yoginis alike. The moment you step in the door you'll feel welcomed and inspired not only by your instructor but also your fellow classmates, and by the time your 90-minute session is up, you'll be ready to sign up for your next one. West Deptford, (856) 537-7423, HotYogaSJ.com
PILATES
Pilates Plus Restoration Studio
Whether you're looking to experience Pilates in a small group setting or you're hoping for a more private, one-on-one Pilates reformer session, this studio offers everything you need to get your body in shape or simply melt your stress away. It also offers Reiki, the Japanese form of touch healing, to compliment your hard work. Marlton, (856) 304-5556, PilatesPlusRestoration.com
PERSONAL TRAINING
Smart Bodies
You never have to worry about having a workout buddy at this facility, where a personal trainer will join you for every session and help power you through those days where you're just not in the mood to break a sweat. They understand better than anyone that you expect results for all the hard work you put in, and they will make sure you get it by working toward your goals, not pre-determined benchmarks. Marlton, (856) 983-2625, SmartBodiesFitness.com
GYM
Future Fitness
Offering more than 85 classes a week, abundant equipment, personal training sessions and nurse consultations, it's clear to see this gym with six area locations takes its commitment to providing the best services available to its members seriously. While they can't make you go to the gym every day, they can make it appealing enough for even the most disparaging gym-goer to make an effort. Locations in Cherry Hill, Medford, Mount Laurel, Mullica Hill, Turnersville and West Berlin; FutureFitnessCenters.com
DAY SPA
Toppers
A visit here may not get you another stamp on the passport, but you'll feel like you just took a vacation. Spend a day getting pampered with a European facial, Swedish massage with essential oils, perfectly polished mani/pedi and spa lunch—all in themed environments reminiscent of Bali, Japan or Italy. After a few hours, you'll emerge with a post-vacation glow, without having to unpack. Marlton, (856) 596-3500, ToppersSpa.com
WELLNESS SPA
Anu Medical
Here, beauty goes beyond skin deep. Clinical facial and detoxifying body wrap treatments, paired with spiritual yoga classes and nutritional guidance, help clients achieve optimal results for their mind, body and spirit. Services are administered by fully licensed and certified professionals who tend to clients' overall well-being, leaving them with a healthier body and soul. Voorhees, (856) 809-0909, AnuMedicalSpa.com
HAIRCUT
Rizzieri Salon
The stylists at this salon know the start of any memorable hairdo is a good base, and that's why they take their haircuts so seriously. A beautiful color may stand out, but if it's on the wrong cut, it won't make nearly as much of an impression, and we haven't found another salon that understands this better. Of course, the massages you can get afterward aren't so bad, either. Marlton, (856) 985-5500, Rizzieri.com
COLORING
Suede Salon
When it comes to hair color, it's a task best left to the experts. Ditch the one-size-fits-all box dye and let the team of colorists create a shade that is just for you. Whether you're looking for dramatic highlights, a single process or a completely new color, the staff at this dynamic salon guarantees your hair will turn heads. Marlton, (856) 985-0700, SuedeSalonSpa.com
OVERALL SALON EXPERIENCE
Thriv
If you crave a full-service, boutique salon experience, you'll want to get familiar with this chic spot. The menu of services runs the gamut from manicures and updos to hair straightening and makeup lessons, provided by friendly and attentive professionals. You'll leave with a look that begs to be shown off, so make plans to hit the town afterward. Cherry Hill, (856) 751-0014, ThriveSalon.com
MAKEUP
The Make-Up Bar
We recommend turning to this intimate boutique-style salon for your make-up application, whether you're getting ready to say "I do" or going out for a night on the town, looking for a lash application or even eyebrow tinting. It could be a dramatic or natural look you're going for, but the result is no different: Not only will you be red-carpet ready, but when you look in that mirror, you'll realize there's more to pampering than spa treatments. Cherry Hill, (856) 795-0025, TheMakeUpBar.com
WAXING
Amoriello Hair Designs
If you've ever found yourself plucking your eyebrows in the car on the way to a special event, it's time to turn to the folks at Amoriello. The professional, family-like atmosphere of the salon will help put you at ease, plus they also offer lip, chin, full face and arm waxing. It ensures the hair grows back naturally, plus it lasts longer than plucking—giving you one less thing to think about in the morning when time is of the essence. Medford, (609) 654-2127, AmorielloHairDesigns.com
PERMANENT MAKEUP
Beau Institute
This isn't just the place to go for permanent makeup application—it's also where makeup artists flock to for training in this unique niche. Rose Marie Beauchemin, owner and director of education, has more than 20 years of experience and travels the globe to provide training for anything from permanent eyebrows to full lip color. She also offers scar camouflage and areola complex tattoos for breast cancer survivors, which both do more than accentuate beauty—they restore self-esteem. Mount Laurel, (888) 763-2328, BeauInstitute.com
READER'S CHOICE
2013 Best of the Best: Health & Beauty
PEDICURE
La Moda
Haddonfield
MASSAGE
Zenergy Massage Studio
Cherry Hill
FACIAL
Ageless Skin Solutions
Marlton
MANICURE
Tiffany Nails and Spa
Cherry Hill
HAIR STYLING
Tranquility Salon and Spa
Hainesport and Voorhees
YOGA
Bikram Yoga Voorhees
Voorhees
To find the rest of 2013's Best of the Best, click on the following links:
For 2013 Best of the Best: Food & Drink, click here
For 2013 Best of the Best: Retail, click here
For 2013 Best of the Best: Lifestyle, click here
Published (and copyrighted) in South Jersey Magazine, Volume 10, Issue 4 (July, 2013).
For more info on South Jersey Magazine, click here.
To subscribe to South Jersey Magazine, click here.
To advertise in South Jersey Magazine, click here.