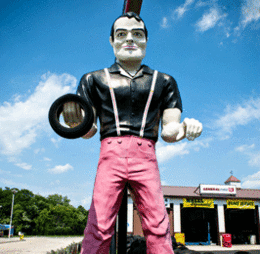 Strange Sights
Some of South Jersey's most recognizable roadside attractions are just plain bizarre.
Have you ever been driving around South Jersey and noticed something odd alongside the road? Maybe it was an old relic of a long-forgotten business, or a statue that seemed to have no relation to its location. And how about the urban legends that have us practically believing in the Jersey Devil's existence in our area, or mysterious spots in the woods where paranormal activity has been reported? Is South Jersey any stranger than other parts of the country? While it's probably best for individuals to decide for themselves, a visit to RoadsideAmerica.com reveals plenty of entries dedicated to strange sightings here in South Jersey. Doug Kirby is the publisher of Roadside America, which began as a book and has since morphed into a website, mobile app and GPS companion guiding people to quirky landmarks across the country. Kirby, who attended Glassboro State—now Rowan University—started investigating New Jersey's oddities during college road trips. "I started exploring things in the woods or statues found on different roads, and what I discovered with my colleagues was that people have a common interest in these things," Kirby says from his headquarters in Northern California. "When we published our books, no one was writing about these things, and now it seems that everyone loves to read or visit these weird places." Whether they are locations shrouded in legend, or iconic landmarks that are part of our pop culture history, here are some of South Jersey's most beloved curiosities.
Mighty Joe the Gorilla
This menacing gorilla looms over a gas station in Shamong, but there's actually a heartfelt story behind it. The statue is likely familiar to those who passed it on their way to the Shore when it was part of a now-defunct amusement park. Today, it's owned by Larry Valenzano, who purchased the statue to pay homage to his son, Joe, who passed away from a brain tumor in 1999. The 25-foot gorilla holds a sign that reads: "Hello, my name is Mighty Joe. My job is to look up to heaven from time to time and say, 'Hey, Joe, We Will Always Love You.'" Where to find it: Mighty Joe's Gas, Grill & Deli, 1231 Route 206, Shamong
Muffler Man and Nitro Girl
Kirby says these statues are of particular interest because there are hundreds of them across the country. "We've been tracking these statues since we first started, and even coined the term 'Muffler Men,' for them," says Kirby. "We noticed the pattern in the design, such as their similarity in facial features, arm positioning… so we investigated their origins." Kirby and his team were able to make contact with the owner of a company in Venice, Calif., who says he was responsible for mass producing the fiberglass "Brand Man" and "Miss Uniroyal" statues—attention-getters for retail stores—in the '60s and '70s. "These were an interesting way to make your business stand out from the masses," says Kirby. The appeal of these statues has not faded, and the Roadside America website has a "Muffler Men" map that is populated with photo icons of these statues' locations throughout the country. In our area, you'll find a Muffler Man outside of Royal Tire in Magnolia and a patriotic Nitro Girl located along the Black Horse Pike outside of Werbany Tire. They happen to be owned by the same person, and Werbany Tire even sells a Nitro Girl bobble head doll. Where to find it: Royal Tire and Auto of Magnolia, 301 White Horse Pike N., Magnolia; Werbany Tire, 1337 Black Horse Pike, Blackwood
Del Buono's Bakery Statues
We're not quite sure why there are statues in front and on top of Del Buono's Bakery in Haddon Heights, and neither is its owner, Nino Del Buono. If you ask him, the collection started on a whim with a Woodrow Wilson statue and has grown from there. There's a gorilla, chicken and pig on the roof; a lion and elephant by the front windows; and even a World War I dough boy that Del Buono counts among his favorites. None of them seem appropriate for a bakery, but customers and passersby can't help but smile or do a double-take when they see it. Where to find it: 319 Black Horse Pike, Haddon Heights
USS Rancocas
You've probably passed this landmark a hundred times and never noticed it. Off I-295 and the N.J. Turnpike on the border of Moorestown and Mount Laurel, it looks like there is a Navy battleship just floating amid the corn. Sometimes referred to as the "Cornfield Cruiser," the building's roof has a full-size replica of the superstructure of a naval vessel. Deemed the USS Rancocas, this "ship" was once a command center for the U.S. Air Force and is now a testing facility used by Lockheed Martin for research and development, and houses personnel for the Navy and other subcontractors. Where to find it: 300 Centerton Road, Moorestown
Palace of Depression
Once billed as "The Strangest House in the World," the Palace of Depression was built by an eccentric man named George Daynor who was rumored to have lost his gold-rush fortune in the crash of 1929. According to the curator of the Vineland Historical and Antiquarian Society, Daynor came to Vineland with his wife to build a place that would show Americans they could survive and support themselves with ingenuity. "He was kind of like an early day Donald Trump," says Patricia Martinelli, author of The Fantastic Castle of Vineland. "The land he purchased in Vineland had become an automobile graveyard, where people threw their trash, bottles, car parts and broken furniture. These were all of the things that Daynor used to build his castle. He picked stuff up off the ground, slathered it with mud and built it into the walls." We mentioned he was eccentric, right? Some of the oddities in the Palace of Depression—which became a tourist attraction--included petrified animals, a Knockout Room where Daynor offered to hit tourists with a brick or bowling ball to help them forget their troubles, and a special basement den created specifically for the Jersey Devil. The Palace of Depression was torn down in the 1960s, but Martinelli says it lives on in legend among Vineland's residents. "Daynor's experimentation with found objects has influenced folk art, and at the time, his creations captured our imaginations," she says. The site is currently being reconstructed by a team of volunteers who are hoping to recreate the spirit of the original attraction and bring back a piece of Vineland's lost physical history. Where to find it: South Mill Road off of Landis Avenue, Vineland
Other Oddities
These strange, but real, curiosities are part of South Jersey lore, whether they offer a glimpse into the past, or perhaps into another dimension.
The Blue Hole
Located in Winslow, about a mile off Piney Hollow Road near the Great Egg Harbor River, is a mysterious round pool of water said to be bottomless. Some believe a meteor created The Blue Hole, and others think it's simply a clay hole. But the legends surrounding it say that it is the Jersey Devil's swimming pool.
Emilio Carranza Rodriguez Crash Memorial
Deep in the Pine Barrens off Carranza Road is a memorial to Emilio Carranza Rodriguez—often called "The Lindbergh of Mexico." In 1928, the 22-year-old set out on a mission to fly from Mexico City to New York City. The return flight was going to be non-stop, but just 50 miles into his trip home, he crashed into the trees in the Pine Barrens and his body was discovered the next day. The people of Mexico were heartbroken at their hero's death and commissioned a memorial to him, and every July, a service is held to remember him.
Ong's Hat
This ghost town is located off Route 72 in Southampton Township. According to Forgotten Towns of New Jersey by Henry Charlton Beck, Ong's Hat was once a lively town, but other stories say that Ong's Hat was actually just one hut where Ong family members could rest overnight. Others have taken it to the extreme, calling it a vortex to another dimension. Urban legend says a team of off-beat Princeton professors took up chaos theory experiments in this part of the Pine Barrens, and discovered inter-dimensional travel.
Published (and copyrighted) in South Jersey Magazine, Volume 10, Issue 4 (July, 2013).
For more info on South Jersey Magazine, click here.
To subscribe to South Jersey Magazine, click here.
To advertise in South Jersey Magazine, click here.