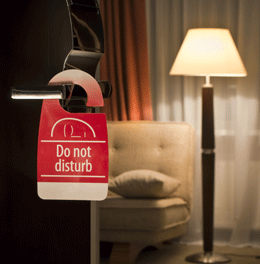 Behind Closed Doors
Many South Jersey residents may be surprised to learn that area prostitution is a very real issue.
Last summer, the Mount Laurel Police Department tried to fix its township's prostitution problem. The planning went on for a month in conjunction with the Cherry Hill and Westampton police. Funding came from a law enforcement network that goes by the acronym MAGLOCLEN. Finally, on July 11, the department initiated the operation by posting a sex ad with a number to call. On the other end was a police officer posing as a prostitute, who told the callers to meet her at a hotel along Route 73. The men who took up her invitation got an unpleasant surprise. In total, a dozen people – ranging in age from 25-57 and hailing from Mount Laurel, Cherry Hill, Voorhees and Medford, among other townships – were arrested in an eight-hour span.
The tactic is called a "reverse sting," one that is intended to target the "johns" who seek the company of prostitutes. Such operations are rare – only 10 percent of prostitution-related arrests in the U.S. target clients. Two days after the operation, the Mount Laurel police issued a two-page press release that revealed the names of all the men arrested. As if its intentions weren't clear, the department in the statement declared that the operation was intended "to put every one within the prostitution industry at enhanced risk of identification, apprehension and prosecution" and "to deter to all prostitution related offenses and activities from the Hotel / Motel district of the Township." The year before, 2011, police had arrested 49 people in the township for prostitution-related offenses. At the conclusion of 2012, that number increased to 61 arrests, with another 44 individuals identified with ties to prostitution industry.
Did it work? Hard to tell from recent events. On Feb. 4, a California woman was arrested for soliciting an undercover officer. On Jan. 13, two people from Philadelphia were arrested and charged. Jan. 4, another two arrested. In late December, five arrests, including a 47-year-old Marlton women for engaging in prostitution and possession of drugs. And that doesn't even count the Mount Laurel woman who was arrested in early March for performing sex acts at a massage parlor in Gloucester Township.
The arrests suggest the problem is being addressed, but the scope of prostitution in Mount Laurel – or just about anywhere in South Jersey – is unclear. Data on prostitution itself is scarce. There are about 63,000 prostitution-related arrests made each year in the U.S.; New Jersey ranks ninth in states with nearly 1,500 arrests per year. Academic surveys find that between 15 and 18 percent of men have paid for sex (though, of course, women do too.)
Experts believe it most heavily occurs in urban areas, particularly where drug use and crime is high. Camden, for example, yielded 232 prostitution-related arrests in an eight-month stretch last year. Certainly it is most visible in cities like Camden and Atlantic City where prostitutes walk the street looking for clients. That practice is called "outdoor" prostitution. "Indoor" prostitution – brothels, massage parlors, escorts and most certainly the Internet – is significantly more rampant, and it occurs just about everywhere. "It's here, it's right under your nose. Don't think it's just in the hotel on Route 73, cause that's not the case," says Tina Minnis, president and CEO of The HEAAT Foundation, which combats human trafficking.
Township officials and police acknowledge a problem but refuse to speculate why there have been such a rash of illegal sex activity. "I consider it a minor problem that unfortunately many large municipalities must deal with," says Maureen Mitchell, manager and tax collector for Mount Laurel. The police's concentrated activity in the township's 26 hotels and motels cast an illuminating light on the "why." Route 73, with its easy on-and-off access from 295 and the New Jersey Turnpike, proves an ideal destination; prostitutes and johns have a wealth of meeting places to choose from, and then can quickly be on their way home.
Does it pose a threat for the safety of the township's residents? "Certainly the Mount Laurel police recognize that prostitution could attract the wrong element into our town," says Lieutenant Paul Modugno of the MLPD's Office of Professional Standards, "and we're doing the best we can to try and eliminate prostitution from Mount Laurel." At the time of the sting, the police in its statement mentioned ancillary crimes such as narcotics possession, robbery, sexual assault and human trafficking. Modugno notes that one handgun, two stun guns, three high capacity magazines and hollow point bullets were taken off the street as the result of these arrests.
But the picture painted by experts isn't as dire. Ron Weitzer, a sociology professor at George Washington University and author of several books on prostitution, says that outdoor sex work poses a far greater number of issues – everything from drugs and violence to public sex acts and used condoms on the street. Indoor prostitution, on the other hand, is much more invisible. "Maybe law enforcement knows about, maybe the management of the hotel knows about it, but the surrounding residents of that community may be totally unaware of it," says Weitzer, whose book Legalizing Prostitution: From Illicit Vice to Lawful Business was released last year. "In those cases … it may bring no greater risk to the residents than previously. It all depends on how visible and how disruptive it is of ordinary everyday life."
By that logic, Mount Laurel's prostitution problem as the public sees it is one created by the township and police. Without arrests and crime reports to publicize the incidents, most residents might not even know it occurs. (None of Mount Laurel's prostitution arrests last year involved prostitutes walking the streets.) Because the act occurs (theoretically) between two consenting adults, many have argued that even if prostitution remains illegal, law enforcement is best served concentrating its efforts elsewhere.
That logic does ignore one major fact: prostitution is often not a victimless crime. Whether by customers or pimps, prostitutes suffer violence and rape; their lives are a history of abuse. "What we know about female offenders, compared to men, is that women usually have much more severe histories of childhood traumas, including physical, emotional and sex abuse," says Gail Caputo, an associate professor of sociology at Rutgers-Camden who followed prostitutes and other female criminals in her 2008 book Out in the Storm. That childhood trauma initiates a string of events – running away, falling in with the wrong people, working in adult entertainment, drug addiction – that ultimately leads to sex work.
Recognition of that has placed a far greater focus on human trafficking and its role in prostitution. While many think of smuggling and foreign immigrants in the 21 million worldwide human trafficking victims, it has a much more common local face. Runaway children are preyed upon by pimps and handlers, who promise them creature comforts and a better life. Instead, they're coerced into human slavery (most often sex work) that can continue long after the girl or boy turns 18. Even with a choice, they don't leave. "They stay cause they're terrorized," says Joni Whelan, a Williamstown-based addiction counselor and one of the founding members of HEAAT. "And they've been drugged and beaten and raped. And they're just scared to death."
Beginning with the Trafficking Victims Protection Act in 2000, the government has reclassified much of typical prostitution as human trafficking. In New Jersey, a bill working its way through the state assembly would increase awareness. "These crimes target vulnerable victims who are degraded, threatened and isolated from family and friends," says Modguno, who notes how the MLPD looks for signs of fear and intimidation to identify human trafficking cases. "Because of location, international travel hubs and a dense and diverse population, New Jersey is a potential area where human trafficking could go undetected."
For Minnis and HEAAT, the idea is to repaint trafficked sex workers as victims, not perpetrators. "They're not sluts. They're not whores," says Minnis. "We have to start reframing that in everybody's mind that potentially they're victims. And even if they were not being pimped out at this point in time, at some point they were victimized."
Published (and copyrighted) in South Jersey Magazine, Volume 10, Issue 4 (July, 2013).
For more info on South Jersey Magazine, click here.
To subscribe to South Jersey Magazine, click here.
To advertise in South Jersey Magazine, click here.