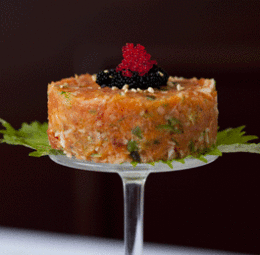 Elena Wu Restaurant & Sushi Bar
Elena Wu Restaurant & Sushi Bar: Back in Business
Elena Wu Restaurant & Sushi Bar
12106 Town Center Blvd.
Voorhees
(856) 375-2289
3 1/2 stars
A longtime fixture in the South Jersey dining scene, restaurateur Elena Wu is back again. The serial entrepreneur opened Elena Wu Restaurant & Sushi Bar earlier this year at the Voorhees Town Center, a sprawling mixed-use plaza that marries boutique shopping, hip eateries and fine dining with suburban charm.
"I love this location," says Wu, praising the picturesque outside spaces and community environment that includes room for outdoor seating on a landscaped sidewalk. Here, she's been able to comfortably fit into the new 60-seat dining room. After numerous forays into the restaurant and consulting business, the owner and operator's newest concept is fresh and straight-forward Asian cuisine that lets the ingredients speak for themselves.
She is joined by head chef Kwong Chi Cheung, the world-class trained Chinese chef with whom she has worked for many years. Wu's husband, K.K., and son, Steven, are also in supporting management roles, though this newest venture is all her own.
That's clear to see once you walk through the heavy front doors into a stylish formal dining room bathed in a neutral, understated palate. On one wall, a petite sushi bar glitters with small earth-colored tiles and striking pendant lighting. A mix of tables and a smattering of banquette seating fills the room without feeling crowded. Wu herself can typically be seen roaming the dining room, checking on customers here, delivering plates there.
I was intrigued by the menu, which weaves comfortably between unique Asian preparations of various proteins and more Americanized fare. In addition to Chinese, the menu also delves briefly into Japanese and French cusine, with maki rolls and chirashi from the in-house sushi bar and a small "French fusion" section that's heavy on seafood.
Wu's focus is on keeping everything fresh and healthy, without slogging through heavy breadings or greasy, deep-fried meats. "Everything we put out is fresh," she says. "It's not from a can."
That was certainly true of a starter of tuna tartare, whipped up at the sushi bar and beautifully plated in a loose cylinder. Reminiscent of my favorite maki, the spicy tuna roll, chilled sushi grade tuna is mixed with tempura crunch with pops of red and black roe to top it off. Texturally exciting and perfect for a light summer appetizer.
An order of steamed dumplings were less vivid, though still technically well done. Toothsome shrimp meat is the star ingredient, encased in thin, gummy dough that fell apart in our chopsticks. Four little bites—each dipped in the accompanying red pepper sauce—and they were gone like that.
We were much more impressed with an entree of beef and scallops, enrobed in a flavorful black pepper sauce. Thin cuts of tender beef came tossed with half-dollar-sized scallops, sweet bell peppers and cubed onions. Though a sauce like this has the potential to be heavy or thickened with cornstarch, thankfully this was a great complement to the meat. Each ingredient shone through on its own, especially the scallops, which were just chewy enough without being tough.
Peking duck, a famous dish popular in Beijing, requires intense advanced preparation and a skilled chef to serve correctly. At Elena Wu, a large portion of Peking duck breast arrives at the table already sliced, crowned in gleaming brown skin and paired with ribbons of cucumber, crunchy scallions and crepes; to eat, you unfold a paper-thin pancake and fill with some of each component, drizzle with hoisin sauce and take a bite.
It's difficult to decide which to love more: The duck breast's perfectly rendered juiciness, completely devoid of heavy grease; or the crispy, glassine skin that was almost like savory candy. My dining companion said it was the best he'd ever had, Philadelphia and New York Chinatown(s) notwithstanding.
Assembling the precious little packages was a messy, delicious treat, dripping with spiced hoisin and juices. Not a first date dish, to be sure. But it's also not to be missed.
Following that, desserts were a low note—though we did sample two white chocolate-coated bombas filled with fruity sorbet and creamy gelato.
The biggest misstep? A giant flatscreen TV on one wall is not only incongruous to the classic interior, it's downright distracting. I felt the need to shift my seat to avoid fixating on whatever evening news report was blaring across the screen. Bad news doesn't pair well with sushi.
In an up-and-coming plaza like Voorhees Town Center, an elegant fine dining restaurant might seem out of place among fans of trendy burger shops and froyo. But thankfully, this latest venture has a strong sense of self and more than 26 years of experience at the helm. That will be hard for anyone to ignore.
Published (and copyrighted) in South Jersey Magazine, Volume 10, Issue 4 (July, 2013).
For more info on South Jersey Magazine, click here.
To subscribe to South Jersey Magazine, click here.
To advertise in South Jersey Magazine, click here.