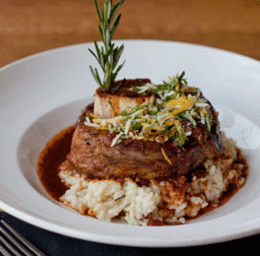 Speranza
Speranza: A New Hope
Speranza
158 Broadway
Westville
(856) 349-7600
2 ½ stars
Exploring the South Jersey food scene is always an adventure. Drive by a bustling Main Street or busy shopping center and it's no surprise to find a few great bites, but lately even the small towns and streets have become epicenters of the recent explosion of new restaurants around the area.
So stumbling on Speranza was a bit of a surprise. It snuck up on me during a trip through the farms and wooded acres of Gloucester County, tucked neatly into an unassuming street in a quiet section of Westville.
Opened at the end of February, Speranza—Italian for hope—is the newest venture of part-owner Pat Finney, who also co-owns the Woodbury Train Station Café and Gia Nina's in Woodbury. Joined by son Fedele Folino, the duo set out to create what they call "innovative Italian cuisine" in an upscale setting at the location formerly known as Sea Hag's Seafood. They recruited West Deptford native Dave Strano as executive chef to help shape their menu of wood-fired pizzas and rustic Italian dishes. The fan base from Finney's Woodbury locations has followed, but the new menu is more eccentric, with a focus on hearty dinners, lots of seafood, and from-scratch pastas, desserts and more.
Inside, the sea-shack décor is gone, replaced with warm browns, exposed brick and wood accents and flooring. The walls are lined with large black and white prints from the past: Workers sitting atop beams, shipping and industrial images that emulate the industrial feel Folino was going for. It's clean and refreshing, not unlike many of the newer eateries popping up around South Jersey.
An extensive menu of wood-fired pizzas was the restaurant's obvious perk, with most guests that evening opting for pies like the Tartufo—with shaved black truffles, ricotta and mozzarella with an egg on top—or the Calabrese—featuring fennel sausage, kale and grape tomatoes. Add the selection of appetizers, entrees, pastas, salads, desserts, gelatos and contorini—or sides—and you've got a pretty crowded menu.
First to arrive to the table was the crab arancini, golf ball-sized orbs of creamy risotto, mixed with lump crab meat, then rolled in bread crumbs and deep fried. The crispy exterior complemented the soft inside, and an accompanying house-made Italian dressing added a much-needed break in flavor while cooling down the piping hot bites. Bits of crab stood out nicely, but risotto was slightly over cooked and gluey, and needed a generous sprinkling of salt and pepper.
A seasonal bruschetta followed with diced Roma tomatoes mixed with golden beets and red onions. The fresh vegetables were tossed lightly in extra virgin olive oil, finished with fragrant ribbons of basil and capers and served alongside crisp slices of Italian bread, toasted with Parmesan cheese. It was the ideal combination of sweet and salty. Naturally sugary tomatoes and beets blended with the briny capers and Parmesan cheese. It was the perfect appetizer on a cool summer night, refreshing and light but still satisfying.
My guest and I opted for entrees over pizza, going with the osso bucco and cioppino. The cioppino, a classic Italian seafood stew, came in a thin red broth loaded with shrimp, lump crab meat, tomatoes, sliced herbs and fennel, topped with mussels and littleneck clams still sitting in their shells, served alongside wood-fired bread. There was no shortage of shellfish, with fair portions of every different variety cooked just right. But, like the arancini, the entire dish needed a hearty helping of seasoning, especially in the broth, which didn't seem to reap any of the benefits from its seafood components.
A lack of seasoning was a recurring theme that night, seen once again in the stewed veal shank of the osso bucco. But the meat found its flavor when paired with salty pancetta, fragrant gremolata and the protein's accompanying sage risotto. Still, nothing on the hearty plate stood out like the osso bucco—or "bone with a hole" in Italian. Sitting on the middle of the giant cut of meat was the star of the dish: A bubbling bite of bone marrow. It was salty, creamy, and melted away with a bite of the veal, a subtle little ingredient that only gets the true respect it deserves from a chef that really understands their ingredients.
We ended the night with a towering slice of cheesecake and some tiramisu gelato, with the latter being made and scooped at a station in the front of the restaurant. The cheesecake came served with house-made strawberry sauce and a pile of fresh strawberries. It was creamy and surprisingly light, and the sauce and berries shone, refreshing and bright alongside the moist cheesecake. The tiramisu gelato, however, fell short. The espresso flavor was far too prominent and bitter, and the typical creamy texture of gelato wasn't there, replaced by a more icy consistency.
At the end of the night, I was satisfied with the abundance of fresh ingredients and seasonal options, but still wanted more from the meal. After all, this is South Jersey: The competition is tough, and to stand out among the dozens of Italian restaurants, a restaurant like Speranza needs a bigger hit of flavor. Still, with a menu of quality ingredients, a dedication to classic Italian cooking, and a clear concept, there is definitely hope—or speranza—for this little eatery with big dreams.
Published (and copyrighted) in South Jersey Magazine, Volume 10, Issue 4 (July, 2013).
For more info on South Jersey Magazine, click here.
To subscribe to South Jersey Magazine, click here.
To advertise in South Jersey Magazine, click here.