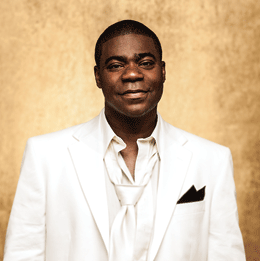 The Real Tracy Morgan
Comedian shrugs off controversy, embraces life after 30 Rock
Tracy Morgan got his comedic start on the streets of Brooklyn, spinning tales to neighbors and friends for a few laughs. And he's come a long way, moving up the ranks from a stint on TV's Martin and performing in comedy clubs across the country before finding an eventual home on Saturday Night Live from 1996 to 2003.
It was his work on the live sketch comedy show that helped him settle into his most recent television gig, playing Tracy Jordan on NBC's 30 Rock, which wrapped up after seven seasons this past winter. The cult-comedy written and created by another former SNL alum, Tina Fey, told the story of what happened behind the scenes at a fictional sketch show, and placed Morgan's character, an attention-starved celebrity, in the center of all the action.
Since the series finale of 30 Rock, Morgan has been busy. With a new fiancée and baby daughter on the way, he also took off on a 50-city comedy tour. Named "Excuse My French," the tour touched down in Atlantic City in June, bringing with it Morgan's unapologetic and edgy routine that has kept guests laughing for decades.
We talked with Morgan about his life post-cable, the stand-up that started it all, and why Tracy Jordan is officially out of the picture.
Back to work: "It's wonderful, I love it. I've never left stand-up; I've always done dates here and there, but it's really good to hear my own voice again."
A knack for comedy: "This started on Nov. 10, 1968, around 4 a.m. when my mother's water broke. Growing up, people told me I was the funny guy; I started getting girls with that, and then later on it became a business. I think, especially growing up with a brother who had cerebral palsy, kids could be so mean, so I started being funny in the school yard, I guess as a defense mechanism. I grew up in a ghetto, and the people around me were funny to me. And to them I was a poor man's Eddie Murphy. People didn't have the money to pay $300 to go see Eddie Murphy so they saw me. I was sort of coveted by those people and protected. But I didn't know it was something I wanted to do until I saw Martin. And then it became a business."
On?stage: "I like to talk about my experiences in life: the pain, the trials and tribulations and the joys. I inject my sense of humor into my experiences, and that's what I like to do. To me, comedy is a mix of three things: knowing who you are and where you've come from, and perfection. And that's where I am now. The only people who don't identify with my comedy are the ones who come to the show expecting to see Tracy Jordan and not Tracy Morgan."
30 Rock: "It was based on Saturday Night Live, but it was a caricature of Saturday Night Live. Saturday Night Live could be pretty brutal; it was a lot of really hard work."
Identity crisis: "Sometimes people ask me what the difference between Tracy Morgan and Tracy Jordan is, and I just don't dig that question, because Tracy Jordan never made sense. When I talk I make sense, and people understand me; but Tracy Jordan didn't ever make sense. And I don't think people ask Alec [Baldwin] or Tina [Fey] that question, but I get it a lot. All we have is the same name."
The Billboard Awards: "I was on stage and it was awesome. It's like hosting a big Las Vegas party. I didn't feel any pressure, I had a great time and just let loose, and got to see some of my favorite performers."
BOOING Bieber: "I didn't think it was cool. I think he should have took those feelings and wrote a song, but Justin Bieber's a great guy and I don't think the Billboard Awards is a place for booing. It's a place to celebrate."
THE?A.C.CROWD: "I don't ever rate crowds. If you come to laugh, then I'm with you. Anybody that comes to see me is going to get the best show I can give them."
After the show: "I'm close to home and I like to go home right after. I don't really like to gamble and I don't drink or chase after women, and I love to be in my own bed at the end of the night."
The new Dad: "To be honest, that baby is everything in my future."
Published (and copyrighted) in South Jersey Magazine, Volume 10, Issue 4 (July, 2013).
For more info on South Jersey Magazine, click here.
To subscribe to South Jersey Magazine, click here.
To advertise in South Jersey Magazine, click here.