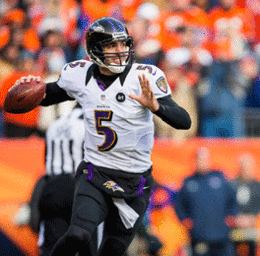 Feeling Super
After a historical playoff run that culminated with an MVP performance on the NFL's biggest stage, it's no wonder why Baltimore Ravens quarterback and Audubon native Joe Flacco has the entire South Jersey region...
Joe Flacco sees a horde of reporters gathered in the middle of the Baltimore Ravens' locker room and heads the other way, eluding a swarm of microphones, cameras and recording devices with unusual swiftness for a quarterback known more for having a cannon arm than nimble feet.
Flacco isn't planning to blow off the media. He's not the kind of guy who shirks obligations, even though he'd rather let his teammates do all the talking. But Flacco already is scheduled for a news conference later in the afternoon. So there's no reason to stick around and answer more questions than necessary.
It's Day One of the Super Bowl media blitz and it's only going to get worse when the Ravens arrive in New Orleans for the Big Game. Those who know Flacco understand he prefers to keep a low profile. Five years into his NFL career, he's still that same shy, humble kid from Audubon. No event is more hyped than the Super Bowl, and everything leading up to the game isn't Flacco's scene.
"What you see in his press conferences and his interviews now, he was the same way back then," says Ralph
Schiavo, who was Flacco's football coach his senior year at Audubon High School. "He was not really comfortable being that kind of person, getting interviewed. He was a lead-by-example kind of guy."
Now fast-forward a few weeks later. You can't turn on your television without a Flacco sighting. He's in hot demand and finally learning to enjoy the spotlight.
Flacco capped one of the greatest postseason performances in NFL history by leading the Ravens to a 34-31 victory over the San Francisco 49ers in Super Bowl XLVII on Feb. 3. He earned Most Valuable Player honors for his sensational effort—287 yards passing and three touchdowns.
From the moment he triumphantly exclaimed in that iconic commercial: "I'm going to Disney World," and then hoisted the Vince Lombardi Trophy on stage at the Superdome, life wasn't going to be the same for the tall, lanky, 28-year-old.
So long, Ordinary Joe.
"I don't know if I'll ever be comfortable with it," Flacco says about his skyrocketing stardom. "I like to go about my business."
Well, if Flacco's first week as Super Bowl champ and MVP was any indication, it won't be business as usual for quite a while.
Flacco celebrated the Ravens' victory with family and friends at a restaurant in the French Quarter late Sunday into Monday morning. He and his wife, Dana Grady, announced to everyone there that she was pregnant with the couple's second child.
Then it was onto another post-game party where Flacco got to meet Jay-Z and Beyonce. "It was pretty cool," he says, sounding a bit starstruck. "I don't think that would've happened if we had lost."
After barely getting any sleep, Flacco woke up Monday morning to begin a three-city victory tour. First, he made an appearance on ABC's Good­ Morning America.
Flacco then went to downtown New Orleans for a news conference with Ravens coach John Harbaugh and NFL commissioner Roger Goodell. There, he was handed the keys for a 2014 Corvette Stingray, which goes to the game's MVP. Flacco is 6-foot-6, so he can't fit in the tiny, red sports car. But he plans to keep it for his 5-foot-tall wife.
"He was unflappable and brought his team to a Super Bowl level," Goodell says. "His play represented that all the way through."
By mid-afternoon, Flacco was in Orlando to be the grand marshal for the MVP's parade at the Magic Kingdom. He rode alongside Mickey Mouse in a red convertible, waved to an adoring crowd and soaked in the experience. "It's unbelievable," he says. "It's all surreal to me still."
Next, Flacco flew to New York to be a featured guest that night on the Late Show. He traded one-liners with David Letterman, and then headed to Baltimore for the Ravens' championship parade on Tuesday.
Then it was back to New York a couple days later.
Flacco turned down an invitation to ring the bell for the New York Stock Exchange, but he sat front row at Tommy Hilfiger's event at Fashion Week. He also did an interview with Kelly Ripa and Michael Strahan on ABC's Live! morning show. Ripa, also a South Jersey native, teased Flacco about the foot-and-a-half difference in height between him and his wife. Strahan, the former New York Giants' star defensive end, told the world: "It's no longer just Joe Flacco. It's Super Bowl MVP Joe Flacco."
"He's one of us"
A large white banner attached to the "Welcome to Audubon" sign sitting on the corner of East Lake Drive and West Kings Highway reads: "Good Luck Joe! Proud home of Joe Flacco." This quaint town of about 9,000 residents is crazy about its hometown boy. The feeling is mutual.
"I think a lot of people's personality is shaped from where they are from and what kind of environment they grew up in," Flacco says. "It is a very small town, very tight-knit group. It just makes you proud."
Flacco grew up a couple blocks from Haviland Avenue elementary school, graduated from Audubon High in 2003, and comes home often to visit family.
His parents, Steve and Karen Flacco, still live in the same house. He has four younger brothers and a sister who ascended through the school system and played multiple sports along the way. His grandparents, Joe and Laura Flacco and Tom and Barbara Madden, live in nearby Haddon Township.
"He's absolutely a regular guy," Mayor John Ward says. "You can walk into a basketball game and sit down right next to Joe watching one of his brothers. He goes to a game and he wants to be an Audubon guy, not an NFL quarterback."
Ever since Baltimore selected Flacco with the 18th overall pick in the first round of the 2008 NFL draft, football fans in Audubon have adopted the Ravens. Sure, they still bleed Eagles green, but that doesn't mean they can't root for Flacco.
"Back when Joe was drafted, the Eagles were playing better. As the Eagles got a little worse, you saw less green and more purple," Ward says. "This season, you saw purple everywhere, especially going into the playoffs."
Residents hung Ravens flags outside their homes and placed purple ribbons on lamp posts and mail boxes. Signs saluting Flacco were taped to windows throughout the neighborhood. Schools held pep rallies for Flacco and decorated their classrooms and hallways in Ravens colors. A Flacco jersey was even held up in the borough office.
For local merchants who stocked Ravens and Flacco items, the two weeks leading up to the Super Bowl seemed like a holiday rush.
Willie the Woodsman & Wife on East Atlantic Avenue has been the unofficial store for Ravens memorabilia for the last five years. Owners Bill and Gloria Jensen have sold Flacco bracelets and key chains, Ravens flags, throw rugs and other accessories. A few days after Baltimore's victory over the 49ers, they already had Super Bowl champions placards and were waiting on hats and T-shirts.
"It's been awesome. When Joe was drafted, it was a big deal in town," says Gloria Jensen, who was still wearing her purple nail polish four days after the game. "Everyone has always loved Joe and followed him. We always sold Ravens stuff right alongside Eagles stuff. We sell more Ravens, though."
Even Karen Flacco is a customer. Jensen says Flacco's mom picked up a Ravens bib and pacifier when her grandson, Steve, was born last year.
"He's such a great guy, so friendly and nice," Jensen says. "He's always around town. His parents are part of the neighborhood, part of what Audubon is."
Glenn Hare, owner of Audubon Hardware on Chestnut Street, says he sold 100 Flacco T-shirts in one hour on the Thursday before the Super Bowl. After the Ravens won, Hare took orders for Flacco MVP hats and T-shirts.
"You always think of these people in sports as somebody you would never know and he's just a guy who grew up right here and had a normal life," Hare says. "He's one of us. It's amazing."
On Super Bowl Sunday, the biggest Ravens' party outside Baltimore was at Kove Restaurant on West Atlantic Avenue. About 400 people decked in Ravens jerseys and colors had a major case of Flacco Fever. Fans gathered to watch their local hero play his best game on the grandest stage of all. The event was co-sponsored by the Audubon Celebration Committee and the Audubon Fathers' Association, and proceeds benefited the charitable organizations.
"It was perfect. Everyone got to enjoy the game with great food and a great environment filled with people rooting for Joe," says Ward, adding the donations would be attributed to Flacco. "It was great. It was a good opportunity to bring two groups together with a common goal of celebrating one of our own and help raise funds at the same time to support the town."
When the Ravens finally secured the victory following a tense finish, the little town 1,200 miles away from New Orleans erupted in cheers. Some residents lit fireworks outside their homes, people honked horns in their cars and a group of teenagers went down to the high school field to toss a football around.
"I got all choked up when he held the trophy up," Schiavo says. "It was pretty cool. It took me the last five years just to get used to the fact that he's in the NFL and now that he's played in the Super Bowl and was the MVP; it's unreal."
Audubon isn't done celebrating.
Ward says plans for a parade to honor Flacco were in the works for the weeks following the Super Bowl. "He knows where he came from and he has a lot of people to thank for the way he's turned out and his success and he has thanked us along the way and now it's time for us to thank him and honor him," Ward says.
"Elite Joe"
Flacco is known as Joe Cool around his teammates because of his calm demeanor off the field, in the huddle and even in the pocket when he's in trouble. Others refer to Flacco as Average Joe because he tried to be a regular guy and stayed away from the spotlight before winning the Super Bowl.
Now you can call him Elite Joe.
When Flacco told a Baltimore radio station last April that he felt he was the best quarterback in the league, critics scoffed. Flacco hadn't even been to a Pro Bowl let alone won a Super Bowl. Many people wouldn't have even listed him among the top five QBs in the league. Tom Brady, Peyton Manning, Aaron Rodgers, Drew Brees, Eli Manning and Ben Roethlisberger all had Super Bowl rings and multiple Pro Bowls on their resumes.
Flacco wasn't trying to be cocky when he made that statement. He's just confident in his skills and explained that he wouldn't be a successful player if he didn't feel he was the best.
He certainly backed up his bold statement. And, he had perfect timing. Flacco just finished a five-year, $30 million contract. That doesn't compare to what's coming next. Flacco may end up signing the richest deal ever for an NFL player after his remarkable run in the postseason.
Flacco finished with 11 touchdowns and no interceptions in the playoffs, becoming the only quarterback in the modern era to play four postseason games without throwing a pick. He joined Hall of Famer Joe Montana—his boyhood idol—as the only player in NFL history to throw at least 11 postseason touchdowns without an interception.
"It's pretty cool," Flacco says, typically downplaying an incredible achievement. "Joe Montana has been my favorite quarterback, so to be put anywhere next to him is pretty cool."
Flacco outdueled rookie Andrew Luck, Peyton Manning and Brady in the playoffs, solidifying his status as one of the best in the business. But he wasn't put into the "elite" category by many of the so-called experts until his sterling performance in the Super Bowl.
"Joe Flacco is the best quarterback in football right now," teammate Ray Rice says, expressing an opinion shared by most of the Ravens. "He beat Tom Brady, beat Peyton Manning. Who else is out there?"
Wide receiver Anquan Boldin, who once played with two-time NFL MVP and former Super Bowl MVP Kurt Warner in Arizona, considers Flacco No. 1.
"He's the best that I've been with," Boldin says. "The guy can make every throw on the field, no matter if it's a quick-game pass, intermediate or a deep ball down the field. He has every throw in his arsenal."
Jim Caldwell, the team's offensive coordinator, coached Peyton Manning in Indianapolis. He won't compare the two players, but he's effusive in his praise for Flacco; the player and the person.
"He fears nothing," Caldwell says. "He's as tough as he can be. He's fearless in terms of taking chances. He's very, very smart. I think you're going to continue to see him get better because of his excellence. He works hard, and I think he's starting to see some of the things he's been working toward for so many years."
Caldwell has only been with the Ravens one season, but he's most impressed with Flacco's personality and character. "He's a good family man," Caldwell says. "He's a husband, he's a proud father. He's also a very loyal person, extremely honest and straightforward. He doesn't shy away from tough questions, and he's going to tell you what he thinks."
Flacco has started every game the Ravens have played since he was drafted in 2008. He's the only quarterback in NFL history to lead his team to a playoff win in each of his first five seasons in the league and already has played in three AFC championship games.
Flacco has 17,633 yards passing with 102 touchdowns and 56 interceptions. He has a passer rating of 86.3 and completion percentage of 60.5.
But his most impressive stat is this: His won-loss record is a staggering 63-30. Not bad for a guy who wasn't good enough to start at the University of Pittsburgh and had to transfer to the University of Delaware to play college ball.
"Joe is Joe," Ravens center Matt Birk says. "Great guy. Great teammate. And great quarterback."
Published (and copyrighted) in South Jersey Magazine, Volume 9, Issue 12 (March, 2013).
For more info on South Jersey Magazine, click here.
To subscribe to South Jersey Magazine, click here.
To advertise in South Jersey Magazine, click here.