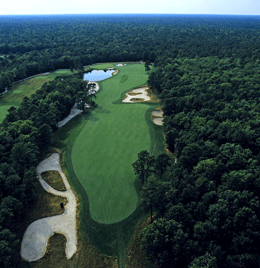 To a Tee
The 30 Best Golf Courses in South Jersey according to the pros
Thanks to a somewhat mild winter, area golf courses have seen their share of diehards brave the chillier temperatures to squeeze in a couple rounds when they can. But as spring inches ever closer with its warmer climate and promise of improved course conditions, it's time for us to take our annual look at golf in South Jersey.
This year, we take on the ever-difficult task of ranking the best courses in the area—not named Pine Valley, the proverbial No. 1 course in the entire world where your chances of landing a tee time are about as remote as you teeing off at this year's Masters—tapping a group of veteran (and anonymous) Philadelphia Section PGA professionals. These avid, and expert, players have teed off on our rated courses numerous times, whether in competition or simply working on their game. To narrow down the field, the PGA pros ranked each course in the region on four criteria: difficulty, aesthetics, clubhouse and ambiance. Points on a scale from one to 10 were awarded in each category, with the maximum score totaling 40 points.
Top10 Private Courses
1. Trump National — The Tom Fazio-designed course is known as one of the most challenging and scenic offerings in the state. Donald Trump's exclusive treasure is located in Pine Hill, adjacent to the world-famous Pine Valley Golf Club. Difficulty, 9.5: "Mr. Trump made some great changes with lengthening the course," one local PGA professional says of the place, which Trump took over in 2009. Aesthetics, 8.75: "(It has the) best views in South Jersey and beautiful scenery," says another pro of Trump National, which offers outstanding views of the Philadelphia skyline. Clubhouse, 9.25: Another pro calls the 43,000-square-foot clubhouse "second to none." Ambiance, 8.5: Whether looking for a great test over 18 holes on a summer day, enjoying dinner and drinks or even planning a wedding, Trump National is a must-see for South Jersey residents. Total: 36
2. Tavistock Country Club — One of the oldest courses in the Delaware Valley, this classic private club is actually its own borough, located within Haddonfield. Difficulty, 7.3: While not especially long, the course is known for quick greens and large bunkers. The par-four 14th hole is one of the toughest around. Aesthetics, 7.6: "It's just a good golf course layout," says a pro from a nearby course. Clubhouse, 9: Tavistock boasts a fully-stocked golf shop, and the dining experience is unparalleled thanks to fine cuisine, an extensive wine list and a courteous staff. Ambiance, 8.6: A Gloucester County pro calls Tavistock his favorite private club in South Jersey. Those who appreciate the tradition of golf will agree. Total: 32.5
3. Laurel Creek Country Club — The links-style course is located in Mount Laurel and features an Arnold Palmer design. Difficulty, 8.25: The par-71 course—which plays at 6,911 yards from the tips—has tight fairways, and if you find the 12-inch fescue that frames each hole, good luck. Aesthetics, 7.75: Private homes can be seen along the course, taking away some of the beauty, but overall the grounds are very well-maintained. Clubhouse, 7.75: From a terrific golf shop to a state-of-the-art fitness center to tennis courts and swimming pools,the club has something for everyone. Ambiance, 8.25: One area pro calls Laurel Creek "my favorite course in South Jersey if given one to play." Total: 32
4. The Riverton Country Club – Another course rich in tradition, the Cinnaminson club was founded in 1900. Difficulty, 7.5: A pretty stiff test, particularly the par-four 12th hole, which has bunkers on both sides of a green that slopes severely from front to back. Aesthetics, 8: Beautiful pines line the course and the greens are some of the best in the area. Clubhouse, 7.5: The Donald Ross bar is a great spot after a round or before dinner, and the Rose Rooms offer an elegant dining atmosphere along with a spectacular view of the 1st hole fairway. Ambiance, 8.5: Riverton has "a great country club feel," and aside from golf, the club provides swimming, tennis and bowling. Total: 31.5
5. Old York Country Club – Golf legend Gary Player designed the Chesterfield course, which boasts magnificent scenery. Difficulty, 7.5: The par-71, 6,903-yard course has rolling fairways and challenging greens. Aesthetics, 8: Overall, just a pretty course to look at, with beautiful foliage throughout and elevation changes up to 75 feet. Clubhouse, 7.5: A stocked golf shop and several dinner options, and the outdoor dining area is a nice spot. Ambiance, 8: A warm atmosphere adds to a first-rate golf experience. Total: 31
6. Medford Village Country Club – Designed by William F. Gordon in 1963, Medford Village continues to provide South Jersey residents an entertaining, if demanding, round of golf. Difficulty, 8.3: Given the second-best rating among local private clubs by our experts, behind only Trump National. Aesthetics, 7: One pro says Medford Village has a "better layout than many (people) realize and is always in great shape." Clubhouse, 6.6: Many dining options, whether you're looking for a snack at the turn or an elegant dinner by executive chef Gary Miller. Ambiance, 7: A nice place for the family, especially the swim club, home of the Gators swim team. Total: 28.9
7. Medford Lakes – Founded in 1929, the original layout was nine holes designed by Alex Findlay. In 1969, nine more holes were built by Harold C. Purdy. Difficulty, 7.2: "I played my high school golf at this course 20 years ago," one pro says. "(It's) still a great course, year in and year out." Aesthetics, 6.5: Water comes into play on several holes and the course is lined with Jersey pines, leading to an overall pleasant setting for golf. Clubhouse, 6.5: A laid-back lounge and affordable and tasty breakfast menu are the highlights. Ambiance, 7.5: One of the best local courses for young, aspiring golfers, Medford Lakes has the biggest junior program in South Jersey. Total: 27.7
8. Merchantville Country Club – This Cherry Hill club, founded in 1892, prides itself as "South Jersey's best kept secret." Difficulty, 6.5: One of the toughest challenges in the area, this nine-hole course forces you to be on your game with tight fairways and small greens on every hole. Aesthetics, 7: The staff does an excellent job of keeping a fine-looking course in tip-top shape. Clubhouse, 7: The grill room boasts a beautiful horseshoe bar and is a great spot to watch a game or grab a drink after your round. Ambiance, 7: With challenging golf and fine dining, perhaps it's time to share the secret. Total: 27.5
9. Burlington Country Club – This Alex Findlay-designed course is located on 200 acres just outside Mount Holly. A major renovation took place in 2002. Difficulty, 7.3: The opening hole lets you know right from the start you're in for a tough day on the par-70 course. Aesthetics, 6.3: The beautiful foliage makes autumn a spectacular time of year to play here. Clubhouse, 6.6: A knowledgeable and polite staff and perhaps the most impressive practice facilities in South Jersey can be found at Burlington. Ambiance, 6.6: As one rival pro says, "It's just a good all-around golf club." Total: 26.8
10. Little Mill Country Club – The Marlton course, which opened in 1969, is South Jersey's only 27-hole private facility. Difficulty, 7.25: The White course is probably the hardest, with 3,485 yards of golf from the longest tees for a par of 36. Aesthetics, 7: Trees frame every hole for a picturesque setting. Clubhouse, 5.5: The bar offers 30 different beer selections and 20 wines by the glass. Ambiance, 7: A great place for youngsters learning the game, as one local pro points out. "The par-3 down the hill is the most fun hole in South Jersey, especially for the juniors (I teach). They beg to play that one." Total: 26.75
Top10 Public Courses
1. Scotland Run Golf Club — Scotland Run was built in and around an old sand quarry in Williamstown and opened in 1999. In the 14 years since, it's become known as the most complete public course in the area. Difficulty, 7.5: There aren't many easy holes, but the finish is especially brutal. Demanding par-4s on 16 and 17 lead to a par-5 on 18 that is among the toughest in South Jersey. Aesthetics, 7.5: Scotland Run is unique in this area with a blend of wooded, quarry and links-style holes, and the bunkers are some of the deepest around. "It's a fun layout," one pro says. "A little quirky at times, but the quarry holes are fun." Clubhouse, 8.5: From its gorgeous banquet room (ideal for weddings) to a loaded golf shop to the Highlander Pub & Grill, few public courses can match Scotland Run. Ambiance, 7.75: "One of my favorite places to play," says one pro. "No. 10, a par-5, is great with the elevated green guarded by the railroad ties." Total: 31.25
2. White Oaks Country Club — Like Scotland Run, this hidden gem in Newfield opened in 1999. The Steve Fillpone-designed course features 6,532 yards of golf from the longest tees for a par of 71. Difficulty, 5.5: Low scores can be made here, but that doesn't mean there aren't challenges, particularly the 600-yard, par-five 7th hole. Aesthetics, 7.5: The name says it all—massive oak trees are the defining feature of the course. Clubhouse, 7: You can find most of the necessities in the golf shop, and the bar is a great place to unwind after your round. Ambiance, 7: Overall, a fun place to play. As one local pro says, "Nice setting for this course. I love the charity hole—$1,000 prize for a hole-in-one for a $2 donation." Total: 27
3. Deerwood Country Club — This links-style Westampton course, which opened in 1996, was designed by Dick Alaimo. Difficulty, 6: Water comes into play on a number of holes, but there are still opportunities to score. "It's a short, pretty easy course," one pro says. Aesthetics, 7: The open course is nicely maintained by the Deerwood staff. Clubhouse, 7: Two formal dining rooms, men's and women's lockers and a card room are highlights, as is an outstanding menu. Ambiance, 7: "It's fun to play and a great place to score," says one pro. Total: 27
4. Pennsauken Country Club — One of the older public courses in the area, this course opened in 1931. It offers reasonable rates for golfers of all skill levels. Difficulty, 5.6: The layout is flat and fairly straight, providing the opportunity for low rounds. The 400-yard, par-four 4th hole is one of the toughest on the course. Aesthetics, 6.3: The views are top-notch. Clubhouse, 6.6: Marco's Restaurant and Banquet Facility is a nice spot for a casual dinner or a special event. Ambiance, 7.3: It might not be as breathtaking as others in the area, but this remains a classic local course. Total: 25.8
5. Wedgwood Country Club — Designed by Garrett J. Renn and opened in 1965, the course is nestled within several cozy neighborhoods in Washington Township. Difficulty, 7: The front nine is fairly spacious, but the real challenge begins on the tree-lined back nine. Aesthetics, 6.3: The back nine is especially appealing, and the grounds throughout are well-maintained. Clubhouse, 5.3: Several banquet rooms are available for both large and small groups. Ambiance, 5.8: Overall, a great round of golf for an affordable price. Total: 24.4
6. RiverWinds Golf and Tennis Club — The West Deptford golf course, located on the Delaware River, opened in 2002 and is now owned by former Eagles quarterback Ron Jaworski. It was designed by Ed Shearon and shaped by Pete Fazio. Difficulty, 6.75: The winds off the Delaware can be tricky, and the closing holes are the toughest. One local pro, who calls RiverWinds one of his favorite area courses, says it has "great river views and challenging holes."Aesthetics, 7.5: Again, those views are amazing. You get a perfect look at the Philadelphia skyline, and you'll often see ships on the river or planes landing and taking off from Philadelphia International Airport. Clubhouse, 3.75: If not for the low score here, RiverWinds would have finished much higher on the list. As one pro says, "It's a nice course layout right on the Delaware River, but it's lack of a clubhouse is a real downfall." The RiverWinds Restaurant does offer a great steak and seafood menu. Ambiance, 6.25: A must-play for the setting and the challenge. Total: 24.25
7. Ramblewood Country Club — This family-owned course in Mount Laurel features 27 holes of golf. The Red and White nines are similar in design and opened in 1962, while the Blue nine was added in 1972. Difficulty, 6: The Red and White nines have large greens but the challenge of forced carries over water are found on 12 holes. The Blue nine requires course management thanks to tight fairways lined by pine trees. Aesthetics, 6: The fairways are well-manicured and the foliage on the trees adds to the overall beauty. Clubhouse, 6: A great spot for corporate outings thanks to a diverse menu that can be personalized. Ambiance, 6: The family atmosphere and top-notch recreation, including four pools, make this a great club. Total: 24
8. Rancocas Golf Club — The course was designed by Robert Trent Jones Sr. and opened in 1970. It features unique holes, with a back nine that is vastly different from the front nine. Difficulty, 6: The par-five 13th hole is 568 yards from the back tees and features a double dogleg. It's not only this course's most difficult, it's one of the toughest in South Jersey. Aesthetics, 6.5: A strong layout and several pretty holes in the woods. Clubhouse, 6: Impressive pro shop and practice facilities. Ambiance, 5.5: Worth checking out thanks to fair rates and the unique setting. Total: 24
9. Pitman Golf Course — Owned and operated by Gloucester County, this is a manageable course featuring an Alex Findlay design from 1927. Difficulty, 4.6: Not overwhelming, but as one pro says, it provides a "chance to score a low round, have fun and play fast." Aesthetics, 5.3: Nice scenery and the fairways are kept in good shape. Clubhouse, 6.6: The Golfer Snack Stand is a treat at the turn, and Bogey's Club and Cafe offers fine dining and entertainment. Ambiance, 6.3: The staff is incredibly friendly and the course isn't a bear, which is why Pitman is always a popular destination. Total: 22.8
10. Golden Pheasant Golf Course — Located in Lumberton and serving Burlington County since 1963, the par-72 course plays to nearly 6,300 yards from the longest tees. Difficulty, 6: Water hazards and a mixture of fairway and greens bunkers provide a stiff test, but it's still a good course for those still learning the game. Aesthetics, 5: Cutting through heavy woods next to the Flying W Airport, the course contains several pretty holes. Clubhouse, 5: The 19th Hole Dining Facility on the upper floor of the clubhouse is great for a casual meal. Ambiance, 6: If you haven't played Golden Pheasant, it's worth the trip. As one pro says, it has "fun par-3s with the elevation changes and a better layout than people realize." Total: 22
Top10 Shore Courses
1. Hidden Creek Golf Club – This Egg Harbor Township masterpiece celebrated its 10th anniversary in 2012. In that time, the private club—with a course designed by Ben Crenshaw and Bill Coore—has consistently been ranked among the best in the country. Difficulty, 9.2: Dramatic elevation changes and maddening greens are just part of the challenge. Aesthetics, 9.3: A gorgeous course sculpted out of the Jersey pines. One local pro says, "It's a beautiful layout with big greens. I could play there every day." Clubhouse, 8.6: One of the best you'll find in the area, the 18,000-square-foot clubhouse opened in 2005. Among the features are a fitness center with steam, sauna and massage rooms, plus a casual bar and grill, the Crenshaw Dining Room overlooking the 9th green and the Coore Banquet Room for special occasions. Ambiance, 8.3: This is an absolute must-see for serious golfers. One pro says, "Hidden Creek is a top-notch club with top-notch amenities. Perfect." Total: 35.4
2. Galloway National Golf Club (pictured)– Renowned architect Tom Fazio calls Galloway National one of his best courses. The world-class course opened in 1994 and features more than 7,000 yards of golf from the longest tees. Difficulty, 9.3: No two holes are alike, but all demand accuracy. "Arguably the most difficult course in South Jersey," one local pro says. Aesthetics, 9: The course reflects the natural beauty of the area, with its majestic pines, the surrounding bay and terrific views of Atlantic City. Clubhouse, 8.3: The service is excellent throughout, and the formal dining area offers views of Reeds Bay. Ambiance, 8.6: For perhaps the toughest challenge you'll find and an overall enjoyable experience, Galloway National is the pick. "The best of the Shore," one pro says, while another calls it "My favorite shore course." Total: 35.2
3. Atlantic City Country Club – This formerly private club in Northfield, founded in 1897, has a remarkable history. The term "birdie" originated here, and it has been the site of six USGA Major Championships. The original design was by William S. Flynn, with a renovation by Tom Doak in 1998. Difficulty, 7.6: "There are fun holes overlooking the bay," one pro says. One of them is No. 14, a short but demanding par-4 in which you tee off from a peninsula in Lakes Bay and must carry over a troublesome salt marsh. Aesthetics, 8: Once again, incredible views of the A.C. skyline and a magnificent natural setting. "It's an extremely clean course with nice views of Atlantic City and the back bays," one pro says. Clubhouse, 8.6: Tied for the best down the Shore on our list, the prestigious clubhouse is known for its cuisine. The Sunday brunch is open year-round, and for dinner be sure to try the famous crab cakes. Ambiance, 9: The perfect place for the fan of golf's storied history. "Just a great history about this club," one pro says. "Play on a windy day and the bugs will get you on the back nine, but I just love this course." Total: 33.2
4. Stone Harbor Golf Club – Set in historic Cape May Court House, the course was designed by Desmond Muirhead and opened in 1988. Difficulty, 8.6: One pro rates the difficulty a 10. One of the monsters of the course is No. 5, a par-5 that contains bunkers at the landing area, curved mounds ahead of the green, and a tricky green with three pin locations, each separated by rolls or ridges. Aesthetics, 8: The grounds are pristine and the water throughout the course makes for a peaceful setting. Clubhouse, 7.3: The private club has full locker room amenities, two dining rooms and a golf shop. Ambiance, 7.6: Just an overall pleasant golf experience. Total: 31.5
5. Wildwood Golf and Country Club – The Middle Township private club began in 1916, with the current 18-hole course designed by Wayne Stiles and John Van Kleek in 1922. Difficulty, 6.6: While not incredibly long, narrow fairways and tricky greens add to the challenge. Aesthetics, 7: The course does not run through any residential areas and is surrounded by the beauty of the Salt Marsh wetlands. Clubhouse, 7.3: The pro shop has anything you need, including an experienced staff that provides custom club making. Ambiance, 8: One pro summed it up best: "A fun course and a great membership." Total: 28.9
6. Sea Oaks Golf Club – Designed by Raymond Hearn and opened in 2000, this public club in Tuckerton also features a hotel on site for wedding guests and corporate events. Difficulty, 6.5: The 4th hole is a solid par-3 with the green hidden among several bunkers. Overall a strong course but a good place to score well. Aesthetics, 7: Rolling hills and an abundance of pines makes for a pretty course. Clubhouse, 7.5: Live entertainment events are held throughout the year, including wine tasting, big band nights and the New Year's Eve Ball. Ambiance, 7.5: A helpful staff is one of the reasons this is a great course for the money. Total: 28.5
7. Ballamor Golf Club – The sister club to Scotland Run, this one-time private club in Egg Harbor Township is now open to the public. It was designed by Brian T. Ault and opened in 2010. Difficulty, 6.6: Every hole is different, with a mixture of contrasting styles. The hazards are well-placed. Aesthetics, 8: Certainly an interesting layout and memorable views. Clubhouse, 6.6: The food is good and affordable and the staff is friendly. Ambiance, 7: One pro says, "It's a nice course to play, with nice fairways and greens and a great staff." Total: 28.2
8. Shore Gate Golf Club – Located in the heart of Cape May County in Ocean View, the public course was designed by David M. Dale and opened in 2002. Difficulty, 8.5: A few local pros gave it a 10 for difficulty. The toughest hole is the 9th, a par-5 that is 648 yards from the back tee. Water lies to the left of the fairway and in front of the green. Aesthetics, 7.5: The course is in tremendous shape and the holes along the water stand out as the most beautiful. Clubhouse, 5.5: An intimate clubhouse with a friendly staff and an impressive golf shop. Ambiance, 6.5: Definitely worth checking out for the entire experience, but particularly for the test on the golf course. Total: 28
9 . Twisted Dune Golf Club – One of the top public courses at the Shore, the Egg Harbor Township club opened in 2001. The Archie Struthers design brings to mind images of the legendary Scottish courses. Difficulty, 7: An incredibly unique layout for this area with solid greens and a number of bunkers throughout the course. Aesthetics, 7.6: True to its name, the links-style course has magnificent dunes and dramatic elevations. A truly pretty course. Clubhouse, 6.3: Solid but not spectacular, with great views of the golf course. Ambiance, 7: You won't find many similar golf experiences in the area. Total: 27.9
10. Harbor Pines Golf Club – The Egg Harbor Township course was designed by Stephen Kay and opened in 1996. Difficulty, 6: Definitely a place you can post a low score, the fairways are generous, but large greens create tricky pin locations. Aesthetics, 7: The water throughout the course leads to a picturesque setting, and the seclusion of the holes is pleasant as well. Clubhouse, 7.5: A great place for weddings and special events, and the executive chef is South Jersey native Michael Mendick. Ambiance, 6.5: As one pro says of the course, "It's a great course layout back in the woods, and they have fun tournaments year-round for great prices." Total: 27
Published (and copyrighted) in South Jersey Magazine, Volume 9, Issue 12 (March, 2013).
For more info on South Jersey Magazine, click here.
To subscribe to South Jersey Magazine, click here.
To advertise in South Jersey Magazine, click here.