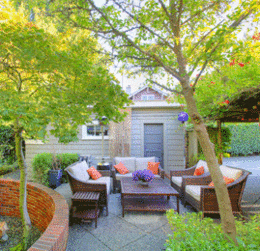 In a Good Space
Regardless of the size of your yard, you can get maximum usage and enjoyment of your outdoor living area with some key elements.
Outdoor living has been a trend that's gained enormous ground in the last few years. Today's homeowners are looking to extend their living space by utilizing more space outdoors. As a result, they are creating areas that feature many of the same amenities once found exclusively indoors. But to truly get the absolute most out of your backyard, you have to consider all of the elements that go into the perfect living space. It's a combination of factors that truly gives you the maximum usage and appeal.
As you plan for the space, the first thing you need to do is prioritize what the intended use is, says Ed Swietanski, sales manager for Gill's Landscaping, Inc., in Mullica Hill. Is it primarily for outdoor dining? Additional living space? A kid's play area? Or a pool? Or maybe it's all of the above. "Once the priority is set, then you can figure out how much space can be devoted to each area," Swietanski says. "We often get requests for patio areas that are intended to be used for outdoor dining and clients quickly realize that the area that seemed so big is really a tight squeeze once you put a table and chairs in the space, so it is important to be realistic once the planning starts."
Once you know how you intend to use the space, you can start thinking about the elements that will define it. "Items like fire pits and outdoor lighting help extend the use of the new space by taking the chill off a cool spring or fall day, and lighting extends the amount of time you can use it. Nightscaping lets the same space take on a whole new character once the sun goes down," Swietanski says.
Of course, those are just some of the areas in which people are improving their outdoor living space. Here, we explore some of these key elements with a few more of the area's outdoor living experts.
Decks
Backyards that include a deck tend to get a lot of use—assuming the deck is meeting all the homeowner's needs. That's where Everett Abrams, founder and president of Deck Restoration Plus in Shamong, can help. While a builder-grade deck might just be a basic space with no features, today's homeowners are really looking for a deck that has it all. "Everyone wants to be comfortable on their deck and maximize the use of that space," says Abrams. "They want to add things that make their deck more useable like shading in the form of a pergola or a canopy. Or maybe they want more seating or even an outdoor kitchen; those are great add-ons but they also need to be kept up and restored. We come in and do the additions, repairs, staining and overall restoration process, which truly enhances the life of a deck."
Abrams' unique company can also handle the maintenance that will prevent homeowners from having to pay big dollars down the road for a complete restoration. "Maintenance is a big trend," he says. "Homeowners are realizing that they need a maintenance plan to ensure their deck not only looks its best but functions its best as well. If they're investing a lot of money into a deck, they want to make sure they're protecting that investment."
Lighting
Outdoor lighting also has a tremendous impact on maximizing space. As more homeowners are looking to extend their homes by spending more time outdoors, lighting becomes a necessity, says Sara Brandon, outside showroom representative for Ferguson Bath, Kitchen & Lighting Gallery. Outdoor lighting can give you maximum use of a space by allowing you to enjoy it later into the evenings and even by bringing the comforts of home to the outdoors.
"We're seeing a definite interest in lights that create ambiance and really make the 'inside come outside,'" Brandon says. "Homeowners are looking for warmer lighting—not harsh fluorescent lights. The idea is that outdoor lighting shouldn't feel institutional—it can look like the same types of pieces you find inside your home. That really increases the aesthetic appeal. You can also use lighting to highlight some areas of your backyard that you love—such as the garden or maybe a fountain. Then you can enjoy those elements in the evening hours."
Ferguson also carries outdoor ceiling fans, which can certainly help maximize an outdoor living area by making the space more comfortable on a hot day and even helping keep bugs away. "We do a ton of exterior fans," Brandon says. "They help cool the area and ward bugs away but it's more than that. It creates that ambiance that homeowners really want in their outdoor space."
Landscaping
Whether you have a small or large yard, the right landscaping can really help maximize your space. Dan Young, owner of Young's Landscape Management in Lumberton, says careful plant selection is key for those who have a smaller yard. "There are a number of beautiful plantings that will retain their shape and size nicely," he says. "At Young's, we have our own nursery filled with a great variety and welcome clients to be part of the selection process."
Young says many homeowners don't realize converting a yard and lawn into a full terrace can actually be a great way to maximize space. "Working with space in this manner, a small home exterior can feature a sitting and grilling area, along with water features to create an enjoyable escape from the daily routine."
Sunrooms
If you truly want to get the most enjoyment out of your backyard—even when the weather isn't perfect—you might want to consider a sunroom or some other type of patio enclosure. These spaces allow you to enjoy the scenic views of your property while escaping the rain, the intense heat, or even the cold. When it comes to sunrooms, there are a lot of options, depending on what you're looking for, says Todd Morganti, division manager with Champion Windows in Pennsauken. "We can do a three-season room where you'll get a lot of use, except for the coldest days, or you can do a true all-season room that can be heated and cooled," he explains. "It just depends how you plan to use the space. If you're going to be spending a lot of time there—and want to read your paper on a cold January morning in that room—you'll want to consider an all-season room that would be insulated and meets energy code."
Some of the most common sunrooms that Champion constructs tend to be next to swimming pools. Morganti says the two just go together. "It's a great place to entertain next to a pool," he says. "Homeowners will put televisions and bars in them and can invite everyone in the sunroom after they swim. You're still able to enjoy the outdoors but with more of the comforts of the indoors."
Swimming pools
It's easy to see how adding a pool could maximize your outdoor living space. Who wouldn't spend more time outdoors if they had a pool in their backyard? But there's a misconception that you have to have a large property to install a pool. The truth is that even a small backyard can get max use with the addition of a pool. The trick is finding a way to maximize the space available during the pool installation. "The benefits of inground gunite pools in smaller backyards or tighter spaces is that they can be built in any shape to maximize space or to work around existing parts of the house, yard or deck," says Mike McCool of Swim-Mor Pools and Spas in Mount Ephraim. "One shape is not better than another but instead the ability to customize a shape or design to fit is essential."
McCool points out small or "tight" backyards can sometimes be underutilized because the homeowner feels it's too small to do anything enjoyable. Adding a pool can change all of that.
"A pool doesn't have to be big to enjoy," McCool says. "Pools are consistently built in small backyards and give the yard a purpose. It becomes a gathering place for your family to enjoy." And with the warmer weather rapidly approaching, few things could be better than a gathering place outside for your family and friends to enjoy themselves.
The Great Outdoors
Area companies that can help you get into the swing of spring
…Special Advertising Section from the pages of South Jersey Magazine…
Botanical Services
Delaware Valley Spray Service Inc.
Correctly maintaining your lawn is very cost effective for homeowners and can increase property value. In addition to the aesthetic benefit, a healthy lawn suggests the inside of the home is well maintained as well. By consulting with an experienced professional to handle the diagnostics and treatments, homeowners can realize the benefit in saved time and money. Safety concerns won't be an issue either since a professional is doing it.
Serving South Jersey
(609) 261-9400
DelawareValleySprayService.com
Deck & Wood Restoration
Deck Restoration Plus
Serving South Jersey
(866) 440-DECK (3325)
DeckRestorationPlus.com
Garden Center
McCloskey's Garden and Hearth
Glassboro
(856) 307-9652
McCloskeysGardenandHearth.com
Landscaping/Hardscaping
Core Property Service Inc.
Serving South Jersey
(856) 429-4911
CorePropertyService.com
Eaise Design & Landscaping
Increasing your outdoor living space will increase your home value. They develop solutions that are tailored to meet your needs. Let their friendly certified landscape professionals design and build stately courtyard layouts, quality interlocking concrete patios, water displays and unique lighting systems.
Serving South Jersey
(856) 428-7769
(856) 740-2900
Eaise.com
Eric's Nursery and Garden Center
It is a common mistake to think that just because there is a large open area on a property, that there is "space." When it pertains to outdoor living, space is not space until it is defined for a purpose. Working with natural patterns and topographic features at the concept level of design is the start of maximizing outdoor living space. Design Synthesis will refine the shapes for each area and the masterplan will then provide the details within each space. Landscape architects use these tools to generate the personalized plan for your needs.
Serving the Tri-State Area
(856) 231-0444
EricsNursery.com
Gill's Landscaping Inc.
Serving South Jersey
(856) 223-9770
GillsLandscaping.com
Young's Landscape Management, Inc.
Serving the Delaware Valley to the Jersey Shore
(609) 654-5441
(856) 303-2828
YoungsLandscape.com
Y-Turf
Serving the Delaware Valley to the Jersey Shore
(877) 90-YTURF (877-909-8873)
(609) 654-5247
Y-Turf.com
Outdoor Lighting
Ferguson Bath, Kitchen & Lighting
Cherry Hill
(856) 489-5620
Outdoor Shades
Creative Windows Unlimited
Serving South Jersey
(856) 783-2050
CreativeWindowsUnlimited.com
Pools & Spas
Jersey Pools and Spas
Medford
(609) 654-4886
JerseyPoolsandSpas.com
Swim-Mor Pools and Spas
Serving South Jersey
(856) 456-3332
SwimMor.com
Windows & Doors
Champion Windows
Pennsauken
(856) 324-1441
ChampionFactoryDirect.com
Published (and copyrighted) in South Jersey Magazine, Volume 9, Issue 12 (March, 2013).
For more info on South Jersey Magazine, click here.
To subscribe to South Jersey Magazine, click here.
To advertise in South Jersey Magazine, click here.