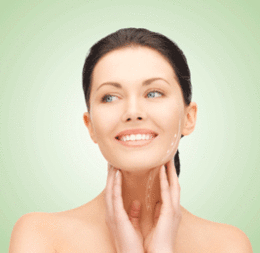 Look Your Best
The latest cosmetic technology may be just what you need to get beach ready this season
With beach season on its way, now's the time people start thinking about what they're going to look like when they have to don those revealing shorts—or perhaps more intimidating—a swimsuit. While you may have been working hard to get in shape, trouble areas like thighs or love handles can remain a problem. That's where some of the latest technology can come in. A number of cosmetic procedures have been introduced in recent years and often offer simple solutions to problems like excess cellulite or bulging fat areas. We talked to two of the area's experts in helping both men and women look their very best.
A beach-ready body
There are a number of procedures that can tighten skin or eliminate lingering fat all together. One is the truSculpt system, which just recently became available. Anu Medical Spa in Voorhees is offering this system, which uses non-invasive radio frequency technology to target "problem areas" like the thighs and butt. "It works by breaking down fat cells so that the white cells slowly eat them up as they would a bruise," explains Dr. Anu Momi, who has been practicing laser medicine and aesthetic skin care in South Jersey for 10 years. "It can be done anywhere on the body and is great for stubborn areas. We've been getting some really great results. And these are results that you'll keep forever—as long as you don't gain weight."
While there have been other products on the market that get rid of fat by "freezing" it, Momi says truSculpt works by melting it, which is a better approach. During a session, a hand-held electrode is passed over the skin while it gently pulsates radio frequencies to gently heat the skin's deepest layers. It's relatively painless, Momi says. "It does get warm since we're using heat technology, but patients say it's really not that uncomfortable," she adds.
Patients should get in two sessions to make it as effective as possible. "Two sessions is like losing five to 10 pounds, so it's definitely something that's very noticeable," Momi continues. "We're doing it on a lot of inner and outer thighs as well as stomachs. Moms who have had babies may find that they're working out regularly but their stomach still doesn't look like it used to and they just want to tighten things up more. This is great for something like that. We also have men who come in to treat their love handles as it seems no matter how hard you work out, a lot of men still have some stubborn fat in that love handle area."
VelaShape is also an option available at Anu Medical Spa. It's an FDA-cleared device that contours, shapes and slims the body by reducing cellulite and firming areas like the buttocks or thighs. "Cellulite can be very frustrating for a lot of patients and this just smooths it out," explains Momi. "It's pretty comfortable—feels like a roller—and you usually need about six sessions."
Scrubs are also great in getting ready for beach season. "Sugar or sea salt scrubs can help with bumps and make your skin look healthy and ready to show off," Momi adds.
Transforming body & face
Women who have had children tend to be good candidates for many of these types of procedures. They often find that losing that last five or 10 pounds of "baby weight" are the hardest and they turn to the latest technology to help. Dr. Steven Davis, a board-certified plastic surgeon in Cherry Hill, says he sees a lot of moms at his practice. "They're finding that even with all their hard work to get back in shape, that the lower portion of their abdomen is just not looking the way they want it to anymore," he says. "They're getting frustrated. So we're doing these mini-tummy tucks now where we remove just a small section of skin. These smaller procedures are also an easier recovery. We can do it on a Friday and the patient is back to work on Monday or Tuesday the following week."
At Davis Cosmetic Plastic Surgery, there has also been increasing interest in breast augmentation, which has come a long way in recent years. Davis says many women are showing increasing interest as they find out about the latest developments in modern implants. "Today, there are different shapes of the implants that can really help women find the exact breast they're looking for," he says. "Any implant is going to make you look bigger, but women want the right shape. That means having more fullness in certain parts of the implant. For instance, some women just want to restore some of the volume on top so you can utilize an implant with more fullness at the top portion."
Davis says the silicone gel implants are now called memory gel or sometimes referred to as "gummy bear implants" because they hold a certain shape. "Women can now have the exact breast shape that suits their body and their needs—something that they weren't able to get in the past," he says. "The gel will stay exactly where you want it to. It looks very natural and gives women the look they've always wanted."
The latest advances having to do with facelifts are also incredibly popular. While facelifts once got a bad rap—bringing to mind some notable celebrities who may have had their skin pulled a bit too tight—today's facelift procedures are much more natural. "There's been interest in using the body's own tissue as a means of making the eyes, face and neck appear more youthful," Davis says. "We can do a combination of lifting the skin that's starting to sag and then behind that, restoring it with the body's own tissue production."
Terms like "vampire facelift" have been used to describe these kinds of procedures but Davis says the concept is simply using the body's own ability to regenerate instead of just pulling skin.
In the end, the face and eyes look more youthful instead of just "tighter." "It's really an unbelievable advancement in cosmetic surgery," Davis says. "We're borrowing from other areas of the body and restoring more fullness. The patients we've been doing this on have had incredible results. I had a 70-year-old patient tell me that her bank wouldn't allow her to do business at first because they didn't believe it was her. They didn't believe she could possibly be the 70-year-old woman her driver's license said she was. It's stories like that which remind us that we're having a tremendous impact and producing some very happy patients."
Here's to Your Health
The names you can trust when it comes to looking and feeling great
…Special Advertising Section from the pages of South Jersey Magazine…
Aesthetic Dermatology of Marlton
Dr. Sandra Elder is certified by the American Board of Dermatology and is a fellow of the American Society for Dermatologic Surgery. Dr. Elder's expertise in the cosmetic field includes Lasers, Fillers, Sculptra, Botox, Dysport, Skincare and CoolSculpting.
Marlton
(856) 596-3393
ElderDermatology.com
Anu Medical Spa
Voorhees
(856) 809-0909
AnuMedicalSpa.com
Appearance Dermatology Laser & Cosmetic Dermatology
Marlton
(856) 751-9560
DrToome.com
Cooper Center for Dermatologic Surgery
Liposuction is a procedure designed to reshape areas of the body by removing excess fat deposits. In women, the most frequent areas are the thighs, hips, abdomen and upper arms. In men, typically the "love handles" at the waist and the chest area are treated. Tumescent liposuction, the safest type of liposuction, is performed in an outpatient setting. Good candidates are of normal weight, have healthy, elastic skin, and have "trouble areas" that will not respond to diet and exercise, says Naomi Lawrence, MD.
Serving South Jersey
(856) 596-3040
CosmeticSurgery-CDS.com
Davis Cosmetic Plastic Surgery
Cherry Hill, Northfield and Philadelphia
(856) 424-1700
DavisCPS.com
South Jersey Skin Care & Laser Center
Marlton
(856) 810-9888
SJSkincare.com
Vein & Vascular Institute
They provide comprehensive medical and cosmetic vein care in a pleasant, state-of-the-art setting. Their patients receive compassionate care to help relieve symptoms and restore smooth, beautiful legs. Visit their website for details.
Serving South Jersey
(856) 309-9777
SouthJerseyLegs.com
Venus Vein Center
Men and women in the U.S. suffer from venous insufficiency, a vascular disease that causes varicose and spider veins. The Venus Vein Center offers a safe, minimally invasive and highly effective treatment option for anyone who has suffered with the physical and/or social discomfort of varicose veins. Endovenous laser treatment (EVLT) and ultrasound-guided sclerotherapy can be performed in the office, with minimal discomfort and a 95 percent success rate. At the Venus Vein Center, doctors specialize in the treatment of vascular problems. Their services can help relieve your problems and get you back to your busy life with a minimal recovery time.
Voorhees
(856) 354-VEIN (8346)
VenusVein.com
Published (and copyrighted) in South Jersey Magazine, Volume 9, Issue 12 (March, 2013).
For more info on South Jersey Magazine, click here.
To subscribe to South Jersey Magazine, click here.
To advertise in South Jersey Magazine, click here.