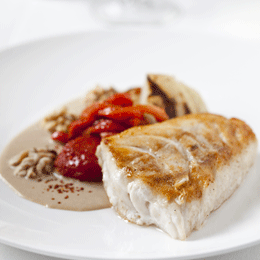 Tavro 13
Tavro 13: Regal and Refined
1301 Kings Highway
Swedesboro
(856) 467-8413
5 forks
(Photo: The tilefish with walnut romesco, roasted peppers, ovendried tomato and braised fennel)
There is an extreme air of confidence about Tavro 13. So much so that it floods out the door, greeting guests who have come to know the spot of the former Old Swedes Inn with a brand new and bold appearance. Gone are the aged blues and grays of the Kings Highway outpost that so many South Jersey residents had come to recognize, replaced with a fresh coat of paint and a second chance.
With such a popular location and a chef like Terence Feury manning the kitchen, expectations are already high. Feury, a former James Beard nominee, has cooked in the kitchens of such famous spots as Le Bernardin in New York City, Washington, D.C.'s Ritz-Carlton and Philadelphia's Fork before settling into Swedesboro last October.
The inside of the remodeled space is just as impressive as Feury's resume. Romanticism fills every open space, with high back red booths lining black walls and plenty of funky furniture choices to go around. Art Deco chairs sit next to red velvet thrones; sleek black dog statues act as lighting fixtures holding large bulbs in their open mouths, while a giant Warren Muller chandelier hangs in the second dining room, made from old bike spokes, a saxophone and more oddities. Somehow, it all works.
Along a sprawling black bar, three mixologists—dressed in matching vests and bow ties—stand at the ready to serve anything from the classic cocktail list to food from the individual bar menu, featuring a satisfying list of quick bites. Meanwhile, educated servers stand by with wine and beer pairings for every entrée.
Lamb belly, according to our waitress, is one of the most popular appetizers on the menu, and with good reason. A generous square of moist and salty Colorado lamb belly arrives atop a honey-onion confit, with braised quince (similar to a pear) and a dollop of harissa. The juicy meat, cooked until the fat of the belly turned the meat perfectly tender with a crispy skin on top, practically melts in your mouth, while the sweet notes of sauce balance out the richness.
Foie gras torchon, a delicate poached appetizer of typical goose liver, benefited from the same gentle touch as the belly. Served cold, the medallions were rolled in ground pistachios, creating an entirely different flavor profile and giving the rich and creamy foie a transformative crunch that mellowed out the salty dish. Then fresh persimmons and sliced radish sweetened and freshened up the plate. When smeared over their piping hot house-made focaccia bread, provided with every meal, it melted to create a most sinfully decadent spread.
The entrée selection was heavy on seafood options, such as the golden tilefish. A hearty serving of moist and flaky pan-fried white fish arrived with a fitting golden crust on top. Creamy and earthy walnut romesco, served with oven-dried tomato and roasted red peppers alongside crispy, braised fennel, gave the dish a delicate and natural flavor.
No protein appears more than once on the constantly changing and seasonal menu. Embracing the sting of the cold was their hearty hanger steak and braised beef short rib entrée. A generous cut of juicy hanger steak, seasoned lightly as to not distract from the perfect medium rare preparation and tender taste of the meat, sat next to a giant cube of short rib that fell apart with the grazing of a fork. Swimming in a rich brown sauce with accompanying braised vegetables and a buttery celery root and potato puree, it was a delightful combination that was hearty but still showed a refined finesse.
Throughout the meal, the staff took turns checking in, with genuine excitement at what was coming out of their kitchen. Everyone, from the hostess who took our coats to the manager who pulled up a chair to talk enthusiastically about the freshness of their fish, oozed a refreshing sense of pride. Passion was everywhere, especially in the food. Large cuts of meat and small servings of sides almost dared guests to find a flaw, shining a spotlight on the more difficult preparations and letting the standards play the background.
The evening ends with a selection of gelatos, coffees, dessert drinks and, of course homemade plates. A chocolate ganache cake arrives with a scoop of fresh vanilla gelato on top and a swipe of caramel sauce. The cake is akin to the moistest, creamiest brownie you've ever had, and portioned to avoid an overwhelming finale.
There are a lot of great dining options in South Jersey, but few can provide the unique transformative experience of Tavro 13. The attention to detail stuns, from the eclectic atmosphere to the polished and free-spirited plates, and leaves some solid memories worth sharing.
Published (and copyrighted) in South Jersey Magazine, Volume 9, Issue 12 (March, 2013).
For more info on South Jersey Magazine, click here.
To subscribe to South Jersey Magazine, click here.
To advertise in South Jersey Magazine, click here.