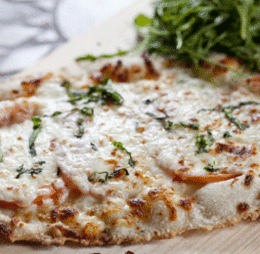 Mirko's Taste of Europe
Mirko's Taste of Europe: A Perfect Blend
910 Haddonfield-Berlin Road
Voorhees
(856) 566-0100
3 1/2 forks
You won't find anything else quite like Mirko's Taste of Europe in South Jersey. And that's exactly the point.
Chef Mirko Loeffler strives to give each diner a unique taste of genuine European cuisine, with no hint of fusion or "modern twists" at this young BYO in Voorhees. Ideally, each experience here will be different than the last, with Mirko's continental fare and wordy menus enriching guests with new knowledge of European culture and cuisine. In addition to a menu with 12 countries represented—yes, a dozen—frequently rotating specials put the focus on a different nation each week.
That's a lot to take in, and I'll admit my initial skepticism—even the best gadgets can be disappointing when jam-packed with too many features, and restaurants are usually the same. But that feeling soon vanished once we settled in to the cheerful dining room, with its picturesque murals and long open kitchen. High ceilings and a sandy color palette add a Mediterranean feel to the space.
As my partner and I studied the menu while sipping a glass of brought-in wine, conversation turned toward travel. Where to visit? The lavender hills of Provence? Sunny beaches of Spain? Or perhaps somewhere like the Netherlands or Switzerland?
That's how it feels navigating Loeffler's menu as well, where even the appetizer selections can take you from Greece to the British Isles. There's no need for expensive airfare when you can order authentic dishes from all of the European Union, while still within eyeshot of the old Ritz movie theater.
We began our meal in southern Italy with a petite Naples pizza, an oblong serving of chewy dough topped with sweet tomato slices and Buffalo mozzarella. With just a hint of charring from the oven, this Margherita-style pie was fragrant and simple. We enjoyed the bright curls of arugula that served as a substitute for traditional basil leaves, though I would have liked to see the herb present as well.
Our journey veered west, bringing a vastly different feel to the table with a shrimp and scallop ceviche from Spain. Where the pizza was straightforward, this dish was delicate and balanced; we slurped up the tangle of raw scallops and slivers of shrimp, marinated in a bright, tangy sauce of lime and chili oil that would fit right in at a seaside cafe.
For entrees, we chose a chef's favorite, the German wiener schnitzel. A hefty dish arrived carrying breaded pork tenderloin that had been pan-seared to perfection in a lemon butter sauce. The meat was crisp and tasty, but the real star was the accompanying spätzle, a German favorite that's difficult to cook correctly. Most stateside versions of these tiny button-like noodles are too mushy or bland, but here they were just right, flavorful and with a slight crunch on the edges.
At the suggestion of our server, I sampled the Portuguese-style cannelloni, three bundles of pasta rolled tightly around shrimp, scallops and crab meat, served in a pool of sunset-colored cream sauce. The cannelloni were tender and luxurious, and I particularly loved the velvety sauce (flavored with mushroom, saffron and wine) for its depth.
Desserts are another high point, spanning the globe from Belgium (waffles with hot chocolate sauce) to France (crepes with white chocolate mousse and Grand Marnier). We enjoyed an Italian tiramisu, made from scratch with coffee-soaked lady fingers layered over fluffy mascarpone, with flavors of cocoa and caramel throughout. And though it looks like your typical chocolate cake, the sachertorte is not to be missed; this traditional Austrian flourless chocolate torte is as dark as a black hole and silky smooth.
While Loeffler cooks with confidence and manages to control a large menu, some features don't quite fit in. A culinary passport program (diners pay to join and earn passport stamps for repeat visits) described by our attentive server felt gimmicky, a contrived idea that takes away from an otherwise civilized concept.
But gripes are few. Impressed at the chef's ambition, it didn't surprise me to learn his backstory: Born in Berlin, Loeffler trained extensively in European kitchens, spending his 35-year career living, traveling and cooking across Italy, France, Monaco, Germany and Switzerland before finally heading to the States. Perhaps that's why his restaurant feels comfortable heading in so many different directions, exuding the same wanderlust as its owner.
Mirko's has plenty of the right elements to make their culinary trip a long one, as long as South Jersey guests are ready to make the journey.
Published (and copyrighted) in South Jersey Magazine, Volume 9, Issue 12 (March, 2013).
For more info on South Jersey Magazine, click here.
To subscribe to South Jersey Magazine, click here.
To advertise in South Jersey Magazine, click here.