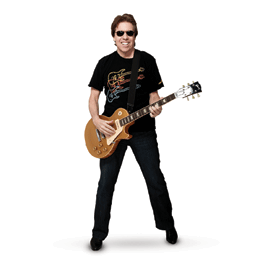 Good at Being Bad
Blues/rock icon George Thorogood proves that being bad—or at least pretending to be—leads to great things.
R ock 'n' roll icon George Thorogood may have grown up on the streets of Wilmington, Del., but as a young blues musician, he cut his teeth at South Jersey, Philadelphia and Baltimore gigs that he describes as "rough but memorable," including a 1978 St. Patrick's Day performance at then-Glassboro State College.
Backed by his band, The Destroyers, Thorogood returns to the area for shows on March 14 at the Keswick Theatre in Glenside, Pa., and the following night at the Wellmont Theatre in Montclair, where they will treat concert-goers to what he calls "the greatest rock show they ever saw in their life."
Ticket holders have good reason to take him at his word, considering the parade of blues/dirty-rock hits—"Bad to the Bone," "I Drink Alone," his version of the John Lee Hooker standard, "House Rent Boogie/One Bourbon, One Shot, One Beer," etc.—that have helped sell tens of millions of albums that bear his name. We caught up with Thorogood to talk about why his songs have endured, how he spends his time when he's not doing "band stuff," and what he would be doing with his life if he hadn't become the poster boy for being a bad influence.
SOUTH JERSEY MAGAZINE: Sounds like the upcoming shows will be a lot of fun.
GEORGE THOROGOOD: That's what you pay us for. You don't go to the ballpark and say you had a great time when [Roy] Halladay gets knocked out in the third inning; you want to see him throw the no-hitter. … Our shows are designed to keep people from getting maudlin and killing themselves. Where would we be without music? It's not just an institution; it's a religion. People listen to it everywhere—in the car, in the shower, on the way to work, when they're having babies, when they're making babies. You can't read a book while you're stuck in traffic. It's an essential part of our existence because it makes you feel good about being alive.
SJM: Being in a band is like being in a marriage, which is why a lot of bands don't last. You've been with some of the same Destroyers since the '70s and '80s. Why has the formula worked?
GT: It's based on finance, meaning I pay well. That's the long and short of business.
SJM: Songs such as "Bad to the Bone" and your versions of "One Bourbon, One Scotch, One Beer" remain anthems to this day. Why do you think those songs have endured?
GT: I think it's because of the uniqueness, the attitude. They've kind of got a swagger to them, and it's a fantasy. Any art or music form is about fantasy. It's like Bruce Willis in the cop-action thriller; every guy wants to be him, and every girl wants to be with him. That's what my songs are about. No one can really be that way, so it's a release about being that bad boy.
SJM: What would you say has been the biggest influence in the songs you write and record, be it another musician, where you grew up, a person you knew, etc.?
GT: Delaware was a big help. It's an ultra-conservative place, and I like to say I was a middle kid in a middle-class family in the middle of nowhere. I was a C student, as regular as white bread, and I hated it. There was nothing that stood out about me; I was plain as paper. I wanted to be bad. I wanted to be like Steve McQueen, and that's what got the whole thing going. I wasn't going to make it in a regular job because I was just not cut out for it.
SJM: What do you do when you're not playing or doing other things with the band?
GT: Minding my own business. Hank Williams said if you mind your own business, you stay busy all the time.
SJM: I've read that you were a pretty good ball player when you were coming up. Professional musician and baseball player are pretty good careers, and certainly interesting ones. Was there ever anything else you wanted to be?
GT: Pretty good? Who told you that? Only three things kept me out of baseball: I couldn't hit, run or throw. … I never thought of doing anything but [playing music]. From 15 on, that was it. An athlete, a writer, a rock star and a doctor are in a room with 40 women ages 18 to 65. Who are they going to want to talk to? … Damn right it's the musician. Rock 'n' roll never sleeps; it just passes out.
Published (and copyrighted) in South Jersey Magazine, Volume 9, Issue 12 (March, 2013).
For more info on South Jersey Magazine, click here.
To subscribe to South Jersey Magazine, click here.
To advertise in South Jersey Magazine, click here.